CAREERS: Building experience in the world of work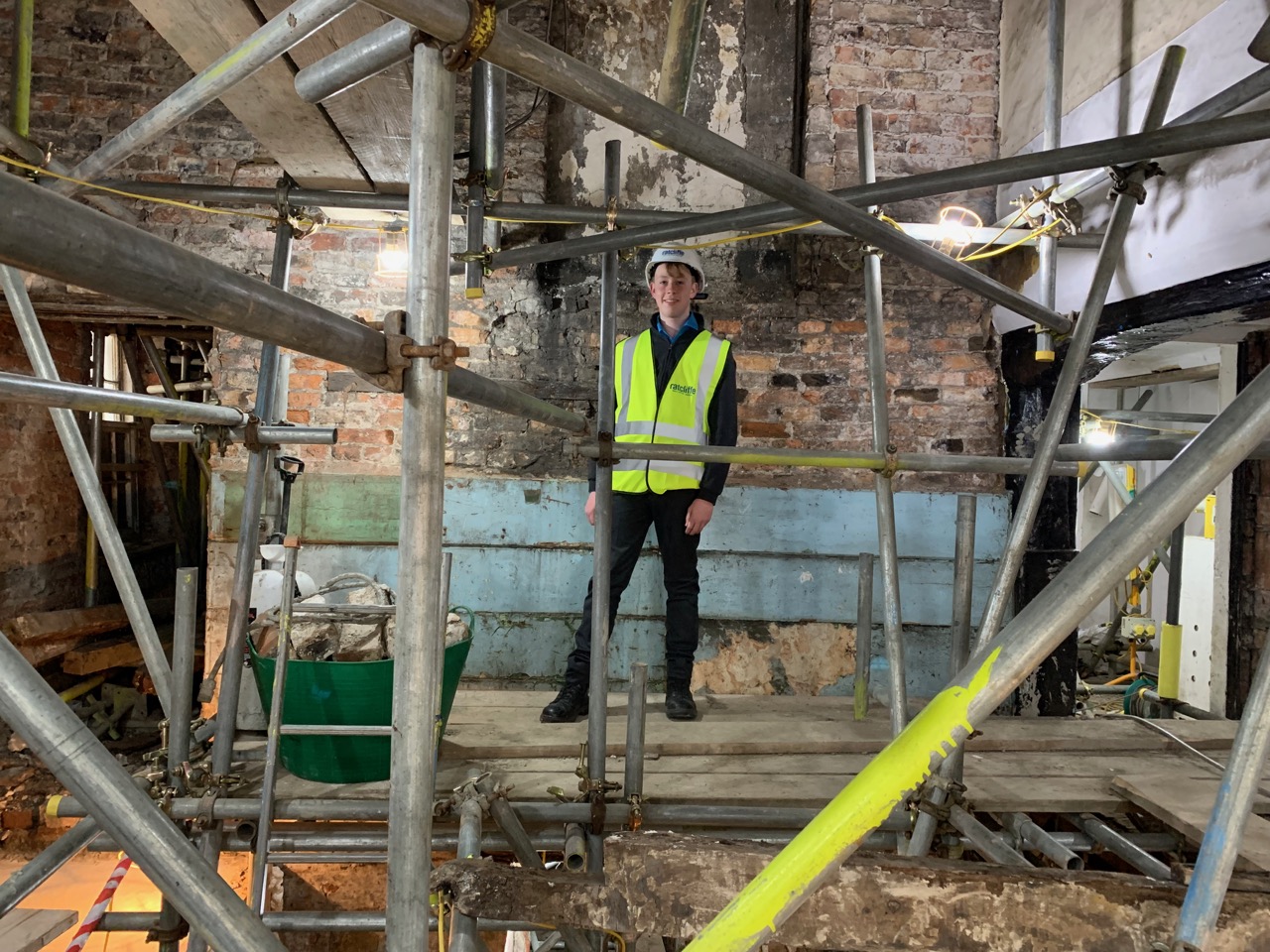 JAMES FAIRCLOUGH found his week's work experience with a building and maintenance company in Castleford particularly constructive - and even came away with a part-time job
DURING my time at Ratcliffe Building and Maintenance, I visited construction sites, updated the company social media pages and website with news and photographs and also gave a presentation in a meeting, which gave me a real insight into what the world of work is like.
My week started with an introduction to the company's website and social media accounts, followed by a work brief. I then carried out some of my own research and visited live construction sites to photograph them in order to write news articles for the company website and various social media pages.
I was tasked with giving a presentation to the board of directors on ways to increase their social media presence which, I believe, was a very useful experience as it showed me what working for Ratcliffe's full time might have been like.
I learnt about how work tasks are allocated, managed and properly re corded. In the course of my work I
gained an understanding of how to interact with managers and

other people in the office as well as what the working environment was like in general.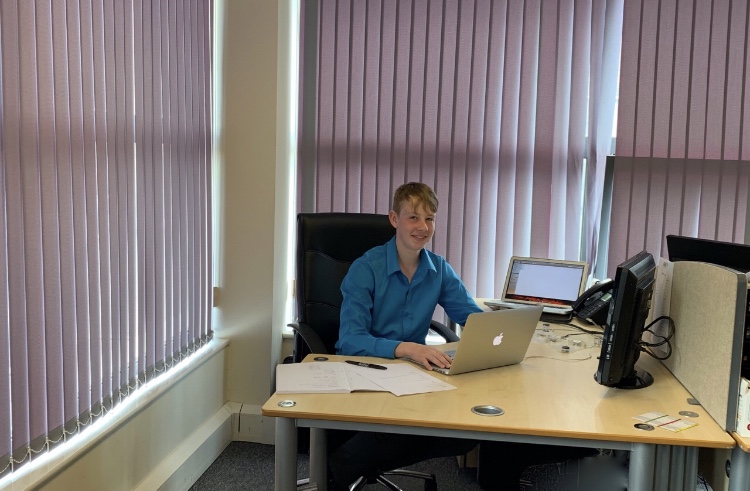 I feel I gained a lot and it has helped to prepare me for the future. I came away from my placement with a part-time job managing the company's social media accounts and writing articles for their webpage. My time there was enjoyable because I was able to perform jobs I like doing and make a valuable contribution to the company, with direct feedback from senior managers.
I would definitely recommend work ex
perience placements as they can help you
to decide whether a particular job is right for you as well as being a very valuable experience, which should impress any future employers.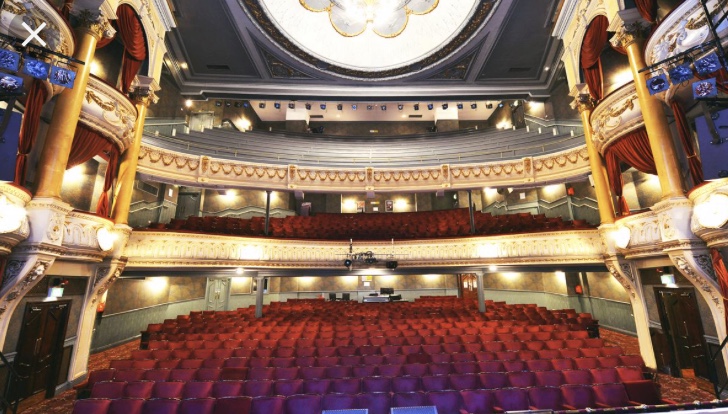 NICHOLAS HART did his work experience with the Grand Opera House in York, a theatre which hosts plays, musicals, opera and ballet. While there, he worked behind the scenes of The Mousetrap
THROUGHOUT my week with the Grand Opera House in York I was able to witness each aspect of the theatre from management to technical. It was amazing.
All the crew were really friendly as well and made sure I always had something to do. On my first day, with the management team, I checked the timetable for the next three years to ensure there were no errors in the system.
Next, I was in the box office. They showed me how to book customer tickets, print them off and organise collection. In addition to this, I was shown the different types of seats and the layout of the theatre.
On Wednesday, I was working with front-of-house for an evening performance. I was put with another member of staff for the first act of The Mousetrap - the popular play by Agatha Christie which was on that week. I had to direct people to their seats, then watch over them once the play started. After the first act, I went upstairs to count the proceedings from the stalls and ice-cream stands.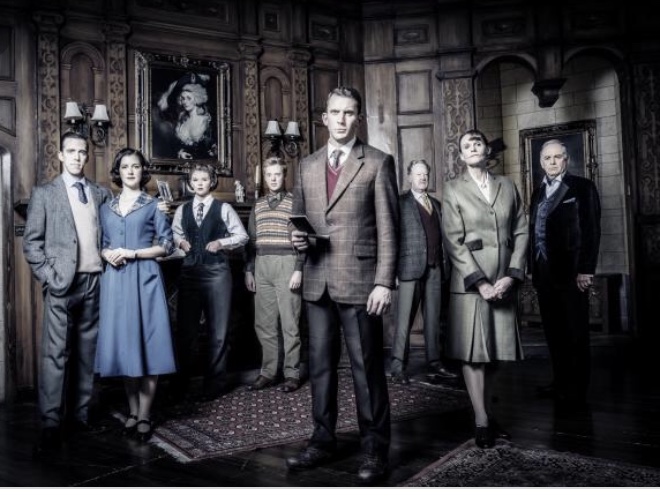 The following evening, I was backstage with the technical crew. For the first act I was behind the set, helping the crew member I was paired with. We went upstairs to an area above the stage where the bars holding the lights were held, using a combination of hemp roping and electric winches. For the second act, I was in the stalls with the lighting and sound desk and watched how they operated and how cues were given to change lighting and trigger sound effects.
On my last day, I helped the technical crew again, but on general maintenance this time. We changed the posters on the walls outside as they were slightly out of date. I also helped spray-paint some new hi-vis jackets.
Overall it was a great week and I had lots of fun working with and meeting all the crew and finding out about how the theatre operated and was managed. I would absolutely recommend this for anyone interested in theatre, as an actor or as part of the backstage crew.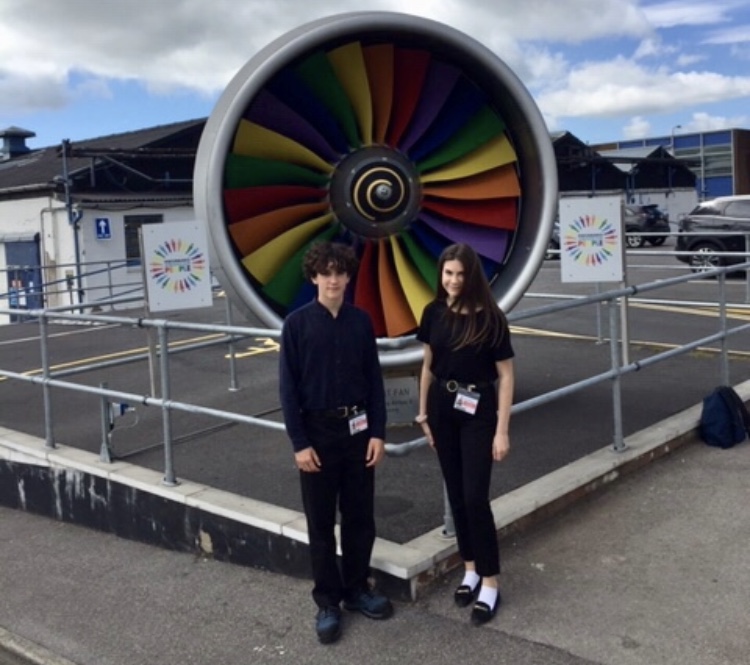 TED DANT and FRANCESCA ARMER spent the week at a Rolls-Royce base in Barnoldswick, Lancashire, which is part of its aero engine operation
WHILST Rolls-Royce is famous for its luxury cars, it's also one of the world's biggest aeroplane engine makers.
Its Barnoldswick plant primarily makes fan blades for commercial jet engines.
During our time there, we learned about the many processes involved in producing these highly complex titanium components.
We also learned about different pathways into the business, including post-A-level technical apprenticeships.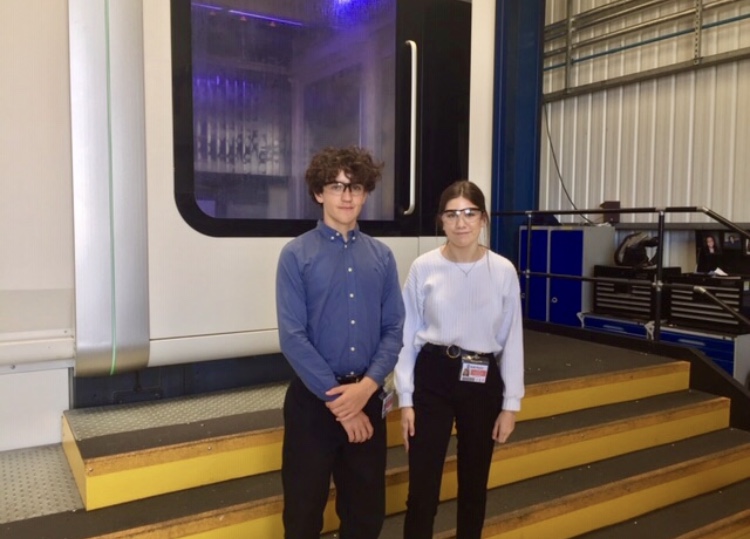 As well as time spent on the factory floor, we shadowed members of the supply chain management and manufacturing engineering teams. During some time spent in the lab, we carried out an adhesion test on a metal coating.
On the last day we gave a presentation to some of the senior managers on the subject "What will air travel look like in ten years' time?"
Ted especially enjoyed the chance to design and make something using computer-aided design and manufacture – a personalised aluminium key ring.
He had been considering engineering as a career, and says the work experience has given him lots of food for thought about what that might actually involve, and he's now looking forward to finding out more about his options.
ANNA MILLIONS worked at a marketing and PR agency in Ripon, where she got an insight into everything from creating engaging website content to exhibitions, online shopping and the potential consequences of Brexit
DURING my placement at Golden Frog I was pleasantly surprised by the amount of work and responsibility I was allowed to take on. On my arrival, I was immediately tasked with writing a blog post for one of the company's biggest clients. I then created a document for a newly developed website before adding social media information to a spreadsheet and forging connections with possible clients via Twitter.
My second day was equally insightful as I was allowed to sit in on an interview for a prospective graphic designer. It was really interesting as it allowed me to understand the job-seeking process as well as the complex decision-making which goes into recruitment. I then helped to produce blogs using an existing client brochure before being taught all about the different roles performed within Golden Frog.
Wednesday was packed with variety as I shadowed a member of staff on a day out of the office. Our first task was to meet with one of the sales directors of Samuel Grant Packaging to discuss their future PR strategies. We then drove to Sheffield to attend a round table event on the importance of protecting the environment and the urgent need to reduce the carbon emissions produced by manufacturers. This was interesting as it was a topic that I wasn't very aware of. Following this, we set up the Samuel Grant stand at the Made in Yorkshire 2019 exhibition in Leeds.
At the exhibition next morning I was able to interact with many interesting people from a variety of companies and learnt a lot about the different careers available within the manufacturing industry. Later that day, we attended an insightful debate on the uncertainty of Brexit. It highlighted many major issues such as the lack of girls choosing to enter STEM related careers and the steps which need to be taken to create a more gender balanced industry.
On Friday morning another member of staff and I attended a meeting with Hydroblast to discuss the addition of an online shop. We chose the products that would be available and selected images to add to the site.
My time at Golden Frog was very valuable. I learnt so much in such a small space of time and have developed a better understanding of the vital role PR has to play in every type of business. The placement has made me consider a career in the marketing industry even more strongly than before. The team were all lovely and really generous with their time and patience. I would recommend the company to everyone and really hope to stay in touch with them in the future.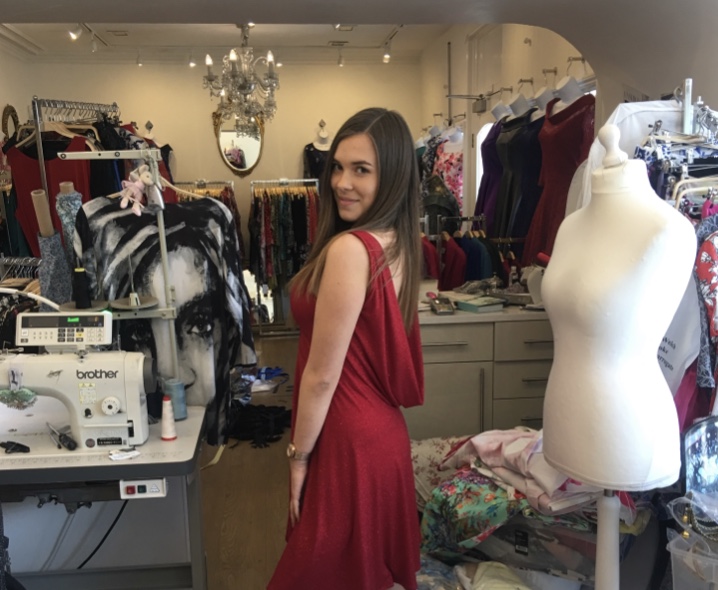 ELOISE HOPKINS worked at a bespoke fashion house in Harrogate, where she got to work with the designer-owner on a stunning creation
AT Jillian Welch Design in Harrogate, I gained invaluable knowledge and advice about the fashion industry.
I even had the amazing opportunity of collaborating on a dress design which the owner, Jillian Welch - who designs and makes women's day-to-day, mother-of-the-bride and evening clothing, including some bespoke garments - made.

During the week my work i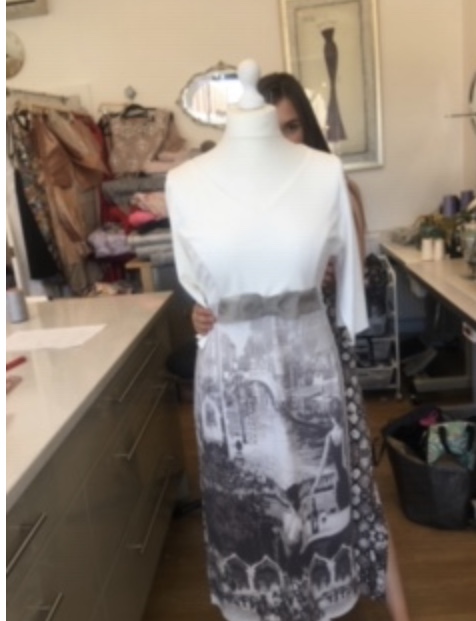 ncluded helping out in the shop, viewing the fittings of clients and learning different techniques on sewing machines.
On my last day, I dressed the windows of the shop, which consisted of choosing garments that all fit into a certain colour scheme and adding decorations to complement these themes.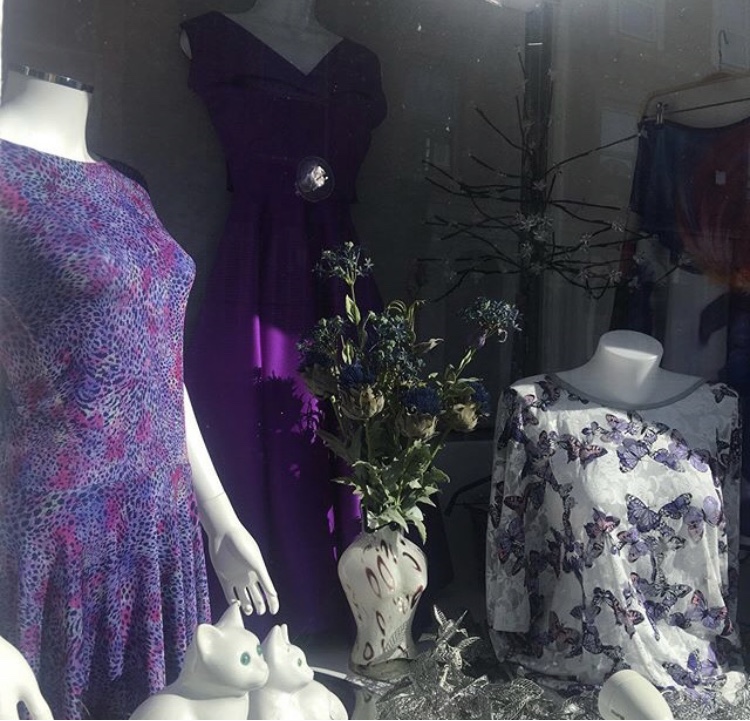 The experience has definitely encouraged me to pursue a career in the fashion industry -particularly women's evening attire.

I am so grateful for having the opportunity to do this placement.
(Photos: the design Eloise worked on, left. One of her window displays, right. Top, wearing one of Jillian's designs)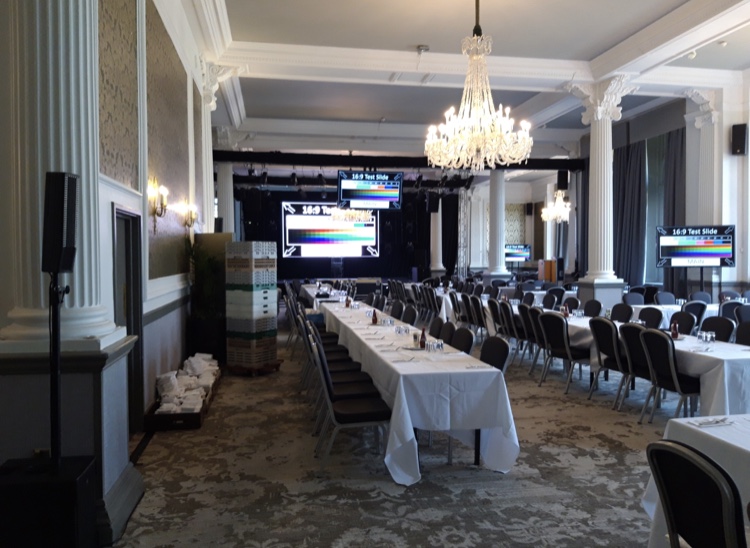 THOMAS WHITELEGG's varied work experience shed new light on the technical role he would like to pursue in the music and events industry
I WAS fortunate to be offered two weeks' work experience at two very different workplaces, which were both related to the career I would like to pursue in light and sound production.
I was based at Harrogate Theatre for the first week and began with a full tour of the theatre, which gave me a quick overview of the departments I would be working in and enabled me to meet the team. I spent my first day in the office and was tasked with creating scenery designs for a youth theatre production. I then got the opportunity to work with the youth theatre that evening when I helped them rehearse for their latest production. This was really good fun, particularly when I got to play a character on stage. I also worked front-of-house during a comedy production and got to meet and greet the audience and sell programmes, before getting the opportunity to watch the show, when I was picked for a bit of audience participation.
I was involved in the early stages of pantomime planning with the show producer and accessed the archive room to find photographs for the anniversary programme they are putting together this year and I also worked on a list of songs for the production. I thought my favourite experience would be the time I spent with the light and sound production department, as that is the career I would like to follow, but I most enjoyed my time in the box office when I had to work with members of the public and learn to use the complicated bookings system.
I moved to work with AV Matrix for the second week, which provides audio visual solutions for events. I spent part of the week at the Majestic Hotel in Harrogate, setting up, then stripping out, light and sound for the annual Toymaster conference, with a large team of technicians, before moving on to the Harrogate Pavilions, with a smaller team, to set up and remove a sound system for an electrical conference. It was very hands-on and they let me have a go at every job, which was really interesting. The days were long and it was really hard physical work but every team I worked with were very friendly and helpful. The hardest role however was in the warehouse, where all the equipment is packed and unpacked for events, logged in or out of the system and correctly stored. At the end of the week, I got the opportunity to work at a gardening weekend event at Harlow Carr, when I worked with the AV Matrix event solutions company and Make a Wish Entertainment to install staging, light and sound for the event and help run the sound desk for the stage performances.
I learned from my work experience that I would like to pursue a career where I will work in a team in a technical role, probably in music or events. I found I am happy to work with the public and would like to have a varied role, where planning and problem solving is a regular part of my job as I really enjoy the challenge.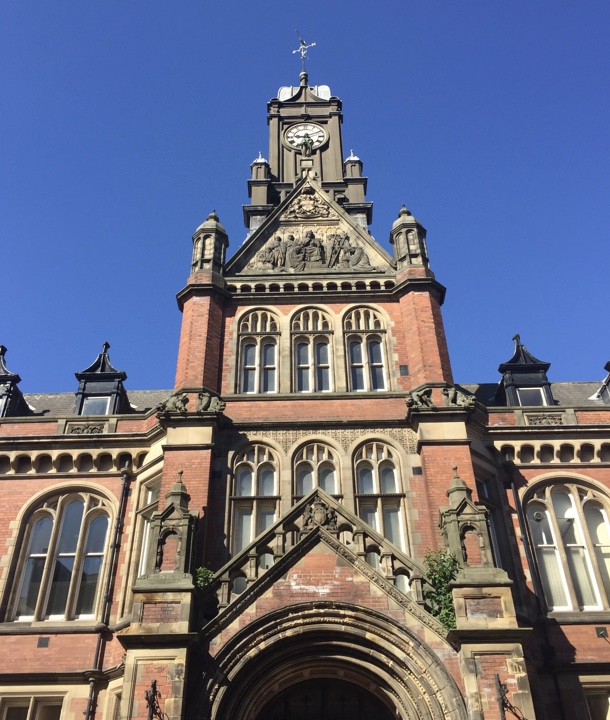 BERTIE WOOD got a taste of criminal life during his work experience with a solicitors' firm in York
I WANTED to get a flavour of what being a criminal solicitor is like, to better inform my career choice as research I'd done on the internet didn't do it justice.
I was thrown right in at Darwin Mcgrogan Tanikal solicitors in York when I sat in on a conference with a defendant accused of affray (a fight in a public place) and Vicki, a police station representative.
When I got back to the office, they provided me with the files of clients (including witness statements and evidence) they were representing and, with the help of Archbold (the legal dictionary), predicted the verdict and sentence they might receive.
At the end of my first day, I sat in the magistrates' court and watched solicitors in action mitigating the sentences of their clients. It was a very busy day and a great start to my week.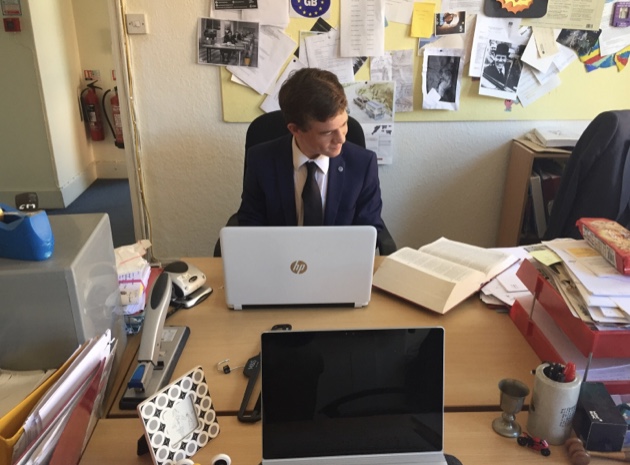 The long journey to the offices in York, combined with the often confusing work I had to do made the early mornings very tiring. The only thing keeping me going was a warm hash brown from a certain fast food restaurant and a hot chocolate!
On Tuesday and Wednesday, I was lucky enough to watch the case of a man charged with affray in York Crown Court from start to finish, including cross examinations by both the prosecution and defence barristers, their closing speeches, the judge's summary and, finally, the jury's decision which was 'Not guilty'.
Thursday was a much less busy day as is common with solicitors as workload fluctuates massively and can sometimes involve long, unsociable hours. For most of the day, I sat in the magistrates' court and watched some cases including shoplifting, drunk driving.
I spoke to a probation officer who told me his job is to decide the likelihood of reoffending and how dangerous the defendant is to themselves or others. Friday was a very relaxed day as there was not much for me to do so I did some administration and asked any questions that I had from the week.
In conclusion, it was extremely helpful to me as I was not only able to experience work as a criminal solicitor but also found out a bit as other roles in court. I'm not sure I would like a to be a barrister now. A corporate lawyer doesn't sound too bad.
I gained invaluable advice, which I could not have found on the internet, and learned lots from the experience, which has definitely made me think about my career path.
Everyone was really helpful and friendly and made me feel welcome. I am very grateful to have had this opportunity.
Also, developing mysoft skills was very helpful as I had to ask for directions on multiple occasions as well as make good impressions. The opportunities were amazing as the only place I couldn't go was to the police station (unless I was arrested) because I wasn't old enough.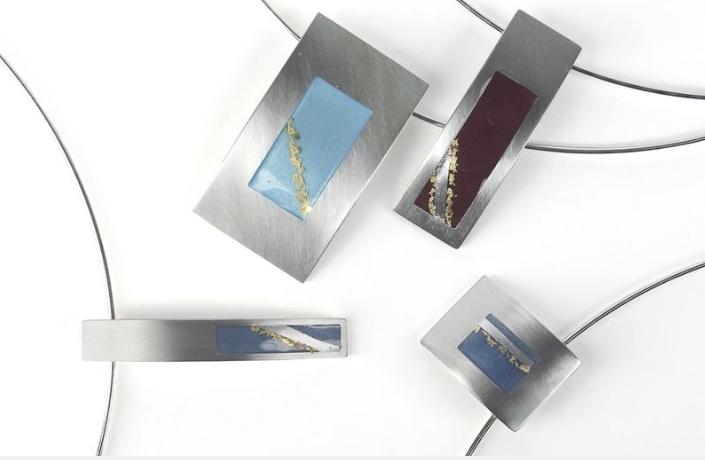 OSCAR CANNING got the chance to be creative when he worked with contemporary jewellery designer Emma Sedman, who produces distinctive pieces in silver and enamel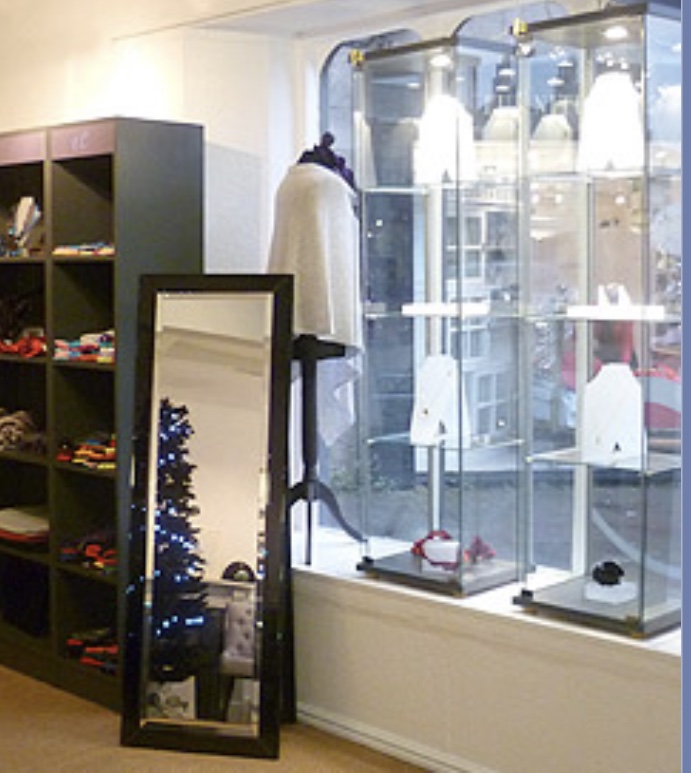 FOR my work experience I went to 'Emma Sedman Gallery' in Leyburn. I chose this placement because I like being creative and wanted to try something new. On the first day I was soldering wire, hammering patterns into silver, bending wire into unique shapes and learning the basics of jewellery making.
However, by the end of the week I was putting my own pieces in the display window, enamelling, working the kiln and using gold leaf to decorate.
The experience made me realise there is a whole world of jewellery making I still need to explore and I would like to continue jewellery making in the future. I also enjoyed seeing the design, making and selling process as a whole.
The week helped me to develop my soft skills through interacting with customers and I feel a lot more confident in my own abilities. I now know that, after leaving RGS, I would like to do something which involves design and creativity.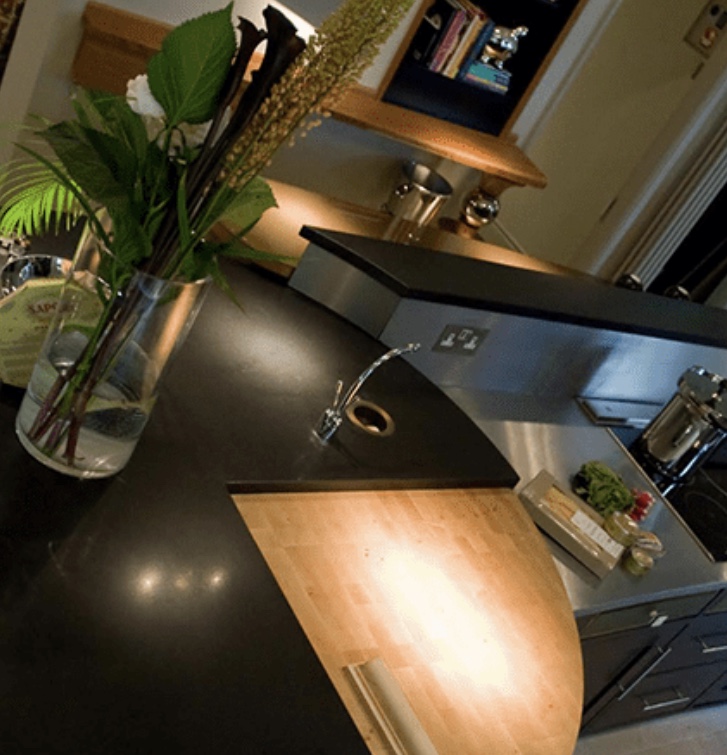 ELLEN McKEAG got hands-on experience at an architectural interior design company, where she learnt a lot about the working world, including computer designs and the importance of meeting clients' needs
DURING my week with the interior design and architecture company Yorkshire Design Associates in Harrogate I learned a lot about the design process and programs used to show ideas and concepts. It was really interesting, and I did something new every day.
After being shown around the office on my first day, I printed out and ordered some paperwork for a site visit to an ongoing project in Yarm, where we spent most of the day. I was able to see the intricate attention to detail needed to be a designer and how plans need to be altered to fit what clients want and need.
When we got back, I was tasked with making a mood and direction board for a utility room that was being built for the Yarm project, working on the rest of the design process during the week.
On Tuesday I continued with the mood board, until I was introduced to autoCAD, a 2D design application used to draw plans and elevations. I was taught how to use it and started to draw up the utility room plans. With the help of one of the designers, Nick Flatley, I chose the Belfast sink and taps to be used in the utility room and added them to the drawing. I then used Office Excel to write up the costs .
On the third day I continued with autoCAD and finished drawing the elevations. I was then shown SketchUp, 3D design software, which I used to draw up a 3D model of the utility room.
On the fourth day I continued with SketchUp and then, using the mood board, chose finishings and handles for the utility room, which I added to the drawing. I then met a sales rep with designer Georgie Smith and went through fabric and wallpaper samples. I was then asked to write up a blog about a sculptured feature wall the company had created for a house in Galphay, adding pictures of the design process. I then went through some sample options to select fabrics for a client's snug, emailing companies to order some in different colours.
Overall it was a great week and really interesting. Everyone was extremely warm, friendly and welcoming and went out of their way to help me. I learnt a lot about the working world.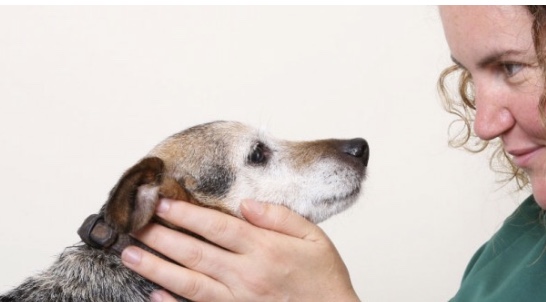 HENRIETTA JARVIS got the chance to help prepare animals for operations, which she was privileged to watch in the theatre of a local veterinary practice
DURING my work experience week at Bishopton Veterinary Group in Ripon I learnt what the day-to-day job of both a small animal vet and vet nurse entails.
I thoroughly enjoyed myself, getting hands-on with holding animals, measuring heart rate, breathing rate and temperature. I also watched operations (including castrations, dental work and a colonoscopy) both in and out of theatre, and consultations with vets and vet nurses.
One of my favourite days was spent in theatre. This involved first scrubbing up, preparing theatre with heat pads and equipment then preparing the animals with their pre-medication, sedation and anaesthetic.
After the operation I was involved in cleaning theatre, a crucial job in order to prevent contamination between animals.
Before visiting the vets, I had no real experience with small animals and was really interested in large animal work. Although I still want to be a large animal vet, I would also love to work in a mixed practice now.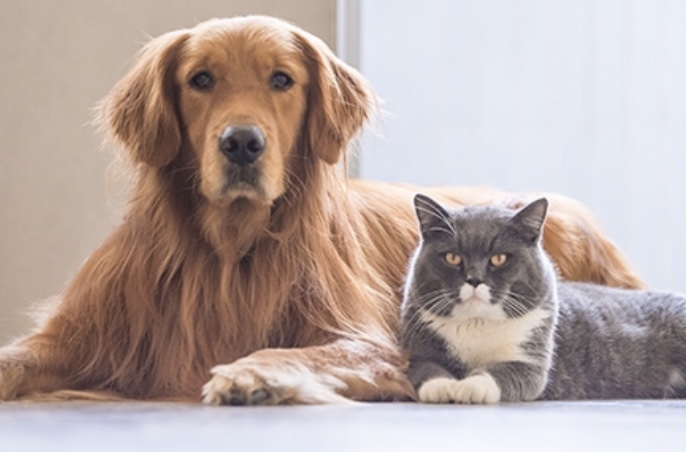 My best advice to people going on work experience in future is to ask lots of questions and offer to help with anything, whether it be cleaning and carrying things or making teas and coffees. This paid off for me during work experience as the vets and vet nurses treated me like I was one of their team and they really appreciated the help. If you are proactive on work experience you learn more, and you are more likely to be asked back and get a good reference for the future.
AMY BURGESS picked up lots of new skills at an accountancy firm and discovered the sort of bright, modern, lively environment she wants to work in in future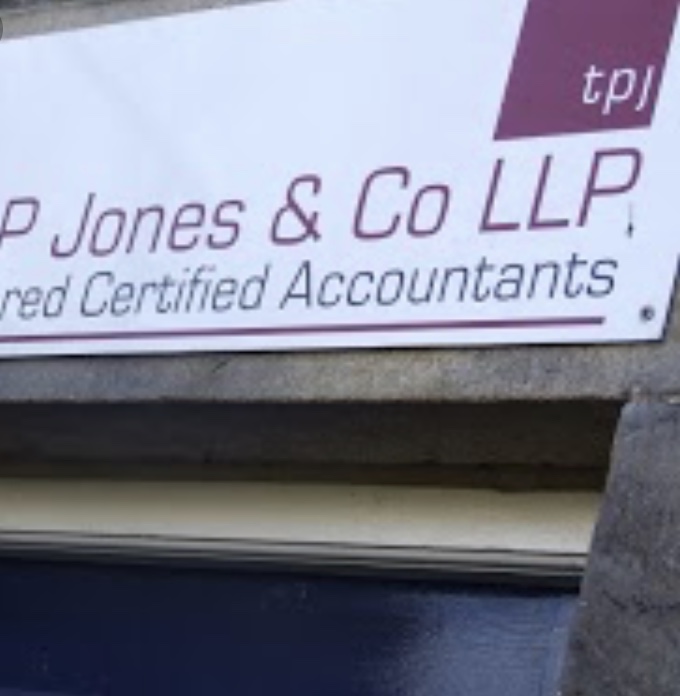 My week with TP Jones certified chartered accountants was extremely beneficial, helping me pick up lots of new things. I developed skills in IT and maths and also feel I have a better understanding of a work environment. I would now feel much more comfortable entering an unfamiliar work atmosphere.
I was initially very nervous and anxious as I didn't know anyone and wasn't sure what to expect. But when I walked into the Harrogate office on Monday, I immediately felt welcome.
All the staff were kind and helped me settle in. I first did some admin and filing, I quite enjoy organising papers, so this was a good task for me. After this, I started using their computer system. This improved my IT skills dramatically as they regularly use software such as Microsoft Excel and Word to write letters and create spreadsheets for accounts. I learned about their filing system and how they keep their paper documents organised, transferring certain elements of the files onto the system as they have paper and digital copies of all files.
On the second day I carried on transferring information onto the digital system. I think the people working were quite impressed as I finished the filing task quickly and to a high standard, which they didn't expect. I was feeling more at ease in the office environment.
On the third day, I got set the task of invoicing. I was very happy with this as it was a real invoice that they will be using in a completed set of accounts. This task definitely improved my IT skills as I learnt much more about the formulas on Excel and I felt much more confident with typing too. This task required lots of concentration as a simple common mistake anywhere would confuse the spreadsheet. In the afternoon I looked at the payroll, improved my mental numeracy skills as I realised how much effort goes into simple things like a payslip.
On the fourth day, I finished the invoicing, but I found that I had a made a little mistake in my work. This is a common mistake that they make often, so I wasn't in trouble. It took me all day and I had to go through the invoice and try to find my mistake. I didn't find it by the end of the day. I feel that this was beneficial to me as it drastically improved my problem-solving skills.
It was the last day and I was sad to go. I gave thank-you cards to all the staff because I was simply taken aback at how kind and incredibly welcoming they were. I spent much of the day trying to find my mistake and eventually I found it. It was just a simple mistake with addition!
Lastly, I was lucky enough to visit the Contract Natural Gas company, which supplies gas for businesses, to have a look at their environment. Their office was completely different, and much bigger, than the one I had been in all week. It was very modern and had bright colours everywhere and was much louder and very lively, just the sort of environment I would like to work in. It gave me great insight into industry accounting rather that the small accountancy firm I had been in that week.
The whole experience helped me in deciding the best way to go forward in the accounting sector (get a training contract with a small firm or preferably one of the big four). I greatly enjoyed my work experience and I would like to go back again if I had the chance.