Chain of events that mapped out champion cyclist's future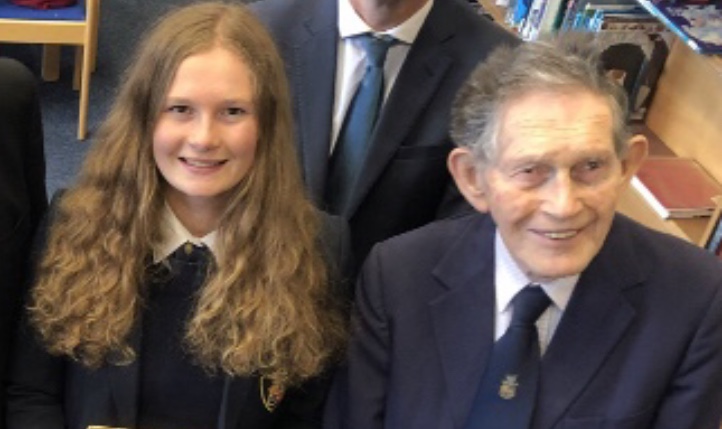 Geographers through the generations: Abi Smith, who is studying A-level geography at RGS, with grandfather Ben in the school library
Team GB cyclist Abi Smith's grandparents, geography teachers Ben and June Smith, met at Ripon Grammar School more than 55 years ago. Ben looks back on their time at the school and talks about his granddaughter, who competed in the UCI Road World Championships and is stepping up to the elite cycling ranks as one of the newest members of Team GB's Senior Academy
WHEN champion cyclist Abi Smith arrived at Ripon Grammar School as a boarder, it felt like a home from home. Nearly 60 years earlier her grandmother, geography teacher June, had helped set up girls' boarding at RGS.
And it was at RGS that June first met Abi's grandfather Ben when he arrived as head of geography. But the couple, who went on to have two sons who also attended RGS, might never have met were it not for extraordinary good fortune.
Ben and June will be remembered by many for the innovative and pioneering school trips they organised back in the Sixties - from taking students mountaineering in the Alps, to far flung countries like Africa, and through the Iron Curtain at the height of the Cold War.
They were renowned for running a dynamic geography department, which might never have come about thanks to an unfortunate postal delay.
Based in the Lake District at the time, Ben almost missed his interview for the post of head of geography at Ripon Grammar School after only receiving his invitation letter that morning back in 1964.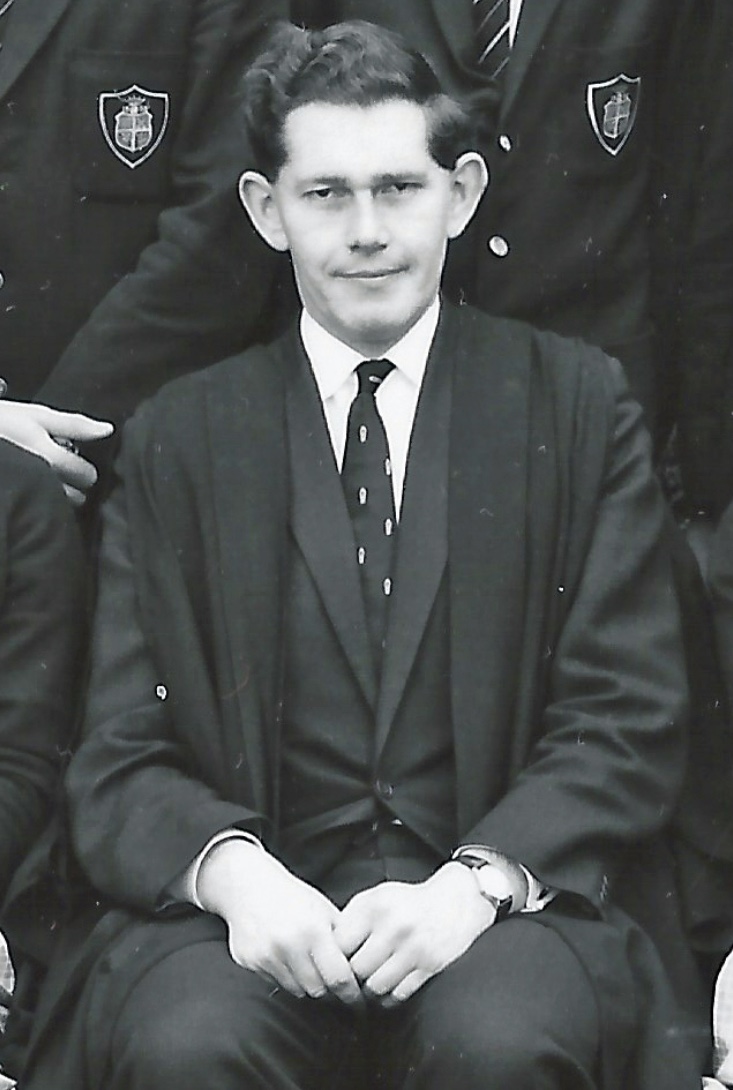 He arrived too late to see round the department and have a tour of the school with the other candidates. But, thankfully, he made it just in time for his interview with the headmaster, Mr Atkinson, at 11.30am.
Having only seen the job advert at the last minute because he was away on a school climbing trip in Snowdonia when it was published, he had applied late: "My interview was at 11.30am, by 12.30pm I had the job. Mr Atkinson offered it to me there and then and I accepted it on the spot because it felt right, I had a hunch."
Remarkably, his one colleague in the geography department, his soon-to-be wife June, had had a similar experience two years earlier.
Having just returned from Germany, where she had been teaching refugee children, to her home in London, she was summoned to Ripon Grammar School for interview the next day and didn't think she would be able to make it.
Mr Atkinson phoned her, urging her to take the train to Ripon the next morning, where he met her in his car at the railway station. "Within half an hour of the interview, she was offered the job," says Ben.
Luckily for Ripon Grammar School, she also accepted. Ben, 88, born in Whitby, where his father was a land drainage officer, describes Ripon Grammar School at that time: ""Back then, it was a typical country town grammar school, with fewer than 600 pupils. Somehow I just felt at home immediately, the staff were very friendly and helpful and I got on well with the youngsters, who were terrific."
He is sure his wife June, who sadly died in 2006, would be delighted her granddaughter, Team GB cyclist Abi, who lives near Helmsley, chose to board in Johnson House – and to study geography.
"Abi had choices but chose, to my great delight, Ripon Grammar School. I am sure June would be absolutely delighted and I am rather chuffed. School has helped Abi enormously and she is doing very well. I am very proud of her indeed."
Ben has fond memories of many of his own students, particularly Bruce Oldfield, who went on to become a famous fashion designer, and had tremendous strength of character.
He will never forget a fourth form field trip to Malham when he helped students who wanted to take the direct route up the broken waterfall ledge with sheer drops, at Gordale Scar, rather than take an easier way round.
Looking back, Ben confesses it was adventurous, and not something teachers could get away with nowadays: "Bruce was terrified, he had never done anything like it before, but he decided he wanted to have a go. He was just like jelly, really terrified but he did it."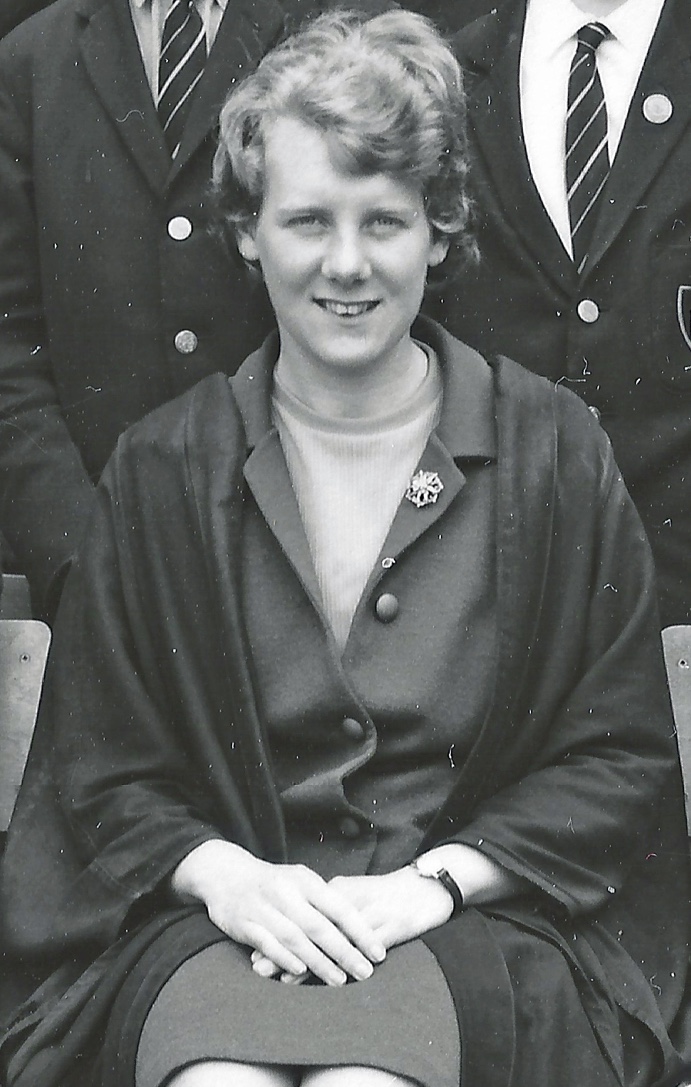 Later, the students came across another limestone cliff ledge, 100ft high: "I told them I would help them across, or they could go around the easy way at the back. I was really surprised when Bruce Oldfield turned up again.
"He showed his guts and did it, he got across and overcame his fears. I shall never forget it, it took a great deal of courage and determination, which was typical of him."
Bruce, a former Barnardo's boy, is one of many former students Ben has enjoyed meeting again in recent years. He and June clearly made a lasting impression on many of their pupils: "One of the people I taught in the early Sixties came up to me in a shoe shop in Harrogate recently, she remembered a trip I took students on to the Sahara Desert," he says.
One of the things Ben appreciated about Ripon Grammar School was the healthy social mix of students. After taking a degree in geography, followed by a diploma in education, at the University of Reading, Ben had ambitions to teach at a good boys' public school.
But his experience of teaching practice in the independent sector put him off: "It is a dead easy job, with classes of ten to 12, but it was expensive to go there and I didn't feel happy in that world of privilege."
As a result, Ben decided he wanted to teach in the state sector. And the independent sector's loss was Ripon Grammar School's gain. Following posts in Melton Mowbray and Ambleside, he settled in North Yorkshire.
"Ripon Grammar School had a very stable staff, almost all heads of department had been there for years and remained until their children were 18. Most, without exception, stayed on until they retired."
He first met June in the geography stock room, after he had accepted the job: "June had a class, but knocked on the door because she wanted to see who her new boss was. I didn't really meet her until the next day."
June had arrived at RGS in 1962, when the new boarding house for girls – Johnson House – headed up by Constance Gilbey, was under construction, following RGS's merger with the local girls' high school.
"It was a brave decision to build a brand-new boarding house for girls," recalls Ben.
Although the kitchen, dining and recreation rooms were open, until the work was complete, some girls stayed in local homes and hostels and the sanitarium was converted into boarding accommodation.
In 1963, June moved into Johnson House, which was, by then, fully operational: "We worked together in the geography department and our relationship developed gradually over our first two or three years at RGS," explains Ben.
Their school expeditions were ambitious for the time: "The Sahara trip came about in 1965 when Oxfam commissioned a floating school passenger ship to take us to Algeria and into the desert to show secondary school children how the charity was spending its money in a Third World country. It was fascinating.
"Then, in 1967 the Youth Hostel Association invited school groups behind the Iron Curtain, at a time when hardly anyone from the West went through. I took about 20 sixth formers and we stayed in Poland and Berlin."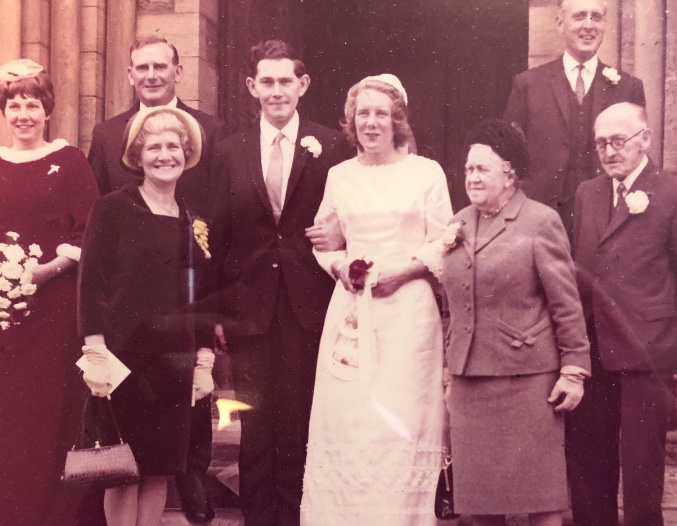 Other adventurous trips included taking lower school pupils on mountain training camps in the Lakes and sixth formers on high level climbing in the Alps: "We took boys and girls to the Alps and stayed in mountain huts."
The couple got engaged in 1967 and married in 1968. Son Stephen, now a forest management officer, was born in 1970 and Christopher, a scientific consultant, in 1972.
Ben turned down offers of promotion elsewhere, and decided to remain at RGS: "The boys enjoyed RGS, and were doing well – where could be better? Taking a job would have meant uprooting them and it would have been a pity to move them. My career didn't matter if they were happy and doing well."
Irritated by the increasing level of government interference in education in the Eighties, Ben decided to retire from teaching early, aged 57, to work as a postman.
With June back working as a supply teacher by then, he enjoyed his new role: "Starting work at 4.30am wasn't a problem and I was usually free by breakfast. It was the ideal job."
The couple eventually retired to North Shields, where they took up half-marathon running: "I ran my first Great North Run when I was 66, doing about 16 altogether."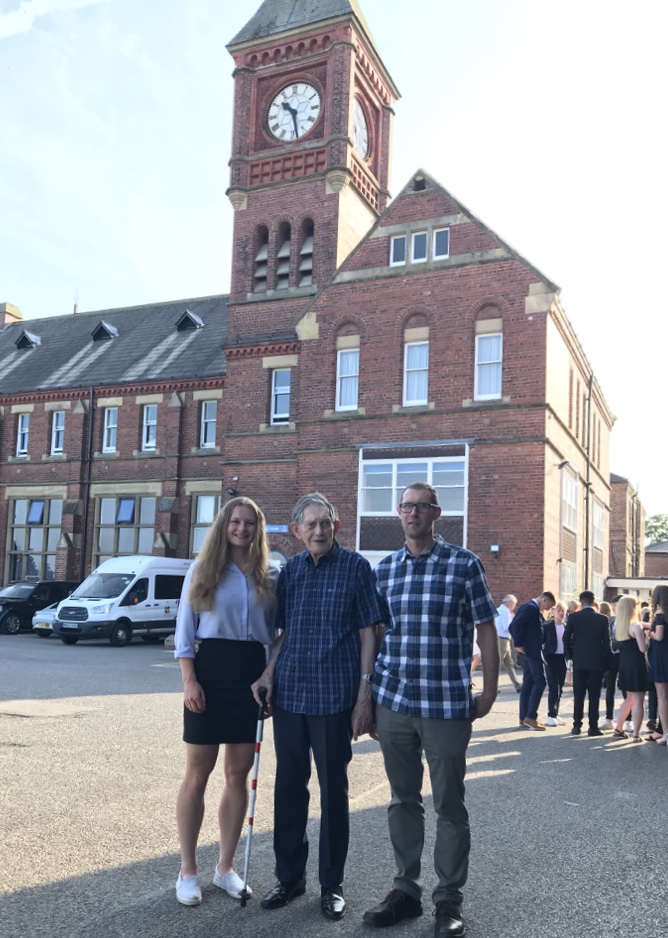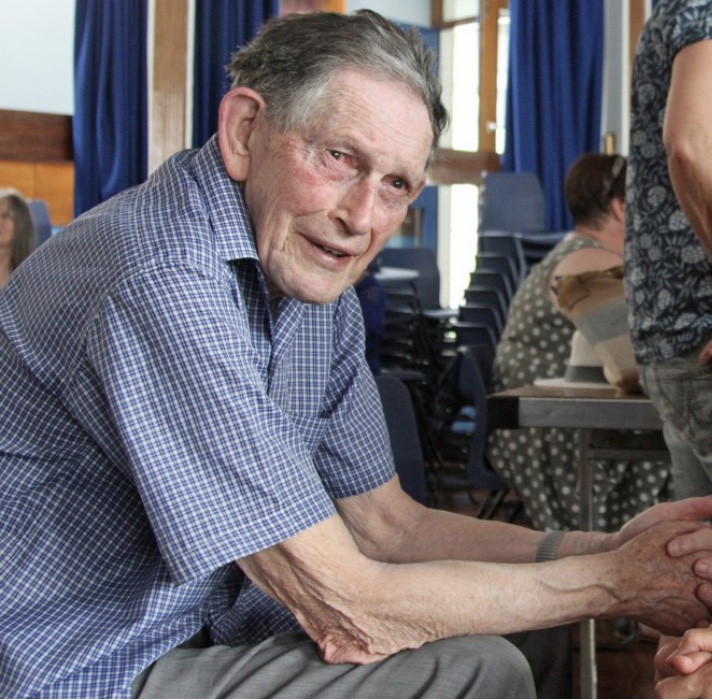 Registered blind in 2009, he ran his last aged 82, tethered to his son, Stephen: "I stopped after that. My body was telling me to stop being stupid."
The couple enjoyed many years of retirement together, holidaying in Mediterranean countries in winter and taking trips to North America, New Zealand and Jamaica: "We loved travelling and walking and did a lot of climbing," he says.
Following June's death, Ben relocated to Whitby but has recently returned to live in Ripon again, a city that really does feel like home.
He's delighted to remain in close contact with RGS, where he attends many school functions: "I have been left 30 years but I'm very impressed by the way the school has developed in so many ways.
"We are very lucky to have it in Ripon."
*Three generations at RGS: Pictured, left, Abi with her grandfather, Ben, and father, Stephen at last year's sports award evening
Other pictures from top: Ben and June as teachers, and on their wedding day in 1968; Ben, doing the Great North Run with June and with Stephen, Ben and June, Son Stephen and family and son Christopher and his children, below.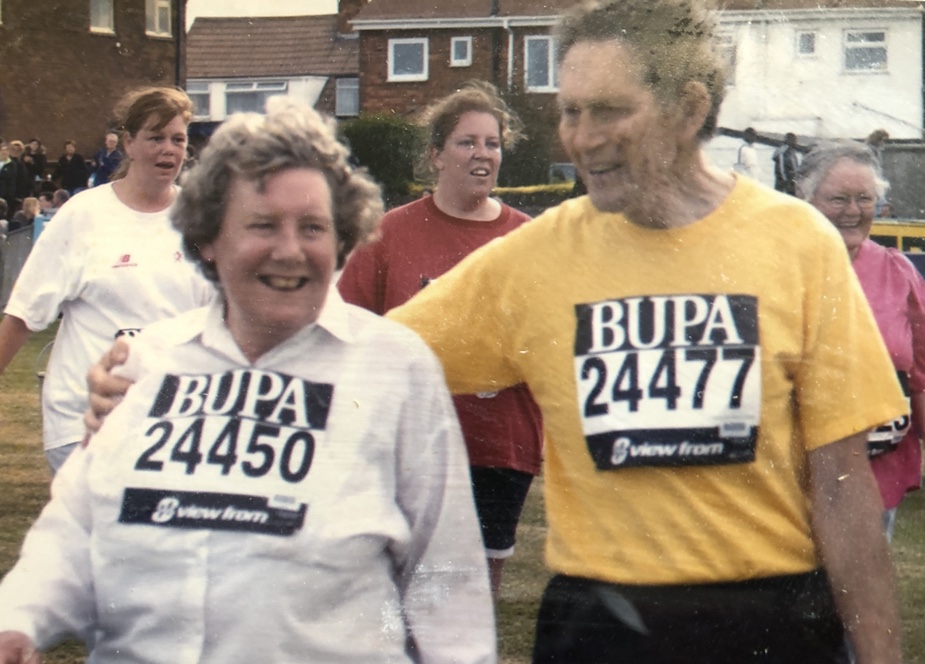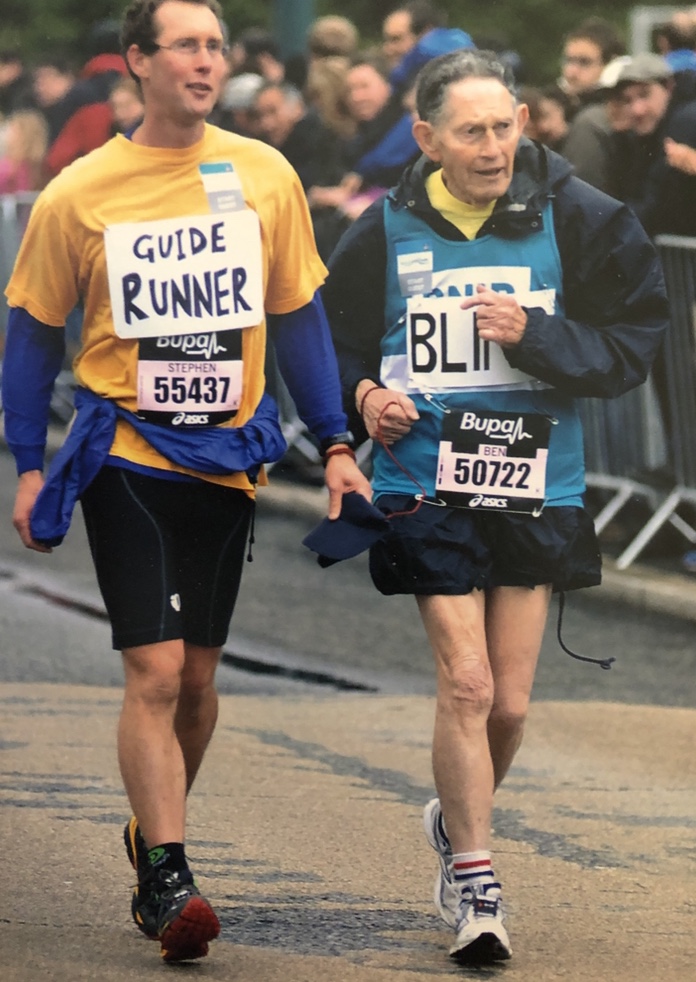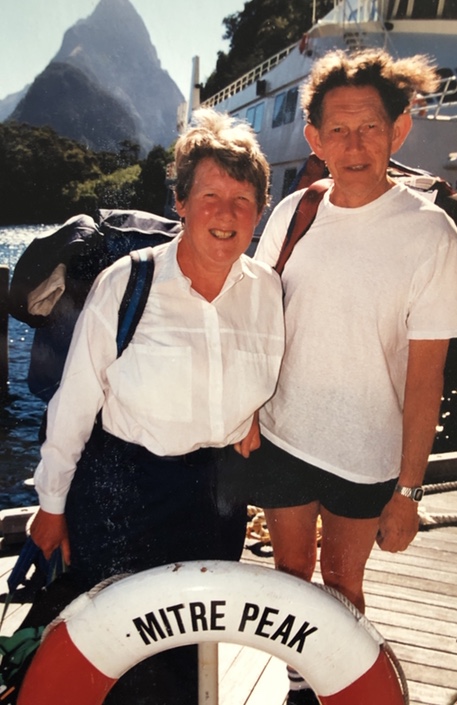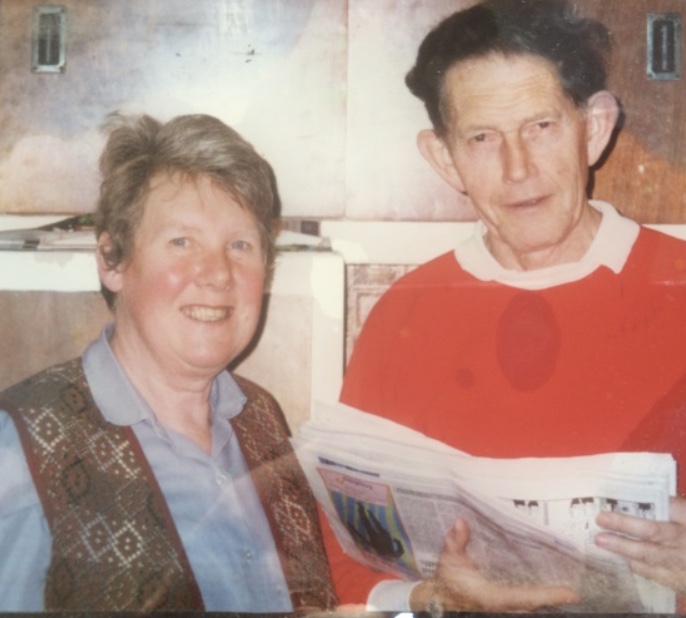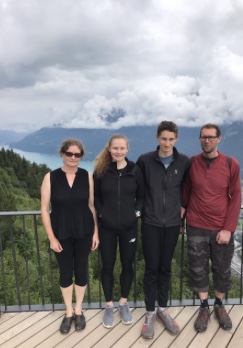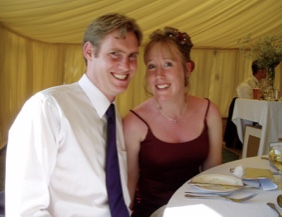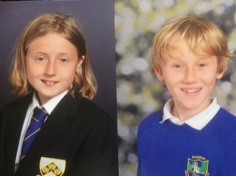 Other photographs from black and white portraits, top: Ben and June as teachers, and on their wedding day in 1968; Ben, doing the Great North Run with June and with Stephen, Ben and June, Son Stephen and family and son Christopher and his children, below.