Christa picked to swim with top squad in nationals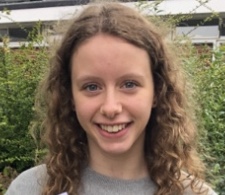 SIXTH form student Christa Wilson is celebrating being selected to compete in prestigious national swimming championships.
The 16-year-old, from Dishforth, who has set her sights on making it to the Olympics in 2024, will represent the North-East in the national schools' swimming championships at the end of February.
Team manager Paul Simpson said Christa would be representing her school, county and region: "Just to be selected for this squad is an achievement in itself because of the strength of swimming in our region."
Christa, who is currently preparing for Olympic trials due to take place in London in April, balances her studies with 3.45am wake-up calls to travel 140-mile round trips for early morning training sessions before school.
She spends around 20 hours a week travelling 1,000 miles by car for her sport, in addition to after-school swim sessions and gym training, and has competed alongside top swimmers from all over the world.
She achieved fastest in her category in the 200m butterfly at Glasgow International Meet this year and has been crowned county champion for Northumberland and Durham 20 times.
*The English Schools Swimming Association National Championships will be held in Sheffield on February 29 and March 1.