'Confidence was the biggest thing I learnt at RGS'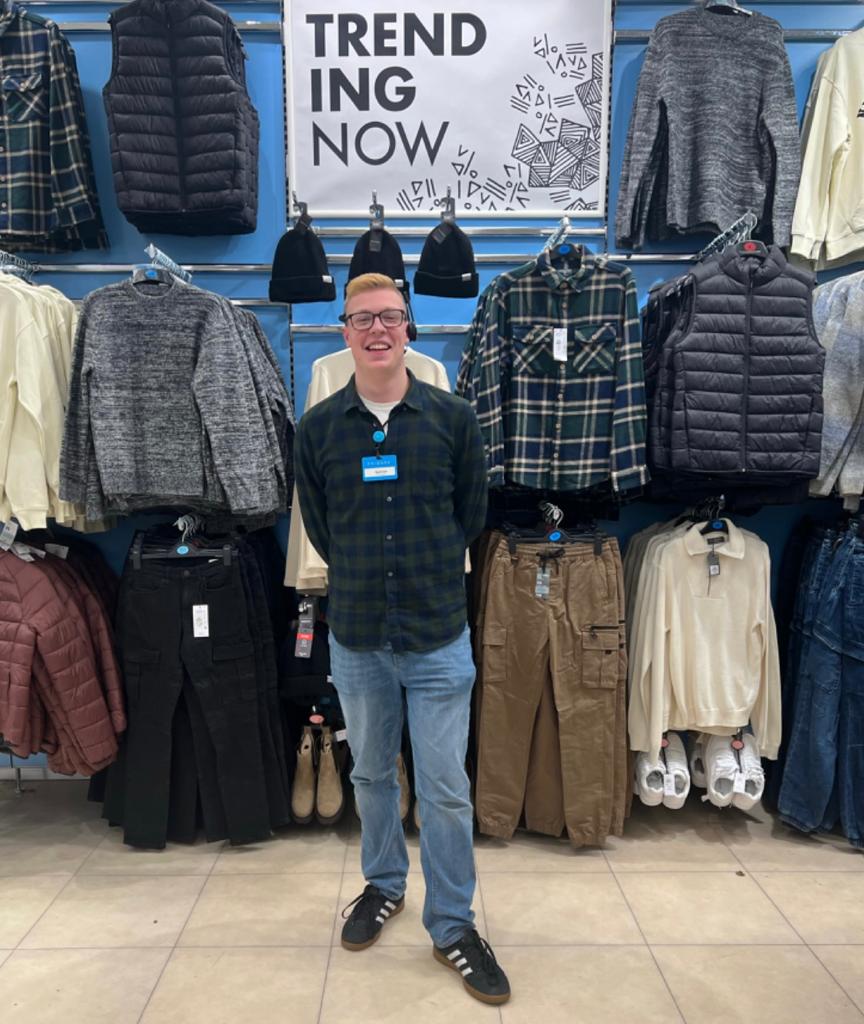 Spencer Newport left RGS in 2021 after taking A-levels in business studies, history and Geography. After embarking on an Open University business degree, he is now enjoying a career in retail management
What did you do when you first left RGS:
I chose to work full-time at Morrisons supermarket, where I had worked part-time whilst in sixth form, starting an Open University degree in business management part-time alongside full-time work in October 2022.
What has your career path been since then?
I stayed at Morrisons until November 2022, having gained experience across the store, finishing my time there as a team leader. I started at Primark in Harrogate as a team manager last December, where I initially managed smaller departments in the store. I am now on a six-month in-store secondment as a department manager, with responsibility for menswear and also line-managing the Homeware team manager.
What is a typical day like?
I normally start at 8.45am, when we gather for a meeting with all staff, before walking my department with the store manager and opening the store at 9am. I am quite hands-on, so in the morning I will usually help my colleagues process the delivery, before putting more of a focus on the commercial aspects of my role, identifying any changes to shop floor layout or visual merchandising that may be needed to bolster our performance. I also now lead on ways of working across the store, so often spend part of my day working with colleagues we have identified as needing coaching. I finish the day at 6.15pm, after closing the store. However, every day has its challenges and there are always spanners in the works, this is what I like most about retail.
What have been the highlights of your career to date?
Being able to go and support other Primark stores has allowed me to learn a lot. I spent some time in Basingstoke, helping their team through a full refit this summer, that was a really enjoyable learning experience.
What's the best bit about your job?
The people I work with, it really makes the difference having a supportive team around you.
And the worst?
Rude and disrespectful customers, but it's part and parcel of the job sadly.
What was the most important thing you learned at RGS?
Confidence was the biggest thing that I learned in my time at RGS, something that I certainly use in such a customer-centric job.
What did you want to do when you were at school?
I wanted to be a commercial pilot until around fifth year. Things obviously changed and I went a completely different route.
What is the one piece of advice you'd give students interested in following a similar career path?
Work hard, get a job and prove your worth to the company. Always take opportunities given to you and show them what you can do. Retail is an industry where you only get out of it what you put in.
Who was your favourite teacher and why?
I was lucky enough to be taught by Mr Bruce for most of my time at RGS. He is a very personable man with a real enthusiasm for history. He was even kind enough to be my extended project qualification supervisor in sixth form, where I looked at the history of British policing.
What are your hopes for the future?
I hope to carry on working hard where I am for now and take any opportunities that come at me, working for such a large and positive company is certainly a big advantage.