Congratulations to our Yorkshire Cup triple champs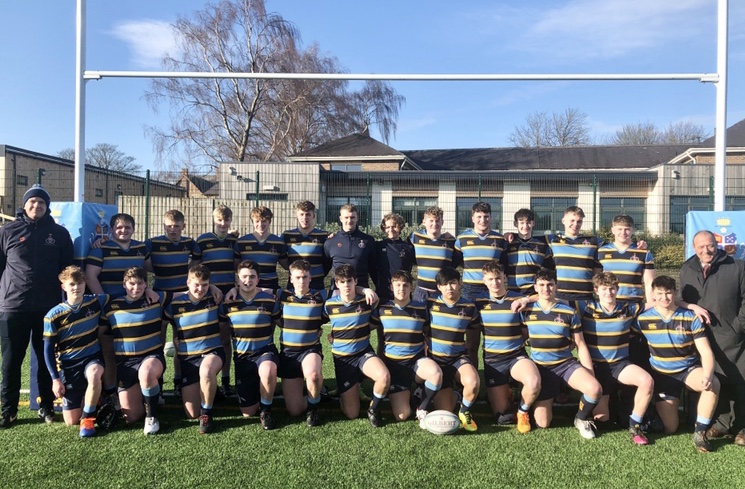 RIPON Grammar School's U18 rugby players are Yorkshire Cup triple champs after an exciting derby match against Harrogate Grammar School which saw them bring the prestigious cup home for the third year running.
It was a bitter sweet experience for one sporting family, with brothers Henry and Billy Fletcher playing for opposing teams. But both boys - Henry playing for HGS and Billy for RGS - put in great performances which did their parents proud.
PE teacher and RGS coach Jonny Harding said he was extremely proud of his team: "They were excellent, winning for the third time in a row without conceding a try in the final - testament to the attitude towards our defence that has been constant over the last four or five seasons at U18 level."
With a final score of 29-6, he explained: "They matched organisation with aggression, which has been the cornerstone for our success in recent times. In addition, we have some excellent attack options throughout the squad - all are comfortable with ball in hand, and all carry with power."
Five of the boys have been talent-spotted by the elite professional Carnegie Academy: "The starting team worked hard to get a lead by half-time, when we were able to bring four academy players on, which took us away from our opposition.
"Both Mr Miller and I are really pleased for the team, and wish departing Year 13 students the very best for the future. We hope they continue to play university or club rugby as they move onto their next step."
Captain Ewan May said the squad was delighted "I know just how hard all of the lads in the match day team and the extended squad have worked for this."
The 18-year-old, from Dishforth, who plans to study astrophysics at the University of Bath, and has also played football to a high level, added: "Ripon Grammar School has gained a reputation for rugby and this strengthens and continue the legacy created in previous years."
The school's U16s team also won the Yorkshire Cup last year.
Ewan is among the gang of five talent-spotted by Yorkshire's premier professional club, Yorkshire Carnegie Academy, and has also represented his county in the sport: "I'm thankful to those who have helped and encouraged me in the short time I've been playing rugby," he said.
Team-mates Will Barrett, 17, from Summerbridge and Toby Boyce, 17, and Oscar Lees, 16, who are both from Ripon, also play for Carnegie, which seeks out the best young players in the country and is considered a stepping-stone to playing at the highest levels. In addition, Ben Rickard, 17, from Ripon, has been selected for training with Carnegie's U17s squad.
Oscar, the youngest of the four who have enjoyed top-level playing with the Yorkshire club against other premiership sides, including Worcester, Northampton, Leicester and Sale, described the experience as invaluable: "It's a real challenge and an opportunity, being amongst the best players in the county."
Studying maths, economics, PE and physics at A-level and also a keen cricketer, Oscar says: "For the 1st XV to win three years in a row is exciting and caps off a really positive season. It's also a great way to say goodbye to the upper sixth players after seven years of playing rugby at Ripon Grammar School."