Fashion forward Emma's designs on the future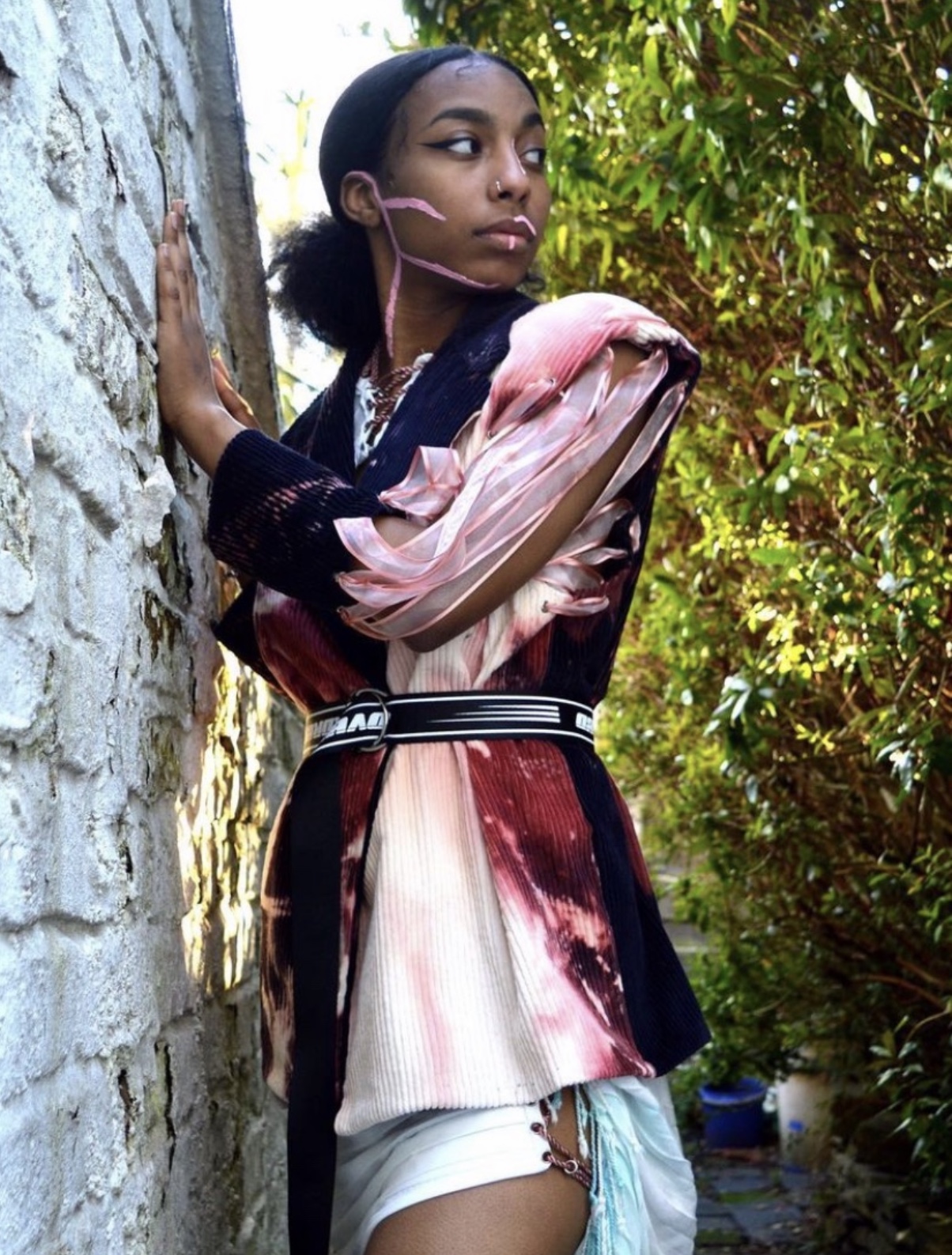 An RGS past pupil is making a name for herself in the international fashion world. Rising star Emma Money tells us about her designs on the future
A TALENTED recent RGS leaver and pioneering fashion design student is a name to watch out for. Although she's still at university, Emma Money's innovative work has been shown in prestigious exhibitions in Madrid and Shanghai.
Emma, studying fashion design at the University of Salford, was talent spotted in 2020 by the Barcelona-based fashion association MODA FAD, which promotes young experimental designers, and by the FutureLab platform, dedicated to innovative art and design.
She was one of 20 British students selected to take part in a sustainable design project and exhibition, in association with the British Fashion Council, Design Manchester and Barcelona Design Week, while her designs were also selected for FutureLab's international fashion exhibition in Shanghai.
Also a gifted painter, last year one of Emma's works was selected for a virtual exhibition and shortlisted for a prestigious Arts Society prize. Her stunning creation, Spirit, was among eight works displayed on the Arts Society Connected website.
And her vibrant portrait, Soulful, which she painted in sixth form, was selected for the Royal Society of British Artists annual spring exhibition at the Mall Galleries in February 2020.
Her former art teacher, Fiona Henson, said: "We are so proud of Emma's achievements and she has done this in her first year at university, amidst a pandemic. It goes to show what talent, dedication and commitment can produce."
Emma, 19, from Harrogate, who returned to live with her parents during lockdown, says: "I am really excited about the future knowing that the last twelve months has resulted in my work being exhibited at the Mall Gallery in London, in Madrid and also in Shanghai. Maybe next year, I will get to travel to present my work."
Inspired and guided by lectures and feedback from industry experts and mentors, she explained how she worked with students from the UK and Spain on her MODA FAD team's retail gender-based project.
"We focussed on altering the way clothes are presented to the customer, by abolishing gender divisions within clothing categorisation, display and sizing, so redefining the shopping experience."
Her team presented their version of the future of retail, with the work displayed in an exhibition in the form of a pop-up shop in Madrid for a month: "We considered how the retail experience felt to the user, offering a service in a way that eradicates gender assumptions, with an emphasis on individuality and expression.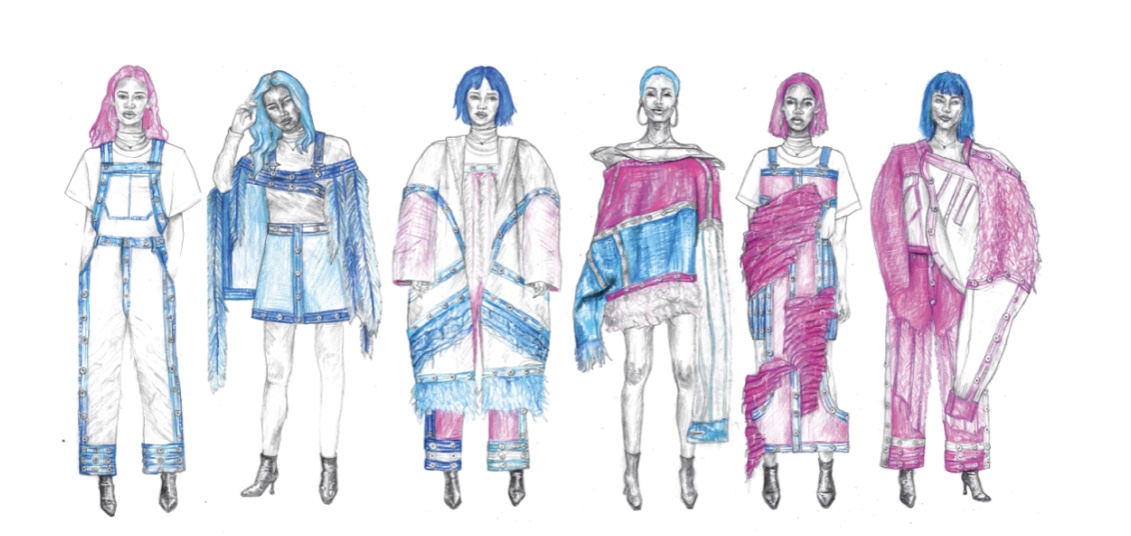 "It was an incredible experience and we all learnt from the discussions we had as a group."
She explains: "My work has always evolved from a social analysis (as Mrs Henson pointed out to me, before I even realised myself), to drive forward progression, such as my work on sustainability, my denim multi-purpose recycled collection and my current project about aiding the break-down binaries.
"I love structural and innovative design, including one of my favourite projects: Timber, in which I led my team into laser-cutting wood into flexible structures to sew into and onto our garments. I have made a promise to myself to only use recycled fabrics or at least sustainably-sourced fabrics and to make clothes which provide a function which better a particular situation, instead of being purely for aesthetic."
For the Arts Society competition, shortlisted artists were asked to respond to the theme of isolation and produce works reflecting their experience of lockdown.
She used acrylic on canvas to capture the spirit of our time, the image reminiscent of a virtual Zoom get-together in an NHS rainbow colour scheme.
She said: "Many of us are unable to see our loved ones so I decided to launch this project, asking people to send in photographs taken over the lockdown period, using Facetime, of the people they miss most. I then painted these and collaged them together. I wanted to use the raw edges to act as a metaphor for the physical barriers between us, but with the pictures all attached demonstrating that, regardless of the distance, we're all still together in spirit."
Emma, who left RGS in 2019, describes her work as reflective: "In school I created pieces looking at the effects of how technology has impacted different generations' relationships and the joy that can inhibit or prohibit. My current fashion design collection is based on mental and physical boundaries. I think unless you can reflect upon the issues on a deeper level, there is no capability of moving forward, and art is a huge field for provoking people to reflect not only on society as a whole but also on their personal pathways."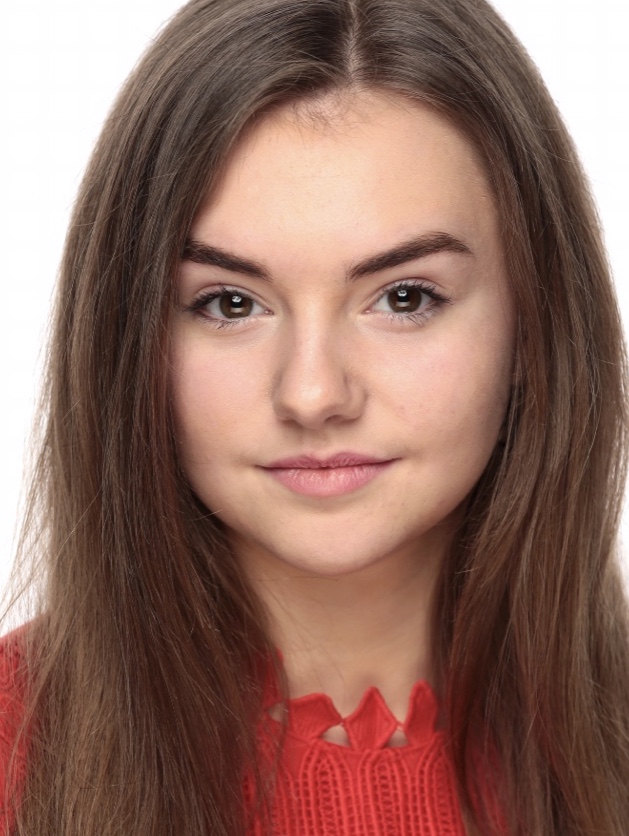 She says visiting a Zao Wou-Ki exhibition in Paris on an RGS art school trip was a pivotal moment for her: "I was absolutely blown away by his use of colour, as well as the emotion and atmosphere he could create without even having a tangible subject.
"On a more personal level, I had some incredible art teachers throughout my time at Ripon Grammar School and they challenged me to see beauty in the finest of details in mundane objects, which transformed my mind."
She is inspired by everything from nature to the people she's surrounded to and other cultures she has experienced and researched: "As I grew up in North Yorkshire, the countryside and wildlife has been a huge part of my upbringing, " she explains.
Emma sent the portraits she created for her Arts Society entry to those featured, or their loved ones, and also donated the £125 she received for commissions to the NHS: "I wanted to give a little bit back to those experiencing it most."
She adds: "I love being able to put a smile on peoples' faces, especially in this situation when the majority of people had no idea they were being painted, so when they received the paintings or saw themselves online they were overjoyed."
Continuing with her studies online, she says: "Returning to live back home meant leaving my friends and boyfriend behind in another city, but it has given me more space to renew my creativity." Her ambition now is to create a huge scale project involving all the arts.
*Emma is pictured above and below, with her Soulful portrait. Her projects and designs can be found on Instagram: @ejm_artanddesign