LOCKDOWN DIARIES: A view from abroad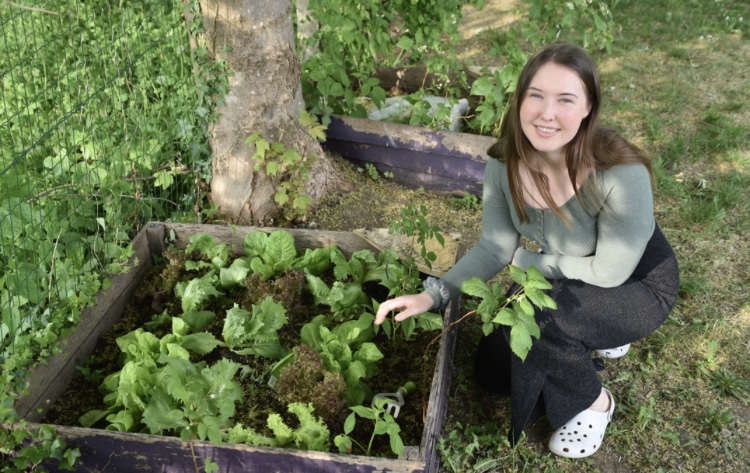 Belgian student Charlotte Chapman experienced a dramatic dash to the airport from RGS's Johnson House as countries throughout Europe began closing their borders. Inspired by her famous great-grandfather, she explains how she is making the most of her life in lockdown
SIXTH form boarding student Charlotte Chapman is spending lockdown with her family in Belgium, where she has been learning new skills and volunteering to help the elderly in her local community.
Having hastily packed her suitcase in Johnson House, she rushed to catch a last-minute flight from Leeds Bradford Airport in order to get back to Belgium as quickly as she could, as lockdown loomed and borders began to shut down all over Europe.
The 16-year-old, who started boarding at RGS in September 2019, had just recently returned from her half term work experience at a Swiss ski school where, as a junior instructor, she had enjoyed putting her languages to good use and picking up useful diplomacy skills in the world of work.
Although she has family in Yorkshire, Charlotte was born and raised in Belgium and Switzerland, so was able to communicate with her pupils in French and German, having mastered a number of languages as a home-schooled student abroad.


Before journeying back to RGS, she had already heard a lot about Covid-19 from a fellow instructor, Aimeric, who'd been hastily evacuated from his job at a Chinese Olympic resort a few weeks before, leaving behind several stranded Swiss colleagues.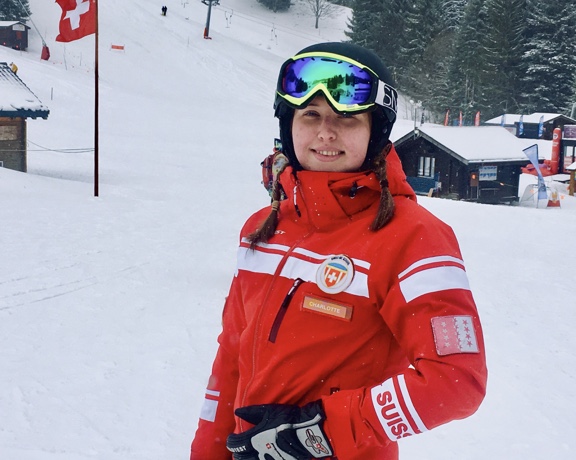 Her younger brother Caspar, a chorister in the Vienna Boys' Choir, also shared stories from his tour of South Korea. Still, it seemed like it was a problem on the other side of the world and, like everyone else, Charlotte didn't think too much about how it would change all our lives in the coming weeks.


Charlotte's return journey to RGS, via a flight to Manchester Airport with her mother on February 23, already gave a hint that things were changing. Many passengers were wearing facemasks. But it was only when a lockdown was predicted in Belgium on March 12 that her family began to see the writing on the wall. 


On March 10, Caspar, 13, was on his way to Vienna airport for a choir tour of Belgium and the Netherlands when the Austrian prime minister phoned his headmaster to stop the coach. Parents started evacuating the boys and, fearing their son would be stranded as Austria took action, Charlotte's mother and father managed to get him home on March 12 via Rotterdam, a couple of hours from their home in Flanders.


While Belgium was starting to go into lockdown, the UK situation seemed to be unfolding slowly. It was difficult to gauge which would close first: UK schools, EU internal borders or airlines.


Charlotte's parents agonised over the weekend of March 14 and, anticipating a trip to the airport from Johnson House at very short notice, instructed Charlotte to get her large suitcase with study essentials ready.

Relatives in the UK were quite shocked when they were told what the plan was, but in Belgium the news was dominated by coronavirus and how the world was going into lockdown. The Netherlands had already cancelled their equivalent of A-levels and outlined their grading system.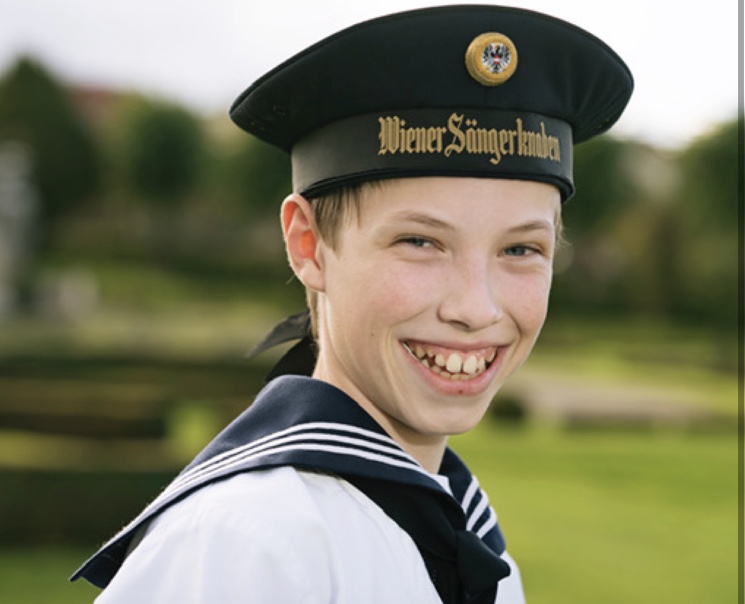 Late on the Sunday night, Charlotte's mother phoned her RGS house parent to say the last available Jet2 flight was leaving Leeds Bradford Airport the next day to Amsterdam - the closest feasible airport to their home in Brussels. Charlotte took the call while fellow termly boarding students Alex and Izzy were trimming her hair and she rushed to her room to finish packing. "The most upsetting thing was realising I could not complete my design technology coursework project before my flight," she said.
Normally LBA is too expensive but fares had plummeted to about €30. 

"My suitcase was way over 20 kilograms, so I threw out all my clothes and my old iGCSE books,'' said Charlotte. "Mrs Rowe was really helpful and gave me her strong shopping bag so I could bring more books home as hand luggage and she even drove me to the airport.
"A gap year student called Pauline had flown to Germany that morning as Germany was already calling back its citizens and closing its borders. There were only about 20 people on my flight and it felt quite sinister because no one was speaking," she said.
"My fellow passengers and I were required to sign a document at the flight gate to acknowledge we couldn't come back! It felt like a flight into the unknown but I was confident when I realised I lived in Europe anyway. 


"When my mother and brother met me at Amsterdam, the airport was almost deserted and my mum was horrified to see me sitting down on a chair because of the contamination risk! At arrivals people were greeting each other with foot kisses and we heard lots of safety announcements saying 'By order of the government you are required…' to wash your hands, don't eat or drink in the airport etcetera.
"We all washed our hands and drove home across the Dutch/Belgian border.

 At home I had to shower and wash my clothes immediately. I couldn't touch any of my family for two weeks. We had separate chairs and we even had separate loo rolls!
"My sister is at UCR university in the Netherlands. The measures there were not as strict as in Belgium, that's why the Belgian government suddenly closed its border with Holland at 3pm on March 20. They feared people would try to get medical help and spread the virus by crossing the border.
"The next morning my parents prepared all sorts of official papers to allow my mother to cross the border and then she drove to fetch my sister, who has asthma. (Although we have since heard from Ghent University that asthmatics are not at greater risk from Covid-19). We were all relieved to have her home but had to social distance from each other.
"Normally we share a bedroom, but I had to sleep in my brother's room for two weeks while my sister cleared quarantine."
Charlotte has been making the most of her time in lockdown, learning new skills and volunteering to help her local elderly community.
"I have been cycling regularly with a retired research scientist and have learnt a lot from her about my locality, life, health and gardening. I tried reading a novel but I realised I prefer non-fiction so I now like to flick through our encyclopaedia.
"I learned how to use the bread machine. Once it was a total failure and I made pizza dough by accident, but I saw that some mistakes can turn out to be even better than what you had first planned.
"Next I cut my father's hair. He is a journalist and lucky to be able to work from home but has to wear a hat now for video calls!
"In Belgium the government has encouraged us to eat more potatoes, meat and asparagus to help the farmers. Chips with mayonnaise is traditional here and we made mayonnaise for the fun of it! The first shops to open were DIY and garden centres in an effort to keep Belgians busy at home, so we planted lettuces.
"I joined the local council's volunteer scheme for grocery shopping and telephone chatting with the older Flemish community, which I have logged for my Duke of Edinburgh volunteering experience.
``We live 20 minutes from Brussels on the border of Flanders and Wallonia, so we listen to the news in French and Dutch to stay informed with coronavirus updates in both regions, as both concern us and have different governments.
"My brother needs to follow the news in German too. It's interesting to see how different media report stories differently, although my father tells me Bloomberg is the best."
Mother Louise commented: "The weekly emails from her form teacher Dr Linklater and the sixth form team and teachers provide for Charlotte a steady atmosphere of connectivity and momentum, despite the distance from across the channel."
Charlotte was looking forward to one of Dr Linklater's biology talks, she said: "Even though she doesn't study biology."
She added: "RGS News is a lovely source of joyous information. Its very visual format gives a sense of school community contact while in coronavirus isolation, but also during more normal times for boarding families who have less frequent physical contact with RGS."
Charlotte explained her reasons for choosing to board at the school, where she is taking science and maths A-levels: "I wanted to study science subjects and do practicals. I used to belong to a swimming club in Flanders and love the fact that the RGS pool is reserved for boarders on Thursdays.
"No one wears school uniform in Belgium, so I was really intrigued about having to wear one. I like the colour and the sixth form tie.
"Although I am British and have been coming to Yorkshire on holiday, it was still a bit of a culture shock when I started. Coming from Belgium, where people have different attitudes to alcohol, it was quite funny for me to see how obsessed the UK is with drinking!"
Apart from missing her new friends and her aunts and uncles, Charlotte had been looking forward to taking part in VE day commemorations, which were cancelled.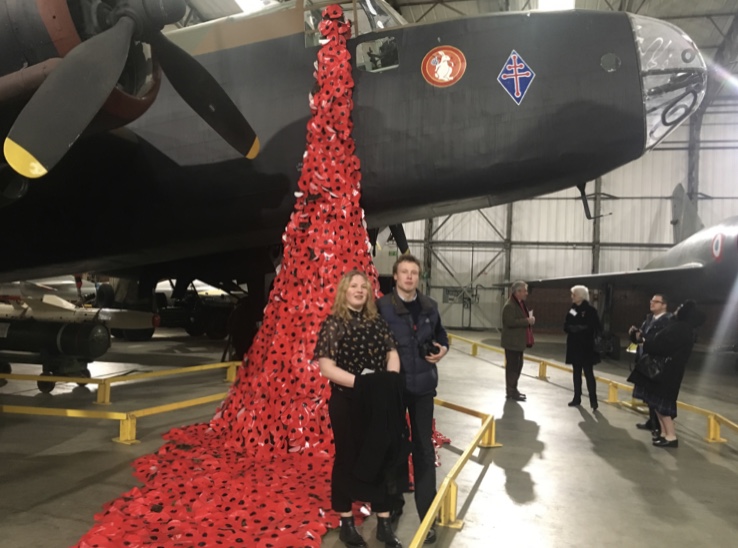 Her great-grandpa George Volkert designed the Handley Page Halifax, one of the main aircraft of WWII. The Yorkshire Air Museum at Elvington, near York, houses one of the last surviving Halifax bombers and elderly veterans and their relatives come from all over the world for remembrance services.
The photo shows Charlotte's sister Christa and brother Francis with the Halifax at Elvington. 

Hopefully when the pandemic has abated, Charlotte would like to represent RGS at the Armistice service there. '
"When I'm struggling with my physics I like to think about when my great grandfather designed an aeroplane without a calculator," she says.
*Photographs show Charlotte, her younger brother, Caspar, and sister Christa and brother Francis with the Halifax at Elvington
*If any RGS students are interested in similar ski resort work experience for February 2021, please contact Charlotte for more information.
Also, Charlotte's parents have kindly offered to guide any students interested in studying at KU Leuven university (in the world's top 50) they would be happy to guide them. Please contact Charlotte for further information.