MUSIC: Students honoured for playing key role in music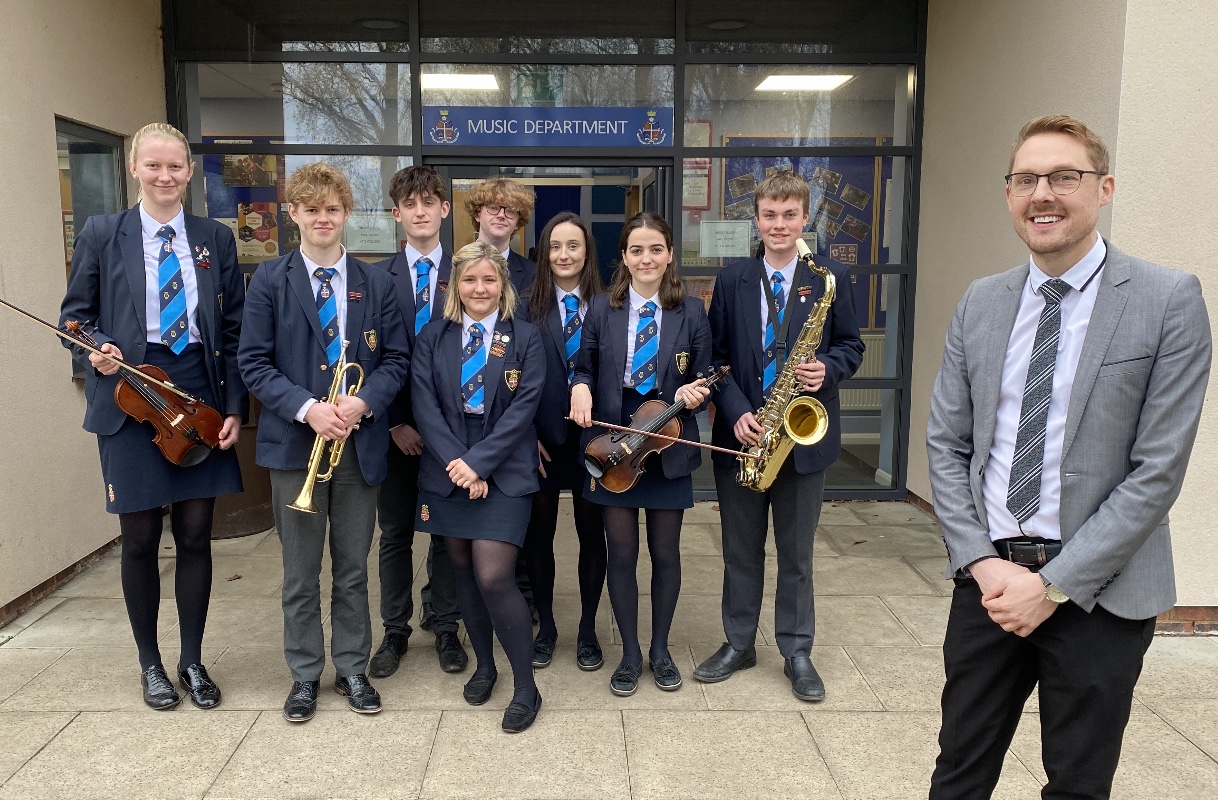 EIGHT dedicated students are the pride of their school for their commitment to and leadership in music at RGS.
The sixth formers, who not only regularly perform in school ensembles but also act as leaders and role models to younger students, have been honoured with RGS's highest achievement award.
Presenting Elizabeth Calland-Brooke, Maddy Cann, Amy Goodwin, Jake Hewison, Henrietta Jarvis, James Kitchingman, Chris Moxon and Barnaby Sladden with their coveted RGS Full Colours ties, director of music Mr Barker congratulated the students for their accomplishments over the past academic year.
"They have all earned this highest achievement by being not only committed to our ensembles but also by giving that bit extra and acting as a music leader to younger students," he said.
He praised them for being involved in accompanying younger students, writing music for ensembles, leading junior groups, taking leading and backstage musical roles in our musical production and performing in assemblies.
Headmaster Mr Webb, who also presented the students with commendations, added: "They have all shown excellent commitment and leadership skills and demonstrated their unwavering support of the music department. In their own ways they have all gone over and above what is expected."
James from Burton Leonard, who plans to study music at university, said he felt proud to have been recognised.
The 18-year-old pianist, singer and trumpet player, who won a place at the Royal Northern College of Music and has also been admitted to London's renowned Rodolfus Choir, said being a member of the pit band in the school's production of Little Shop of Horrors was a particular highlight.
"My involvement in the chamber choir has also been great and our performances at Ripon and Durham cathedrals have inspired me to pursue a choral scholarship at university."
Also a member of York's Chapter House Youth Choir and a founding member of the RGS music society, his involvement in school music has been invaluable: "It's increased my understanding of ensembles, and how to blend within a group on both piano and voice."
Singer and violin and oboe player Henrietta has enjoyed working with others to create great sounds: "I am not a solo player and do not like playing or singing on my own, but I have so enjoyed being part of the ensembles, where together we produce beautiful music."
The 17-year-old, from Roecliffe, has been involved in string groups and wind band since Year 7. Having moved on to the chamber orchestra and senior girls' and sixth form choirs, she now supports younger players.
Hoping to study veterinary science at university, she says one of her musical highlights at RGS was performing Haydn's Nelson Mass two years ago: "I really enjoyed playing in the chamber orchestra alongside professional musicians and the combined senior choirs."
She feels honoured to receive her RGS Colours: "I do not feel like an outstanding musician - but I am so proud of the music making I have been part of and it has been an absolute privilege to help the younger members of the school grow in confidence."
Saxophone player Jake feels being involved in music helped him make friends and settle in easily as a new student in sixth form.
The 17-year-old, from Alne, near Easingwold, who plays a leading role with younger members of the wind band, says he particularly enjoyed playing in the school's big band and in the Little Shop of Horrors pit band last year.
"I have managed to make lots of friends through music but have also gained skills such as teamwork and leadership. "I feel proud to contribute to the school's music department and wear my music Colours," he said.
Hoping to read mathematics at university and a keen member of the RGS astronomy society, he also plays with a local jazz band and has performed with RAF Air Cadet national ensembles at prestigious venues including the Royal Courts of Justice in London and the Birmingham International Military Tattoo.
The other Full Colours award winners were:
Maddy Cann, for her commitment to ensembles and excellent leadership of the backstage crew for Little Shop of Horrors.
Amy Goodwin, for her performances in assembly and accompanying the musicality choir.
Chris Moxon, for his excellent commitment and leadership in co-curricular groups on drums and voice and in Little Shop of Horrors.
Barnaby Sladden, for his commitment to co-curricular groups on both trumpet and voice, performing a leading role in the Little Shop of Horrors pit band and stepping in to join the chamber orchestra at the last minute.
Elizabeth Calland-Brooke, for commitment to senior ensembles, playing leading roles in the school production and chamber choir and being involved in our lockdown choir recording.
Mr Barker added: "The Full Colours tie is the highest of our awards, but many other students have also received their lower school, upper school and senior school Colours badges and certificates in assemblies this year.
"These are awarded to students who have shown commitment to ensembles throughout the year and been involved in our concerts and community events over time."
An impressive number of students have received badges and certificates this year, with 32 students receiving lower school Colours, 43 students in Year 10 and Year 11 receiving upper school Colours and 44 sixth form students receiving senior school Colours.
Mr Barker congratulated all involved: "The sheer number of awards shows the commitment and talent that our students have in music at RGS."
He added that students who haven't received badges should talk to their music teacher to discover more about how to earn them through commitment to music groups in school.