Pit your wits against RGS's top quizzers

There was tension in the air as students hovered their fingers over their buzzers for our House Quiz competition, reports English teacher HELEN MARS. You can try some of the questions they faced, below
THE junior House Quiz competition final, based on University Challenge, took place in front of 250 enthralled lower school pupils this month.
All pupils in the lower school took part in the paper-based selection quiz in February, and matches have been held since then to select the teams in the final - Porteous and School.
This was the first year we have held the match live on stage, and thanks are due to Thomas Whitelegg (4B) for his technical expertise: having teams with microphones, lights and buzzers made it even more exciting!
With Mr O'Donovan, star of TV quizzes and the RGS maths department (http://www.ripongrammar.co.uk/news/beyond-the-classroom-rgss-top-tv-quizzer-364/) in the question-master's chair, tension was running high.
Porteus fought valiantly, and, listening to their whispered conferences, knew many of the bonus answers, but they were no match for the fearsome Kai Newby, whose rapid buzzing for starter questions meant that School won most rounds. Porteus kept fighting to the end, but the final score of 350 to 90 was a well deserved win for the School House team.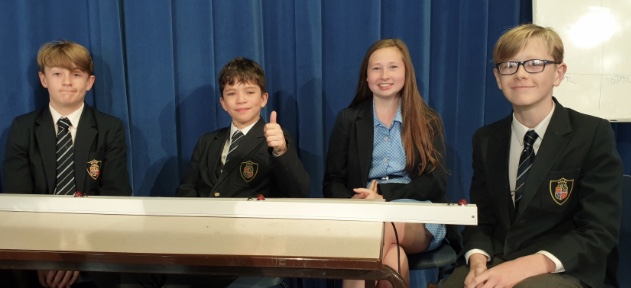 PORTEUS

Jacob Lamb 1C

Keira Clements Byrne 2B

James Maslen 2B

Joel Hutchinson 2B

SCHOOL
Rosa Jones 1B

Leo Mc Dermott 2D

Kai Newby 2D

Oliver Hughes 2D
How would you have done? Here are some of the questions they faced (answers at the bottom).
| | |
| --- | --- |
| 1. (a) Which precious stone is produced by oysters?(b) Cinematically, which ship was captained by Jack Sparrow?(c) Who plays Jack Sparrow? | |
| 2. Which words, all beginning with PAR—, are defined as follows:(a) Heaven?(b) a skin prepared for writing?(c) the conditional release of a prisoner before full term? | |
| | |
| 3. (a) Which king was killed at the battle of Bosworth?(b) Which future king defeated him?(c) In which city were Richard's bones discovered under a car park in 2012? | |
| | |
| 4. For ten points each, which countries begin with the letter R (excluding countries whose official title begins with 'Republic')? | |
| | |
| 5. (a) To the nearest day, how many days does the earth take to orbit the sun?(b) To the nearest day, how many days does the moon take to orbit the earth?(c) Which Renaissance Polish astronomer observed that the sun, rather than the earth, lay at the centre of the Solar System? | |
| | |
| 6. (a) If the House of Commons is the lower house, what is the upper house?(b) What is the name of the building where the Houses of Lords and Commons meet?(c) In which century was the present building constructed after a disastrous fire? | |
| | |
| 7. Which London mainline station:(a) was used by Michael Bond for his best-known character?(b) is named after a saint?(c) takes its name from a battle? | |
| | |
| 8. What are the following literary animals:(a) Black Beauty and Bree?(b) Napoleon and Wilbur?(c) Captain Flint and Polynesia? | |
| | |
| 9. (a) What type of fruit are limes, lemons and oranges?(b) Who might an American refer to as a 'limey'?(c) Why were sailors given lime juice? | |
| | |
| 10. In which sport are the following past world champions:(a) Michael Schumacher?(b) Frank Bruno?(c) Phil Taylor? | |
1. Pearl, The Black Pearl, Johnny Depp
2. Paradise, Parchment, Parole
3. Richard III, Henry VII, Leicester
4. Romania, Russia, Rwanda
5. 365 days, 28 days, Copernicus
6. House of Lords, Palace of Westminster, 19th century
7. Paddington,St Pancras, Waterloo
8. Horses, Pigs, Parrots
9. Citrus, A British person, To prevent scurvy
10. Motor racing /Formula 1, Boxing, Darts