QUIZ TOURNAMENT: Fingers on buzzers for Yorkshire challenge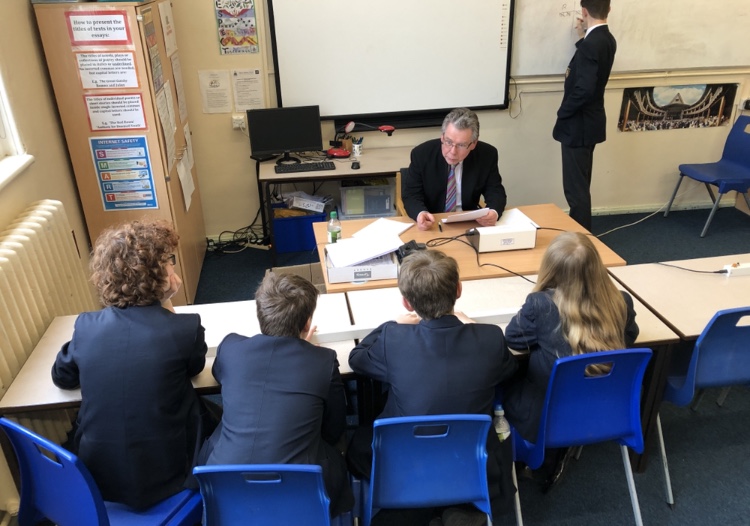 Students put their knowledge to the test as RGS hosted the Yorkshire round of the Schools Challenge tournament, which is modelled on TV's University Challenge. English teacher HELEN MARS - who competed in the popular BBC TV show when she was a student at Durham University - reports
A VERY hectic afternoon saw all ten regional matches played at Ripon Grammar School, leading to St Olave's A-team winning the Yorkshire round of the School's Challenge quiz competition.
Modelled on University Challenge, teams of four pupils have to buzz for starter questions to win bonus rounds on everything from capital cities to inventors.
A strong squad of first and second form pupils comprised Rosa Jones, Edward Murray, James Maslen, Jack Disbury and Meabh O'Cofaigh. They put in a valiant effort and won some matches, and the end managed third place overall. The regional winners were St Olave's with Hymers College runners up.

Next term sees the House junior and senior quiz competitions.
*Thank you to Friends of Ripon Grammar School for buying the buzzers we use in these competitions, which are greatly appreciated by staff and students alike.
Could you be a quiz team champ?
These are some of the questions our students had to answer in order to be selected for the RGS team (see answers at the bottom of the page)
| | | |
| --- | --- | --- |
| 1 | Which Pacific island group is a state of the USA? | |
| | | |
| 2 | In carpentry, which type of tool may be tenon, jig or fret? | |
| | | |
| 3 | What is the English equivalent of the French word 'église'? | |
| | | |
| 4 | Winston Smith is the protagonist of which novel by George Orwell? | |
| | | |
| 5 | What profession is followed by Daniel Barenboim, André Previn and Simon Rattle? | |
| | | |
| 6 | Of what form of carbon is pencil lead made? | |
| | | |
| 7 | What is the fifth word in this sentence? | |
| | | |
| 8 | How many of Henry VIII's children eventually came to the throne? | |
| | | |
| 9 | In which state of the USA is Denver? | |
| | | |
| 10 | The cathedral in Venice is dedicated to which saint, one of the four Gospel writers? | |
| | | |
| 11 | Who won the Best Actor award at the 2016 Academy Awards for his role in The Revenant? | |
| | | |
| 12 | What name is given to the temperature of minus 273° Celsius? | |
| | | |
| 13 | On which river does the city of Newcastle stand? | |
| | | |
| 14 | Which adjective describes someone who speaks two languages fluently? | |
| | | |
| 15 | From which Latin name and title are the German word 'Kaiser' and the Russian word 'Tsar' both derived? | |
| | | |
| 16 | What did William Wordsworth see laughing and dancing in the breeze? | |
| | | |
| 17 | What instrument is played by Nigel Kennedy? | |
| | | |
| 18 | Which planet is named after the king of the Roman gods? | |
| | | |
| 19 | If the king was in his counting house, what did the blackbird peck off? | |
| | | |
| 20 | Which post has been held by Grover Cleveland, John Quincy Adams and George Washington? | |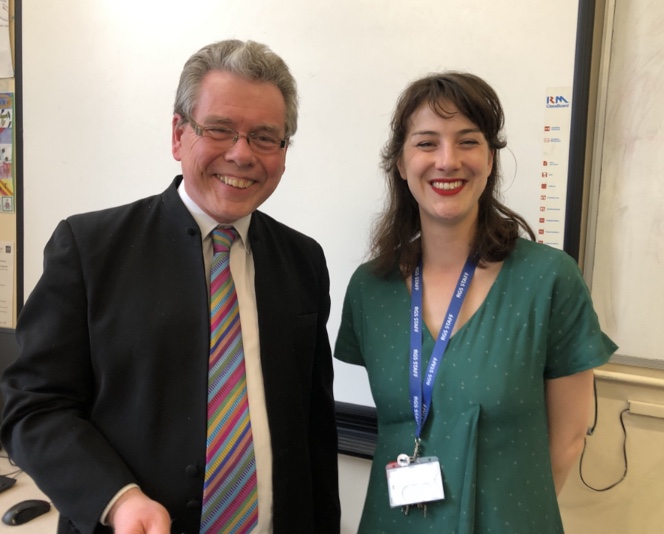 Quiz masters Mr O'Donovan - who has also appeared in a number of TV quizzes, including The Chase and Mastermind - and Mrs Mars -who has appeared on University Challenge
1. Hawaii, 2. Saw, 3. Church, 4.1984, 5. Conductors, 6. Graphite, 7. Word, 8. Three, 9. Colorado, 10. St Mark, 11. Leonardo DiCaprio, 12. Absolute Zero, 13. Tyne, 14. Bilingual, 15. Caesar, 16. Daffodils, 17. Violin, 18. Jupiter, 19. The maid's nose, 20. President of the USA