Shining a light on Team RGS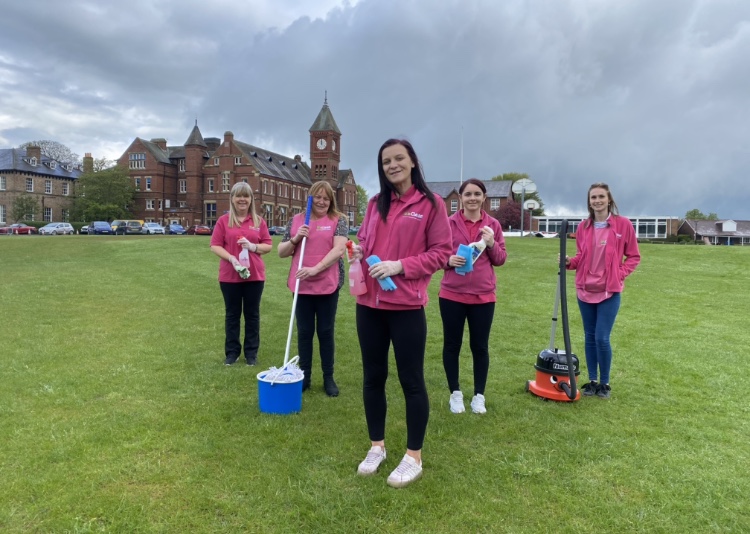 Sixth former ANNA MILLIONS shines a light on the valuable behind-the-scenes work of our school cleaning team
FOLLOWING the pandemic, students and staff have gained a newfound appreciation for the RGS cleaning team.
Covid 19 has shown us all just how valuable the work of cleaners and caretakers is; now more than ever they play a vital role in the running of our school and community.
A member of the RGS team for eight years, Lindsay Appleby has seen a dramatic change in her responsibilities over the past year: "It has been important for us to use stronger chemicals and wear extra PPE. We now have two extra cleaners checking all toilets as well as touchpoints around the full school to make it a safer place for everyone."
As well as being on site throughout the school day, the team of 13 are working before most of us arrive in school and long after we have gone. They also came in every day when school was open for the children of key workers and during the in-school vaccinations.
Starting at 7am, they work in three shifts, the first one until 9am, then 9am to 3.30pm and 4pm until 7pm, explained Miss Appleby: "The early morning clean includes all admin offices, changing rooms, the swimming pool and the music block.
"When the boarders start their school day, four cleaners will go to the boarding houses, two in Johnson House and two in School House.The evening clean includes all classrooms, all corridor floors and toilets.'
One member of the team, Sarah Metcalfe, revealed what she likes most about the job: "It's a nice place to work, everyone is really friendly."
Paul Coates added: "It's a team effort and is very well organised and run. It's always busy, there's always something to do and not much sitting around, which is good. Everyone gets on well with each other."
Everyone is agreed on the worst bit of the job: "Blocked toilets!"
Having worked with RGS for eight years, it is surprising that Lindsay is not the longest standing member of the team; one of her colleagues has been with us for around ten years!
Perhaps this stands as testament to the positive working environment of RGS; as students we certainly appreciate the work of our cleaning staff.
Miss Appleby has received positive feedback about the school's cleanliness and hopes it will continue in the long run; it is so important to recognise the importance and hard work of all staff, not just our teachers and assistants.
The catering, caretaking and cleaning teams are all essential in the running of our school and support of our community.