​Students put impressive skills to the test in battle for debating championship crown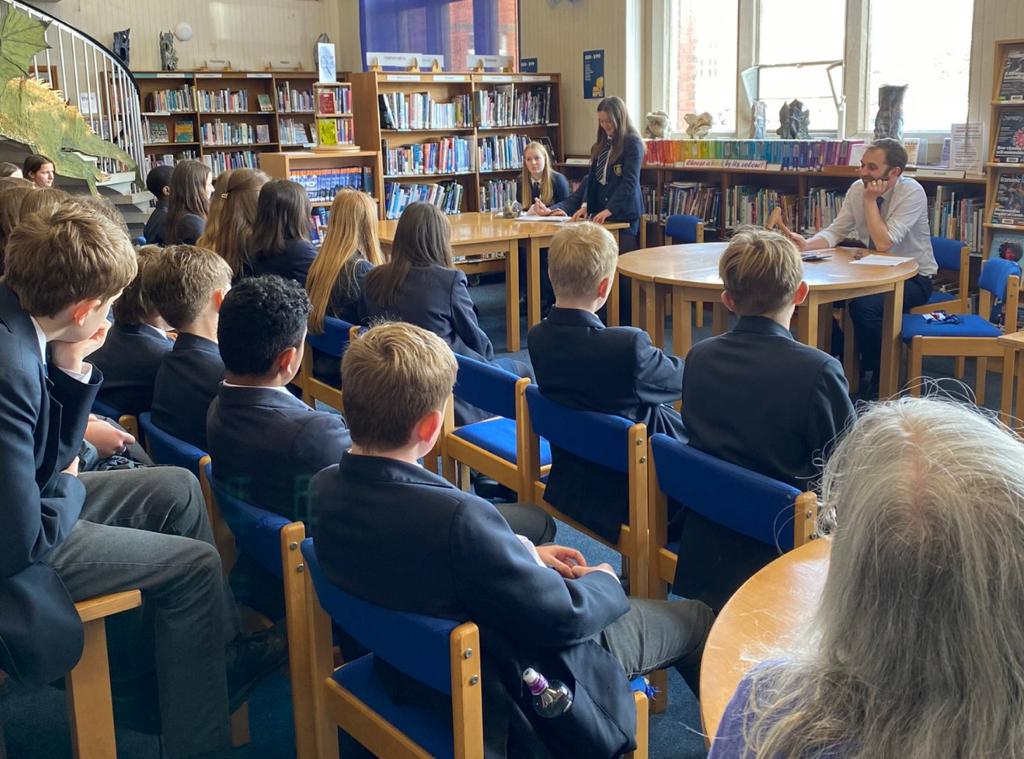 Head of English BEN FEARNLEY reports on a debating challenge that saw students confidently present a variety of compelling arguments to a bumper crowd
THE final of our Junior House Debating Competition final brought a bumper crowd to the library so that there was standing room only. Those in attendance were treated to a superb debate.
School, represented by Emily Moorcroft, Freddie Palmer and Evy Reed, were proposing the motion: 'This house believes that kindness is more important than truth'. Opposing the motion were Hutton, represented by Aria Writer, Piers Davis and Edward Cassell.
Both houses put forward a variety of thoughtful and compelling arguments that ranged from a consideration of medical ethics, religious teachings and even the truths or white lies we might choose to tell our loved ones. The debate was notable for the sharp interrogation each team gave their opponents with a series of points of information being asked and responded to.
The final, in the last week of spring term, was judged by library assistant Mrs Peach and head of Year 9 Mr Harding and they had a difficult job on their hands.
Eventually School House were declared winners, but Mr Harding congratulated both teams and all those present for the maturity, eloquence and confidence on display and for the thoughtful and philosophical way in which students had engaged with a challenging motion.
The day before, De Grey met Porteus in a debate to determine the third place in the competition. De Grey's team of Zara Ali, Finn Williamson and Nancy Manners proposed the motion: 'This house believes that a university education is no longer worth the investment'.
Challenging the motion were Porteus, represented by Sophie Reid, Grace Watson Cody and Olympia Dunn. Both houses put forward a range of thoughtful arguments and drew upon some convincing anecdotes, examples and statistics before the final speakers fielded questions from the floor.
The judges awarded a narrow win to De Grey, who were complimented for the clarity of their arguments and the strength of their summing up. Special mention must go to Grace Watson Cody for how adeptly she dealt with points of information during her speech, and to Nancy Manners who gave a master class in how to answer questions from the floor.
In the previous month's semi-finals, held on a charity fundraising non-uniform day, DeGrey (Nancy Manner, Zara Ali, Finn Williamson) and Hutton (Lawrence Major, Edward Cassell and Aria Writer) debated: 'This house believes that the state should not subsidise the arts, with Hutton emerging as narrow winners having opposed the motion'.
Porteus (Sophie Reid, Grace Weston-Cody, Olympia Dunn) debated against School (Emily Moorcroft, Freddie Palmer, Evy Reed). Their motion was: 'This house believes that veganism is a moral imperative'. School House emerged victorious.
All the speakers are to be commended on their excellent performances, the level of detailed researched conducted and the confident and mature way in which they engaged with the challenging motions.