The power of poetry in difficult times
English teacher HELEN MARS selects an inspirational poem for Ripon Grammar School every week, with many offering words of comfort, hope and joy during these difficult times. You can find them on Twitter @HelenMars4 or on the RGS Twitter feed @RiponGrammarSch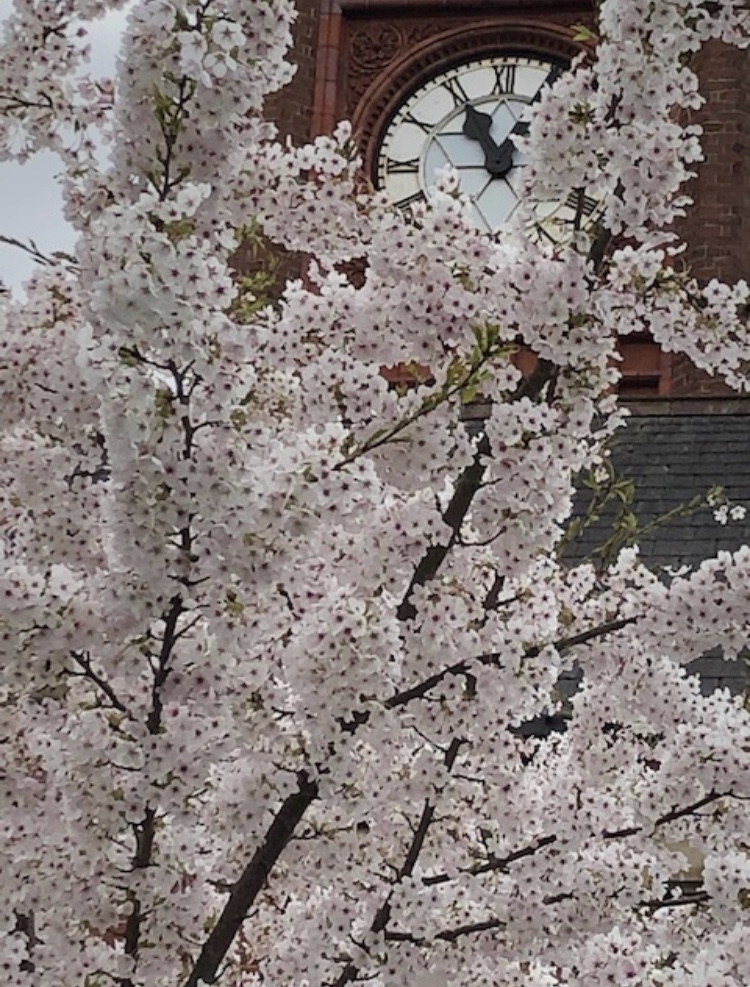 With the National Trust urging people to celebrate the awesome spectacle of the blossom season in the UK, emulating an ancient Japanese tradition marking the arrival of spring, Mrs Mars selected this joyous poem for a spring morning – perfectly illustrated by head of sixth form Terry Fell's photograph of beautiful blossom in front of the clock tower at RGS
FROM BLOSSOMS
By Li-Young Lee
From blossoms comes
this brown paper bag of peaches
we bought from the boy
at the bend in the road where we turned toward
signs painted Peaches.
From laden boughs, from hands,
from sweet fellowship in the bins,
comes nectar at the roadside, succulent
peaches we devour, dusty skin and all,
comes the familiar dust of summer, dust we eat.
O, to take what we love inside,
to carry within us an orchard, to eat
not only the skin, but the shade,
not only the sugar, but the days, to hold
the fruit in our hands, adore it, then bite into
the round jubilance of peach.
There are days we live
as if death were nowhere
in the background; from joy
to joy to joy, from wing to wing,
from blossom to blossom to
impossible blossom, to sweet impossible blossom.
This poem is by the rather eccentric and wonderful Emily Dickinson, an American poet who only wore white and spent most of her life on her bedroom by choice, living her life through reading and writing and maintaining all relationships via letters. An inspiration for our times, perhaps. Only ten of her 1,800-plus poems were published during her life. She uses unusual punctuation and slant rhyme to great effect, as here.
LIKE RAIN IT SOUNDED TILL IT CURVED
By Emily Dickinson
Like Rain it sounded till it curved
And then I new 'twas Wind --
It walked as wet as any Wave
But swept as dry as sand --
When it had pushed itself away
To some remotest Plain
A coming as of Hosts was heard
It filled the Wells, it pleased the Pools
It warbled in the Road --
It pulled the spigot from the Hills
And let the Floods abroad --
It loosened acres, lifted seas
The sites of Centres stirred
Then like Elijah rode away
Upon a Wheel of Cloud.
This poem is about the hope felt by people suddenly seeing horses again after an unspecified and catastrophic war.
THE HORSES
By Edwin Muir
Barely a twelvemonth after
The seven days war that put the world to sleep,
Late in the evening the strange horses came.
By then we had made our covenant with silence,
But in the first few days it was so still
We listened to our breathing and were afraid.
On the second day
The radios failed; we turned the knobs; no answer.
On the third day a warship passed us, heading north,
Dead bodies piled on the deck. On the sixth day
A plane plunged over us into the sea. Thereafter
Nothing. The radios dumb;
And still they stand in corners of our kitchens,
And stand, perhaps, turned on, in a million rooms
All over the world. But now if they should speak,
If on a sudden they should speak again,
If on the stroke of noon a voice should speak,
We would not listen, we would not let it bring
That old bad world that swallowed its children quick
At one great gulp. We would not have it again.
Sometimes we think of the nations lying asleep,
Curled blindly in impenetrable sorrow,
And then the thought confounds us with its strangeness.
The tractors lie about our fields; at evening
They look like dank sea-monsters couched and waiting.
We leave them where they are and let them rust:
'They'll molder away and be like other loam.'
We make our oxen drag our rusty plows,
Long laid aside. We have gone back
Far past our fathers' land.
And then, that evening
Late in the summer the strange horses came.
We heard a distant tapping on the road,
A deepening drumming; it stopped, went on again
And at the corner changed to hollow thunder.
We saw the heads
Like a wild wave charging and were afraid.
We had sold our horses in our fathers' time
To buy new tractors. Now they were strange to us
As fabulous steeds set on an ancient shield.
Or illustrations in a book of knights.
We did not dare go near them. Yet they waited,
Stubborn and shy, as if they had been sent
By an old command to find our whereabouts
And that long-lost archaic companionship.
In the first moment we had never a thought
That they were creatures to be owned and used.
Among them were some half a dozen colts
Dropped in some wilderness of the broken world,
Yet new as if they had come from their own Eden.
Since then they have pulled our plows and borne our loads
But that free servitude still can pierce our hearts.
Our life is changed; their coming our beginning.
George Herbert, a poet and vicar, published his collection The Temple in 1633, and is one of the greatest religious poets ever to write in English. Many of his poems were later set to music.
EASTER
By George Herbert
Rise heart; thy Lord is risen. Sing his praise
Without delays,
Who takes thee by the hand, that thou likewise
With him mayst rise:
That, as his death calcined thee to dust,
His life may make thee gold, and much more just.

Awake, my lute, and struggle for thy part
With all thy art.
The cross taught all wood to resound his name,
Who bore the same.
His stretched sinews taught all strings, what key
Is best to celebrate this most high day.

Consort both heart and lute, and twist a song
Pleasant and long:
Or since all music is but three parts vied
And multiplied;
O let thy blessed Spirit bear a part,
And make up our defects with his sweet art.

I got me flowers to straw thy way:
I got me boughs off many a tree:
But thou wast up by break of day,
And brought'st thy sweets along with thee.

The Sun arising in the East,
Though he give light, and th'East perfume;
If they should offer to contest
With thy arising, they presume.

Can there be any day but this,
Though many suns to shine endeavour?
We count three hundred, but we miss:
There is but one, and that one ever.