Top brass: RGS musicians take the world by storm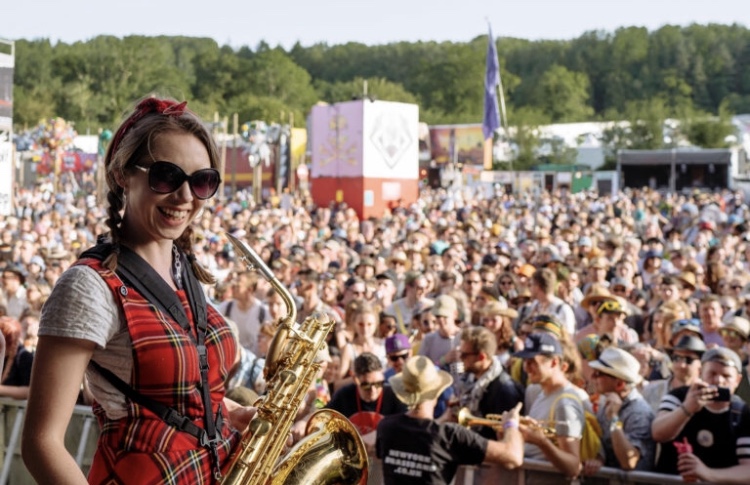 A FUNKY festival band which started life in Ripon Grammar School's old music room is in demand all over the world.
Some of the original RGS musicians are still involved with the contemporary New Orleans-inspired popular New York Brass Band, which celebrates its tenth birthday this year.
Cameron McCormack, Kieran Newman, Alasdair Simpson, Grace Lancaster and Angus Johnston, along with founder, former RGS music teacher James Lancaster, have toured in China, played the Rio de Janeiro Carnival and regularly performed throughout Europe over the past few years. In one year alone, the band played more than 200 gigs.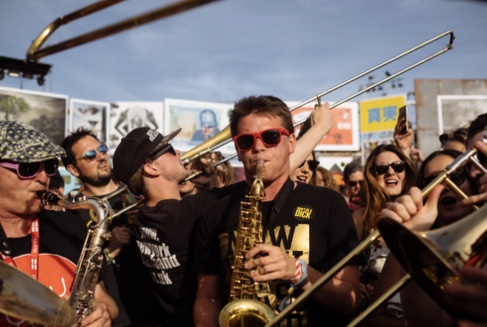 "Although most things have been cancelled due to the pandemic, we've done some work in 2020 as we can play outdoors and during lockdown we've been busy writing material for a new album," said James.
Chillingly, their 2018 tour in China was based in Wuhan where, he explains, they enjoyed some really good street food in the wet market: "I have some pictures of me with a bag of live frogs, but we lived to tell the tale."
Cameron and Grace, whose lifelong love of music began at RGS, have performed at Glastonbury five times since they left school, with the band regularly appearing at other festivals, including Bestival in Dorset, at Croatia's Soundwave, Georgia's Batumi Heat and Cork Jazz Festival before the pandemic took hold.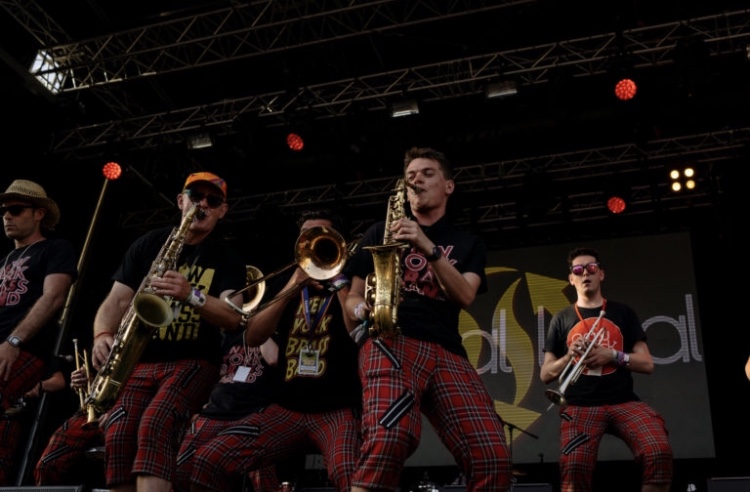 Having supported major stars including Van Morrison, they've also entertained guests at celebrity parties and weddings for McFly and McBusted's Danny Jones, actor and DJ Craig Charles, TV chef Jamie Oliver, comedian Alex Brooker and singers Liam Gallagher and Ellie Goulding.
The powerful seven-piece line-up has a varied repertoire of more than 60 tunes at their fingertips, without a note of music in sight: "This is a band which works without gimmicks, auto-tune or backing tracks. We blur the line between band and audience by inviting the crowd to become part of the show and end the performance in the audience, dancing on the tables or conga-ing under the stars," said James.
Complete with percussion, sax, trumpets, trombones and sousaphone, they may take inspiration from contemporary New Orleans musicians, but also channel jazz, pop, reggae, funk and ska. As a result, the NYBB repertoire ranges from Marvin Gaye to George Michael, Cee-Lo Green and Stevie Wonder, with some gritty, northern town originals thrown in.
The Guardian has described the NYBB as: "A must-see genre-splitting band." Danny Jones commented: "Forget Springsteen, you're my new favourite band." And Liam Gallagher summed them us as 'a great sound'.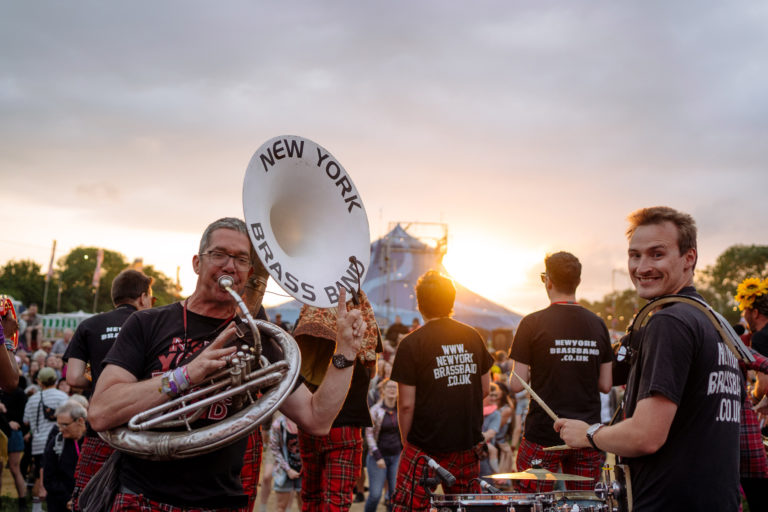 Band members are particularly thrilled to have played at former RGS students' weddings in recent years: "It was fantastic to catch up with so many past pupils at Charlotte Clancy's wonderful wedding in 2019, and we're involved in another RGS wedding in 2021," said James.
Some of NYBB's RGS past pupils now work full-time in music, others do it as a hobby: "All the former Ripon Grammar School students in the band have developed a lifelong love of music that began at school," said James.
For more information, visit: www.newyorkbrassband.co.uk
https://www.instagram.com/newyorkbrassband/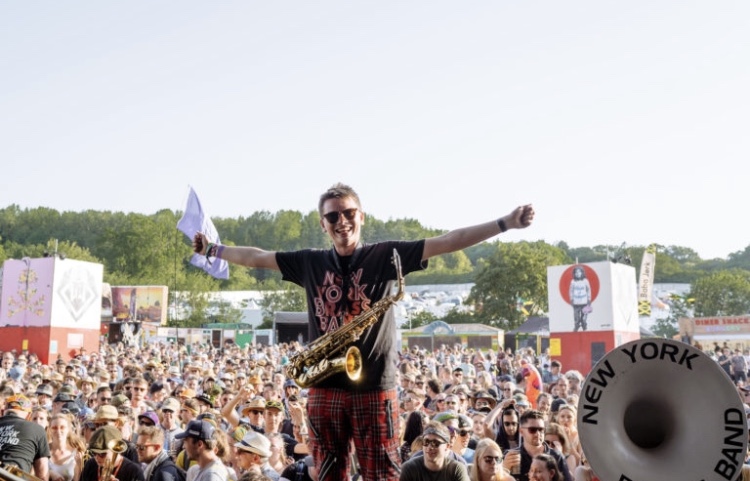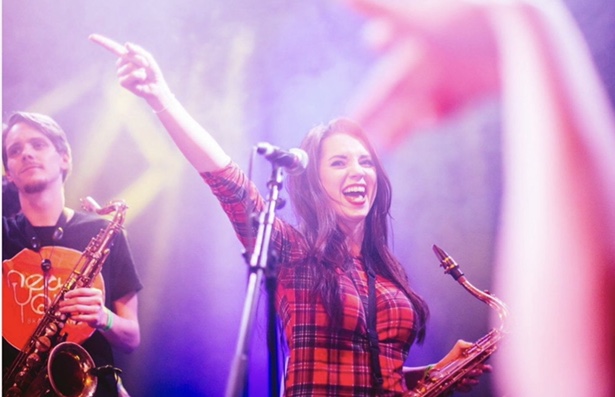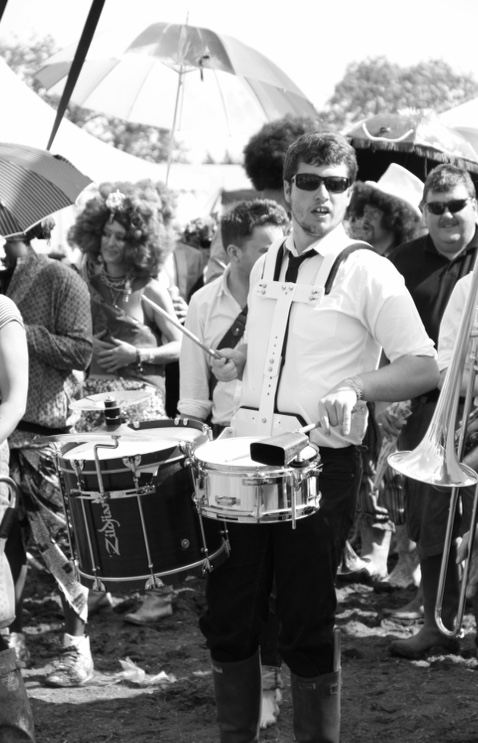 Photographs from top:
Grace Lancaster at Glastonbury in 2019; Cameron McCormack in the crowd at Shangri-La, Glastonbury; the band on stage; James Lancaster with his New York Brass Band; Cameron at Glastonbury; Grace on stage; Alasdair Simpson