Top-performing students shine on stage to rave reviews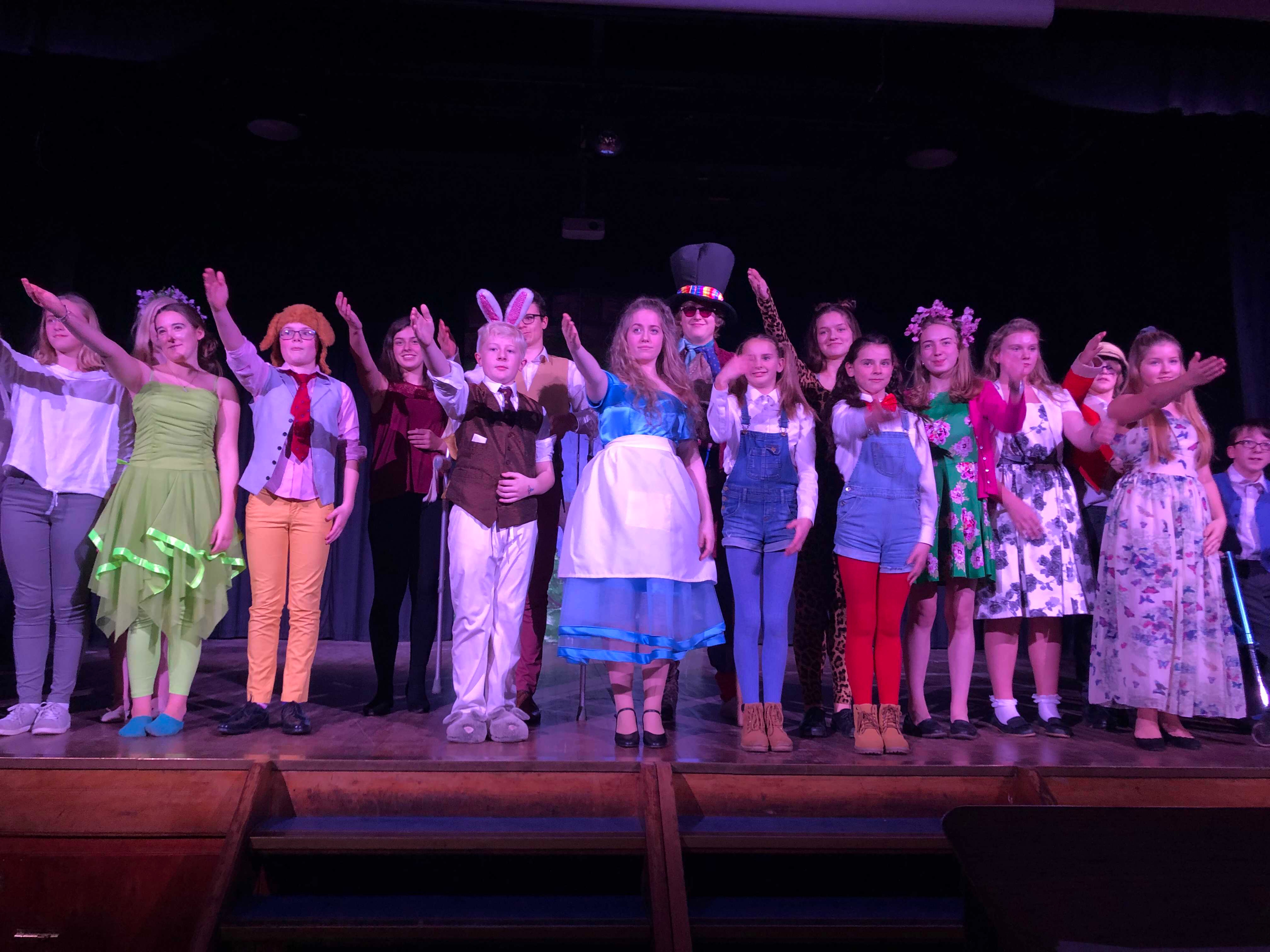 STUDENTS at the North's top-performing state school have proved they are also stars outside the classroom after captivating audiences with a series of entertaining theatrical productions.
Talented Ripon Grammar School pupils, aged 11 to 18, shone on stage as well as behind-the-scenes during the school's popular annual drama competition held over two nights.
More than 160 pupils from the school's four competing houses took part in ambitious student-led productions of Matilda, The Curious Incident of the Dog in the Night-Time, Alice in Wonderland and The 39 Steps, in the same week RGS was named 'Top state school in the North' by The Sunday Times.
Performing in front of sell-out audiences of around three hundred parents, fellow students and other guests each evening, pupils from De Grey, School, Porteus and Hutton houses also faced a panel of judges made up of former RGS teachers Simon Naylor and Steven Rouse and former RGS student Rachael Sharpe.
As well as the gifted acting casts, around 50 dedicated students commended for the vital work they did out of the spotlight as directors, producers, set designers and technical and stage crew members all excelled in their roles.
Unusually, a first former won the award for best actress. Thanks to her magical stage presence in the title role of School House's Matilda, 12-year-old Nia Peedell, from Bedale, ensured she held her own alongside older actors.
Lower sixth former Alfie McEvoy, 16, from Ripon, who as the Mad Hatter helped bring Porteus House's madcap Alice in Wonderland scenes to glorious life, won the award for best actor.
The De Grey team, who have gained a reputation for taking on challenging subjects, won best play award for their powerful and confident production of The Curious Incident of the Dog in the Night-Time.
And the judges' special award was presented to Hutton House for displaying ambition and vision in creating such a concise, high-octane and seriously clever 45-minute production of the complex story of The 39 Steps.
STUDENT REVIEW:
'Audiences enjoyed the breadth of theatrical talent at Ripon Grammar School'
By lower sixth former Phoebe Hall
THIS year's annual House Drama competition began back in September, with sixth formers from each of the four houses assuming the roles of script writers, casting directors and managers in order to create a cast of keen actors.
Rehearsals of the plays then began in earnest, and each fledgling production began to take flight as props were made and lines learned, all under the ever-watchful eyes of head of sixth form Mr Fell.
In the weekend before the performances, the acting frenzy peaked as the final adjustments were made, amongst the slight panic that it might not be 'alright on the night'. However, as always, Porteus, De Grey, Hutton and School House surpassed themselves, with two evenings of excellent theatre.
Performances ranged hugely in both acting style and use of set and costume, creating two evenings in which the audiences were able to enjoy the breadth of theatrical talent at RGS.
Thursday began with Roald Dahl's Matilda. School House made the most of a large and vibrant chorus, who responded in delight and fear to the actions of Miss Honey and Miss Trunchbull, creating a clear sense of the classroom on stage.
Next was Porteus's fanciful Alice in Wonderland, which hosted an array of dramatic costumes, from the rotund egg of Humpty Dumpty to the bizarre combination of a towering top hat, odd shoes and overcoat belonging to best actor Alfie McEvoy's Mad Hatter.
Friday's performances were started by the suspense of Buchan's The 39 Steps, a classic spy thriller which saw the lead character - with resistance from Pamela, a woman he ends up handcuffed to - travel across Scotland to save a state secret from enemy hands.
Dominic Livesey, who reprised his role as Hutton lead, particularly entertained the audience with a dare-devil leap from the stage as part of a dramatic chase scene.
Finally, De Grey's winning performance of The Curious Incident of the Dog in the Night-Time left the audience with a moving and thought-provoking play that followed the life of Christopher, a boy with Asperger's Syndrome, as he tried to find out who killed his neighbour's dog.
De Grey's play had both incredibly talented actors, who sensitively handled their parts, and clever use of stagecraft that created a very engaging plot.
House Drama again proved to create a dilemma for the judges but also showcased the array of talent, and the hard work that many students and teachers put into making the four shows this year a success.
STAFF REVIEW:
'Imaginative, vibrant, joyful, visionary and powerful productions, with acting which lit up the stage'
By head of sixth form Mr Terry Fell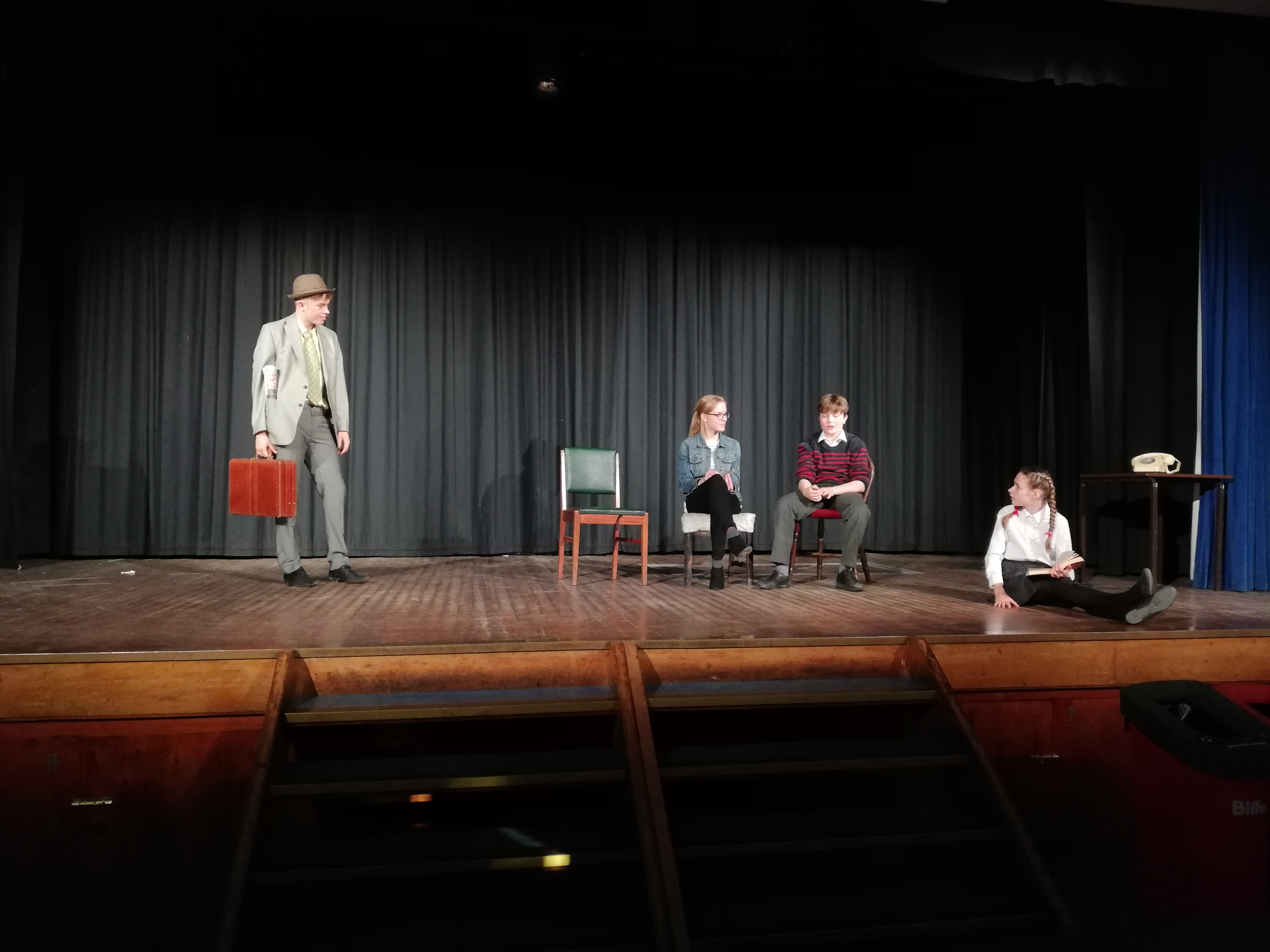 School House – Matilda
IN traditional School House fashion, this year's production was a riotous carnival of memorable moments and fine acting performances that did Roald Dahl's classic tale full justice. With a large and impressive cast from across the age groups, the stage seemed filled with life and colour, and the excellent chorus of school children was well-directed and highly committed to their roles, presenting a vibrant backdrop against which the leads could shine. All too often there is a tendency to see chorus groups standing uncomfortably in lines at the back of the stage, and barely audible when they do speak, but this was not the case here, with a seething mass of movement and reaction that always gave the audience something or someone to watch, with confident little cameos that were all audible and effective, and the costuming with the shiny coloured ties linked the disparate friendship and age group together nicely.
Indeed that attention to detail was a characteristic of this production, from the school set with its chalky blackboard (something which none of this cast will likely have ever experienced!) to the ill-gotten money poking from the sides of Mr Wormwood's briefcase, and the shiny, grotesque spikes of the 'chokey' projecting from the sides of the stage. Costume, set-design and staging were all thoughtful and highly effective, and the Direction team, led by Kathy Hooper, Gaby Symonds and Abi Burke, and the Designers (Izzy Bremner, Hattie Eve and Charlie Brown – ably supported by the experienced Mewes – Estensen partnership), must be proud both of how they brought such a large cast together so successfully, and also how they brought such a larger than life story (as Dahl's tend to be) off the pages of the book and into such vivid focus on stage.
Of course part of the challenge of good direction is good casting, and here School House were spoilt for choice. The villain of the piece is the notorious Miss Trunchbull, and this wonderfully vile bully was brought brilliantly to life by the talented Jess Parnell, who bestrode the stage like a psychotic colossus bellowing, sneering and hurling small children aside like pillows. Her distaste for the young was delightfully rude, "you squeaky little goblin", and the relish with which she put down her niece, alongside the 'maggots' in her care was surely exactly what Dahl had in mind when he wrote the story. In neat and utter contrast, the delightful Miss Honey (Clara Dammann) was the model of gentle empathy and kindness, nicely playing off the viciousness of Jess's portrayal. Mrs Wormwood (Evie Hoskison) was another cleverly grotesque portrayal, whose languorous drawl and Kardashian-esque outlook made us feel deeply sorry for her unfortunate daughter. Alongside her, Elliot Mountain delivered a wonderful performance as the shifty Mr Wormwood, demonstrating a fantastic comic timing and a stage presence that shone, and which drew the familial partnership of he, Evie and his son Michael (Fergus Moon) together in an extremely satisfying way for the audience, and allowed Matilda herself something truly compelling to rebel against. Beyond these leads the script allowed some terrific cameo performances, such as the sympathetic Mrs Phelps (Teyha Sutton); the terrified (and suddenly narcoleptic) Nigel (Sam Wright), and the unfortunately named chocolateer, Bruce Bogtrotter (Tobias Hinde) amongst others. This was a very strong ensemble performance by a well-directed cast of leads and support actors, and in the title role was one of the most remarkably assured, engaging and enjoyable performances of the competition. It is not too often that a student in her first year at RGS takes on the lead role, but that is exactly what Nia Peedell did, and the skill with which she inhabited her role; the flawless delivery of her lines, and her stage presence alongside older and physically larger actors was magical. With a breadth and depth of acting talent like this, School House must surely be looking to a very bright future indeed. There must also be a word for the live, and very talented, pianist, Amy Goodwin, who was beautifully deployed to accompany scene changes. Live music in a play is just wonderful.
So Matilda 2018: this was a wickedly funny, imaginative, vibrant and memorable production that cracked along at a terrific pace with seamless scene changes and clever use of stage. It was bright – both in costume and dialogue; moving and compelling in the relationships of its lead characters; ambitious in its casting and direction, and technically inventive in resolving tricky problems such as the use of magic onstage, or the logistics of hurling a child through a window or having a jug of water suddenly spill over. What is more, the entire cast demonstrated the unity and mutual support so characteristic of this house. It was a tour de force, and the whole team must be very proud of their show.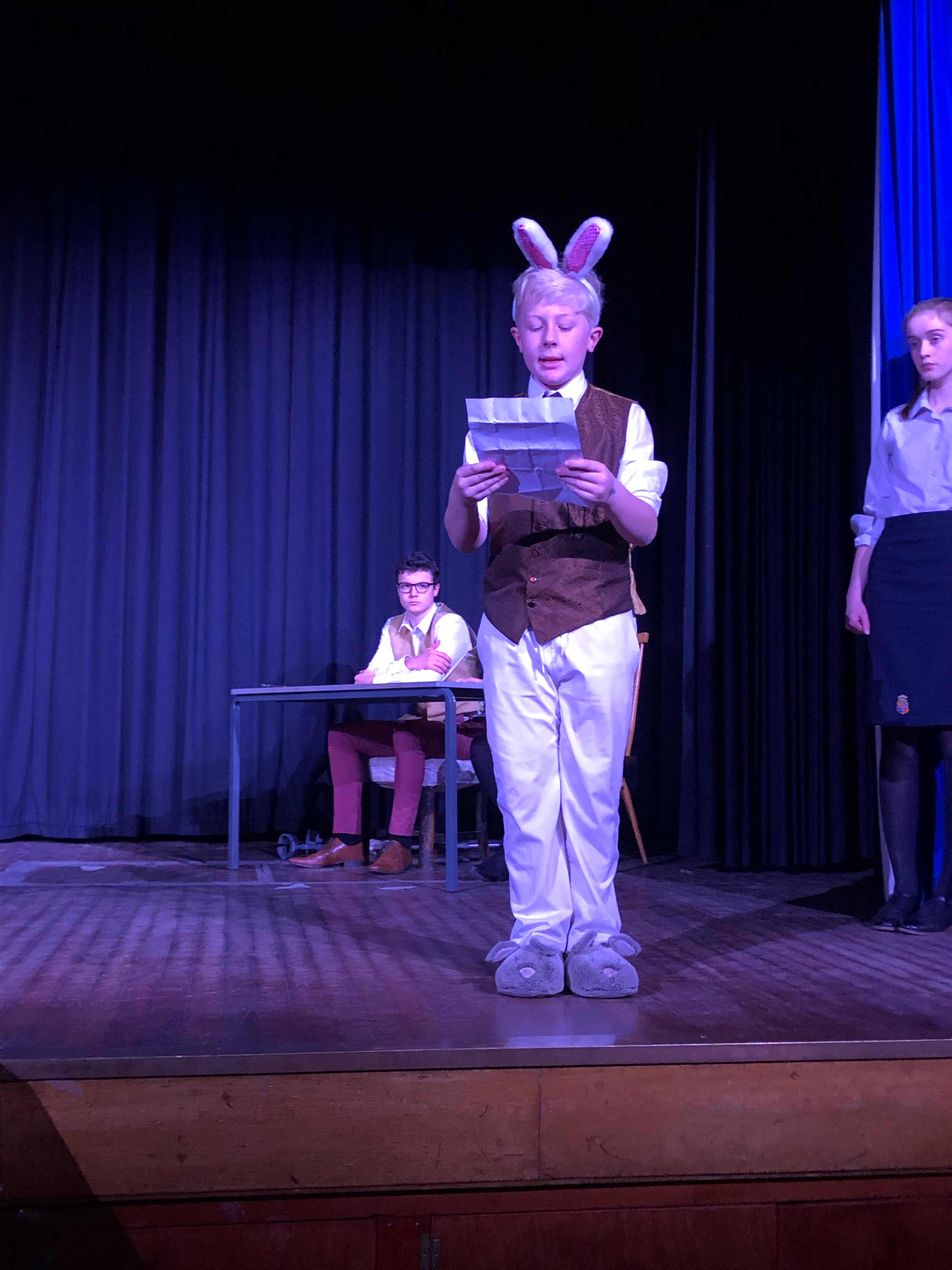 Porteus House – Alice in Wonderland
AS an iconic favourite from the canon of children's literature, the choice of 'Alice' as a House Drama play is always going to present some quite unique challenges, not least the fact that with such a well-known play, everyone watching has their own idea of what they expect to see. Perhaps an even greater challenge, however, is the fact that it is actually a fiendishly complicated story, full of mind-twisting logic and bizarre and often quite sinister characters. To adapt and to cut this text to the limits of a 45-minute production is no mean feat, and the Porteus directors (led by Finn Atkinson and Grace Palmer) deserve huge credit for the skill with which they wove their story. Impressive too was the sizeable cast, melding a terrific combination of experience in old-handers like Freddie Dunn (King of Hearts), Harry Canning as the Dormouse, and the endlessly versatile Emma Adams in her role as the Executioner, and a crop of new young actors – some making their House Drama debut. This mixture is so important in establishing the conveyor-belt of talent that will flourish in the coming years for Porteus.
So a challenging production then; and Porteus loves a challenge! The direction and production team decided that the secret to holding this disparate series of moments together is a very strong central acting performance, and a colourful spectacle to delight the audience. Fortunately, Porteus possess the perfect actress for this task in Emma Belward, whose portrayal of Alice was just superb. She lit up the stage with consummate ease, and in her assurance she allowed the rest of the cast to shine too. This is an actress who understands how to use voice and gesture to maximum effect, and her performance was memorable. For the colour and spectacle, Porteus' design and production team (Sanjay Kumarendran, Susie Morgan, Ellie Andrews and Alia Moon, alongside Amelia Borchard, Libby Rickard and Harry Canning), set out to dazzle with an array of costumes and characters that delivered in every case. From the White Rabbit's furry feet to the Cheshire cat's impossibly wide and toothy grin; the beautifully costumed flowers and the skilfully paired twins; the magnificent egg costume for Humpty and the symphony of green that was the caterpillar scene; the hobby horse for Will Trewhitt's General, to the realistic chains binding Lucy Crum as the Knave of Hearts, this was magnificent. The face painting in particular was fantastic, and with all these elements taken together, the look of this production was mesmerising.
Within these costumes and behind this dramatic make-up were some strong acting performances. Harry Cushing's panicky White Rabbit scampered about from first to last with utter preoccupation (a lovely twist, by the way, to find Alice's sister (Zoe Williams) spotting him just as the play ends,) while Naomi Greaseley's 'Old Squirrel' was wonderfully characterful. Charlotte T-C's Caterpillar was hypnotically languid, and the fragile Humpty (Nick Edwards) was played with admirably tetchy irritation. (This reviewer enjoyed his equally admirable determination to ensure that his final strangled scream was heard from behind the tabs, despite the plot having skipped on a little.) The garden of beautifully costumed flowers (Phoebe Hall, Molly Cushing and Dulcie Say,) was cleverly interpreted, whilst Ashleigh Spencer delivered a terrific performance as the iconic Queen of Hearts, whose enthusiastic support for capital punishment was nicely countered by Freddie Dunn's calmer (and be-crutched) King of Hearts. The other iconic element to this story, of course, is the Mad Hatter's tea-party, and we were not disappointed as Alfie McEvoy (Hatter), Benedict Dunn (Hare) and Harry Canning (Dormouse) brought this madcap scene to glorious life. The Hatter's hat loomed over the rest of the cast like some psychedelic haberdashery Everest, and this trio's comic timing and ability to act off one another will live long in the mind. Another memorable element was Saskia Feingold's superbly languorous Cheshire Cat, and her final, head-only appearance through the back curtain was terrific. So many cameos, each one a treat in itself, and showcasing a riot of Porteus talent; however special mention must go to the pairing of Edith Scott and Ella-Grace Foster as Tweedle Dum and Tweedle Dee whose performances were a masterpiece of choreography and stage presence. We should expect to see much more from these two fine actors in future productions.
This was an exuberant, joyful production by a cast who clearly loved what they were doing, and who gave their all on the night. The production was slick, witty and showed deep care and attention. Well done Porteus!
Hutton House – The 39 Steps
FRESH from Bugsy Malone last year, Hutton have clearly got a taste for wise-cracking, gun toting action plots, yet to bring such a complex story to the limitations of a 45-minute stage production was a mission that might well have deterred a less ambitious and visionary direction team.
As it was, this was a high octane, fuelled-up, tooled-up beast of a show that felt more like a stylish 1970s Avengers episode than a House Drama production. From the fascinating device of having the audience watch a radio presenter introducing a radio drama that is actually a stage show, to the fact that there was not one single scene-change other than with lights, despite the action taking us from a one end of the country to another, including in a variety of modes of transport (let me repeat that – not one scene change!) it was clear that this was a very different kind of production to the usual House Drama fare.
The directorial team (Gus Smith, Tasha Lovel and Joe Willis, led by George Vivian,) achieved an immense success first of all by ensuring that this adaptation kept the integrity of the plot. Although we were whipped from radio booth to West End stage show; London flat to Scottish manor house to remote inn and then back again, it all made perfect sense, and this clear flow of plot is fundamental to any successful storytelling. This team definitely understands that. Their second success, and from a dramatic perspective the more impressive one, was to devise a way to ensure that the same stage set-up could cover every scene, meaning that there was never the lull of a curtain across – or the risk of noisy, clunky set changes while the audience sat waiting. This design was seriously clever, especially since several scenes involved the need for characters to be on trains or in cars – phenomenally difficult to recreate on stage at the best of times, let alone on a one-set design. So it was that we had that beautiful green old-fashioned racing car (credit Joe Willis, Flora Manik, Isla Sloane and a little help from Maisie Willis) at the front of the stage for almost the entire production. What could have seemed clunky or childish actually looked iconic, with the witty nod to the text itself in the racing number 39 painted on the side. Actors pretending to drive a car behind a cardboard cut-out? Well we bought it totally, and it was just glorious, and in the same vein it allowed the equally glorious and anarchic moment when, just as its use was finally at an end and it might become an obstacle to the performance, Pamela nonchalantly and cheerfully kicks it to the floor and the space left becomes the theatre seating. So Avengers! (Again, the 1960-70s TV series, not the modern incarnation!)
A clever set and stage design then, and equally clever acting. The central, feisty hate-hate dynamic between the protagonists Hannay (the accomplished Dominic Livesey) and Pamela (the impressive Molly Acton) crackled nicely, with one-liners and put downs aplenty. Meanwhile, this was another production which saw experienced actors such as Greta Taylor (performing with suitable mystique as the enigmatic spy Annabella), Cathryn Payling as the curious innkeeper, and Aisha Preece as the Scottish taxi driver, acting alongside impressive younger talents such as the police partnership of Helena McMurray and Kieran Mitra, and the showbusiness pairing of Milo Smith and Owen Robinson (Mr Memory). Samarth Dasarathi was calmness personified as the Hitchcock-esque radio presenter alone in his dimly lit studio, and watching the audience for the entire production, whilst the pairing of Edward Murray as the sinister Professor Bartlett and Tristan Parris as his urbane butler acted with considerable relish and real presence, delivering another highly enjoyable element in the increasingly tense plot. Imogen McMurray, meanwhile, another very talented Hutton actress, was cleverly deployed in a series of advertisements wittily alluding to contemporary and equally iconic movies.
This was a production that delivered a steady stream of memorable moments, regular gunplay and romantic frisson. It gave us a car-crash, a dizzying leap from a moving train pursued by armed police, a murdered secret agent, a perilous race for life across bleak moors, shadowy pursuers shooting to kill, a criminal mastermind masquerading as a well-respected professor and a secret that could endanger the whole country. And all this in just 45 minutes on one stage.
Huge credit goes to the sixth form team (including Sophie Johnston, Marnie Botros, Emily Scagell and Bea Handley) and to a terrific and tightly-knit cast who clearly had the time of their lives.
To return to a word that has been used several times in this review, this seemed an iconic production. We can't wait to see what Hutton comes up with next year!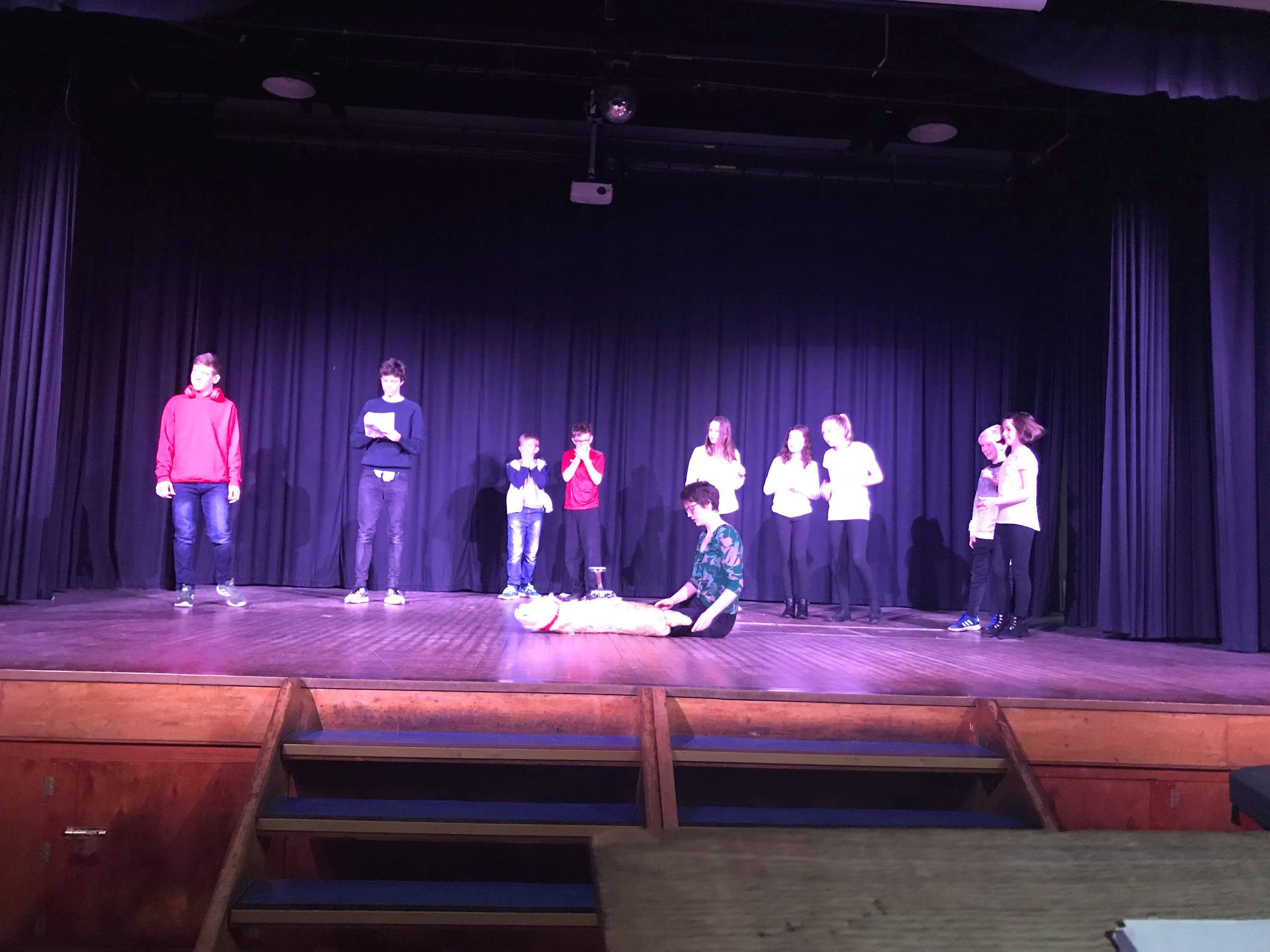 De Grey House – The Curious Incident of the Dog in the Night-Time
AS the curtains drew back, and Christopher Boone led us down the aisle and onto stage, we found ourselves staring transfixed at the dog – which was itself transfixed by a very large and very shiny garden fork. This was no little cute cuddly toy and no hand-fork. This was a fairly realistic and fairly sizeable beast that had been ended by a garden fork through the back.
De Grey have something of a reputation for taking on challenging plays (The Crucible last year for example), and there is always an innate risk that in doing so they might simply not be able to do justice to the choice, and yet this house seem to have developed the knack, and the confidence that enables them to do so each time.
Let's be clear, this is a play with a deeply sensitive topic at its heart – the experience of living with Asperger's syndrome and its impact too on those around you, and a plot and narrative structure that are immensely complex. To be successful with this production would require a very special kind of actor, a directorial team who shared meticulously a vision and understanding of their text and their purpose, and an uncompromising respect for their subject. With those terms in mind, this production, and these directors (Alex Edwards, Poppy Robinson, Harry Edwards, Sola Sowole, Amie Fraser, Imi Unwin and Lucy Moore) were unquestionably very successful indeed.
Let's start with the performance of Christopher by Bertie Wood. This was a masterclass in conviction, research and commitment to the role, and the utterly compelling delivery was just spellbinding. Bertie has already forged a fine reputation for his versatility, acting talent and stage presence, but this performance took him up a league. With a performance of this stature and strength, the supporting roles can come alive, and here De Grey are on very safe ground. Jasper Wood's performance as Christopher's loving but increasingly distracted father was extremely moving, and the interplay between father and son was superb, (whilst their final moment was, frankly tear-jerking.) Maddie Penny played Christopher's estranged mother with equal skill, and the decision to have her suddenly spotlit and reading out her previously unread letters to her son was a fantastic piece of direction which added to the emotional power of her delivery. Both of these young actors successfully conveyed something of the agony of a parent cut off from their child, which is a deeply impressive achievement, and which added immeasurably to the power of this remarkable production. Virtually ever-present on stage was House Drama debutante Lucy Moore in the role of Christopher's teacher, Siobhan, and her calm, caring delivery added a different level to the story – somewhere between Christopher's own logical focus, and the emotional lens of his parents. Meanwhile a vivid cast of support roles, from the harassed Mr Shears (Toby Pallatina), to the fizzingly furious Mrs Shears (Alex Dale); the wonderfully positive Rev Peters (Daisy Hynd), to the kindly but indiscreet Mrs Alexander (Jess Earl); and of course the police force in the form of Euan Ellis and Isaac Wood), along with a plethora of bright performances from chorus and support cast, added layer upon layer of interest and engagement for the audience.
The backdrop, set and technical elements against which this cast performed was every bit as meticulous and detailed in execution and design as the performances themselves. The music was calm and atmospheric, lulling us through the few scene changes, whilst mid-tabs and a clever lighting plot gave fluidity and pace to the piece, and added very effectively to its feel. The large black flats with symbols from Mark Haddon's original novel felt nicely unobtrusive, and the London street name just above the point where Christopher's mother read her letters from was clever in setting a clear distance. Attention to detail is everything in the very best productions, and it was evident here in myriad little elements, such as the way the neighbours were lined up frozen for Christopher to approach in his 'investigation,' or the stunningly beautiful 'star-dog' design against the black backdrop. Stunning too was the station scene, with the chorus beautifully deployed and directed, whilst the subliminal background station noises, and the use of the two red-coated actors to articulate for Christopher as the kindly passenger (Erica Phillips) sought to help him, was inspired. The confusion and clutter of everyday life was very clearly presented through the eyes of someone for whom it was barely manageable – indeed the narrative structure of the play, with the story told through multiple voices, was very powerful indeed.
And so back to that be-forked dog at the start – a design feature that is startling, vivid, provocative, uncompromising, utterly confident in what it is doing. Something challenging. Bravo De Grey!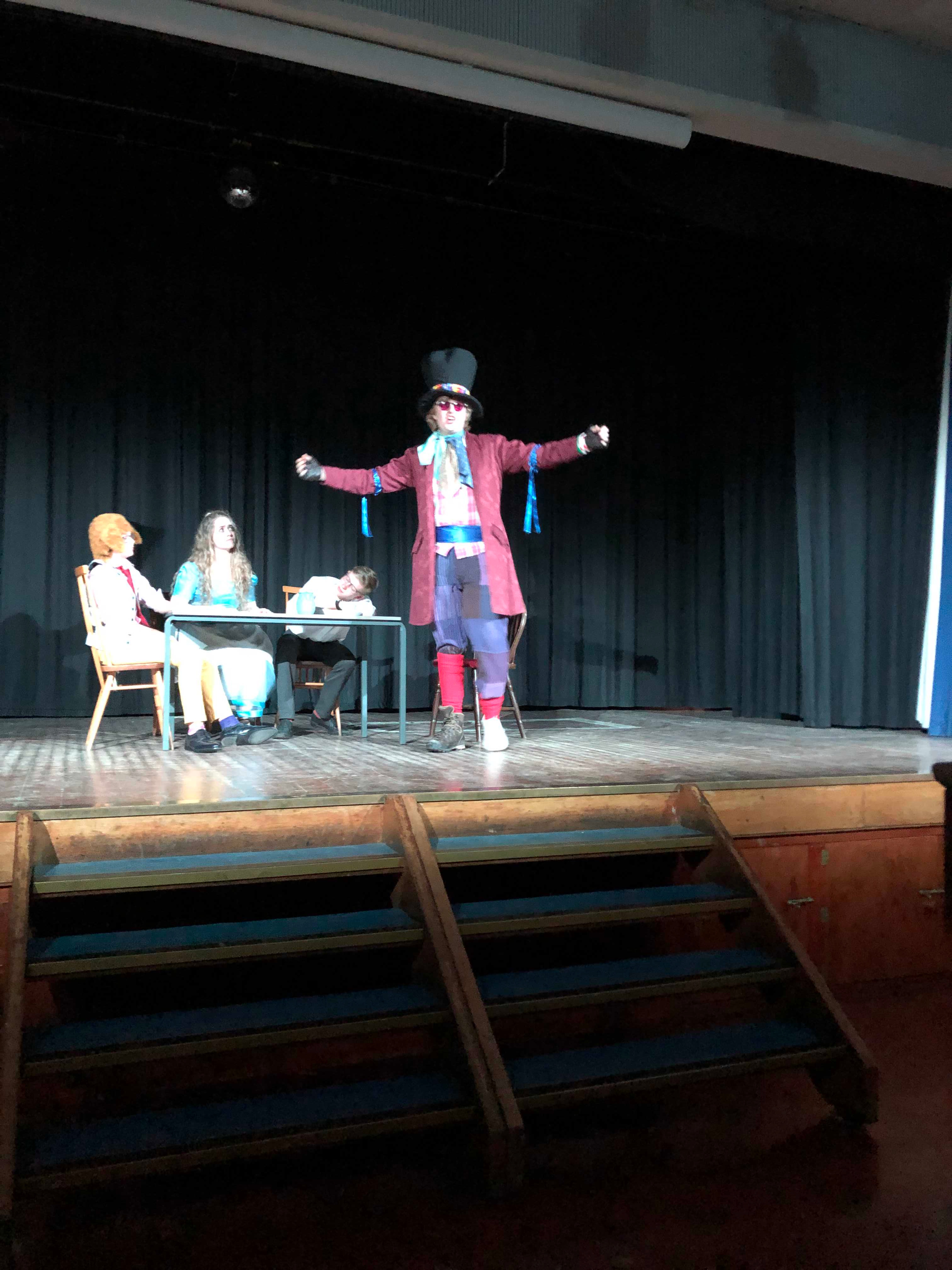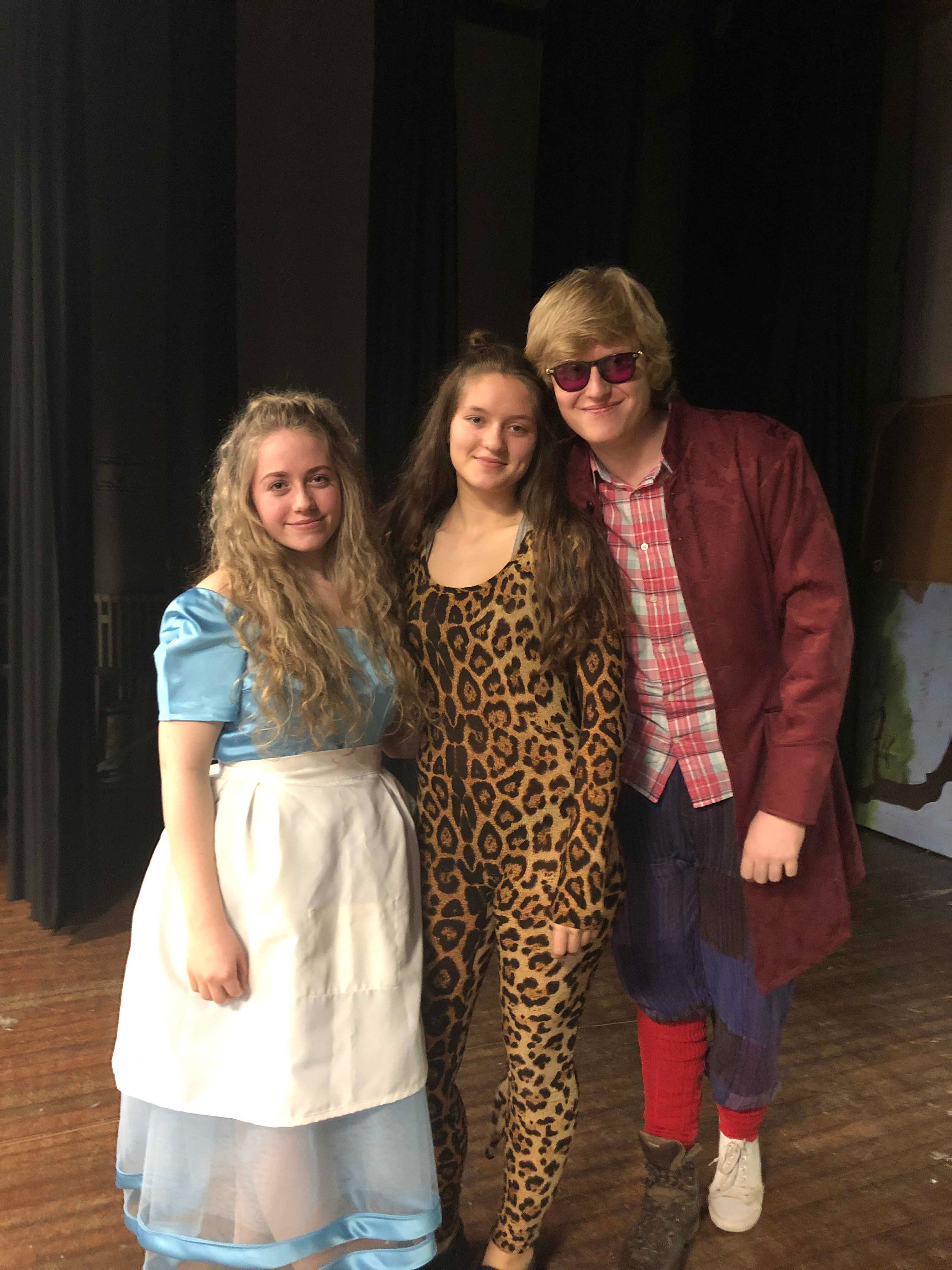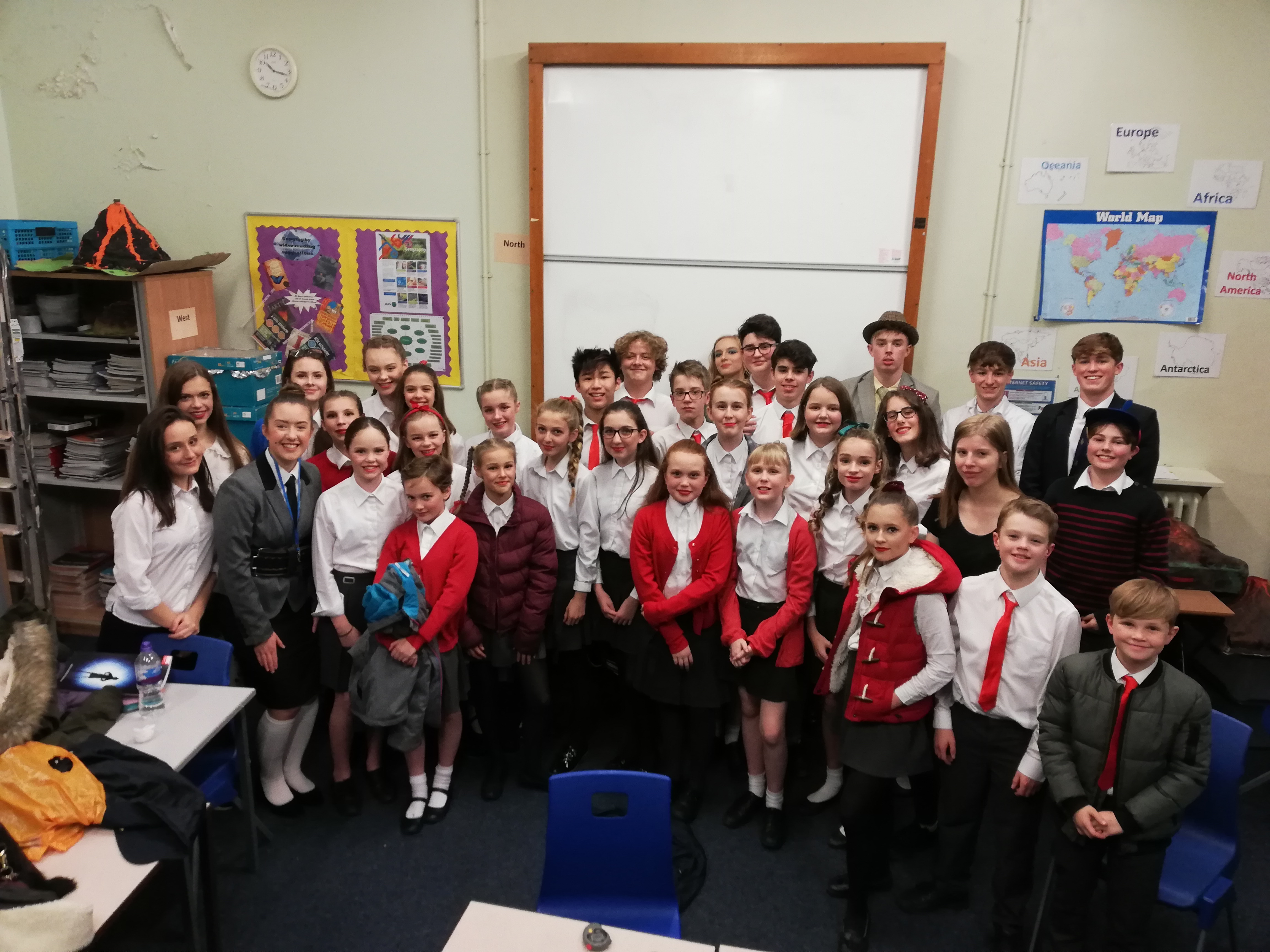 Photo captions: From top, casts pictured during rehearsals for Alice in Wonderland, The Curious Incident of the Dog in the Night-Time and Matilda. Bottom: the cast of Matilda