Budding gardeners win Ripon in Bloom award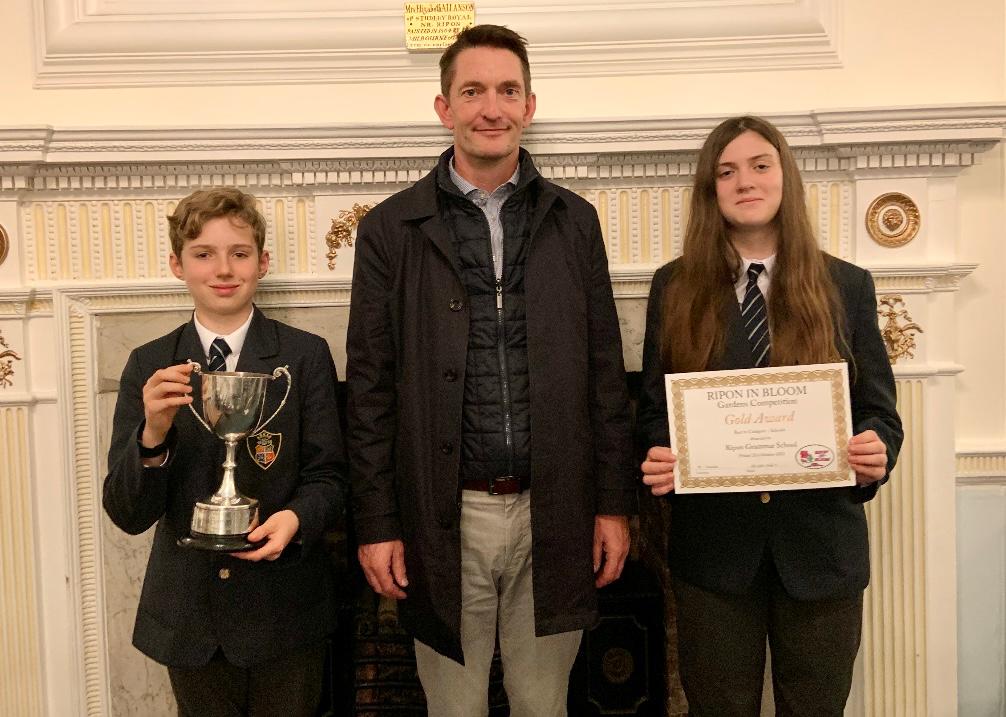 RIPON Grammar School's talented student gardeners have won a top Ripon in Bloom award.
In addition to being presented with a Gold Award, green-fingered pupils claimed the Schools Trophy in the annual competition.
Pat Hall, secretary of Ripon in Bloom, said judges were impressed with how many students are actively involved in gardening, usually in their free time during break and after school.
She also praised students Vlad Danila and Paige Cunningham, who gave judges a tour of the site: "The knowledge of the planting and the watering regimes in different areas was very impressive."
Vlad said he was delighted that everyone's gardening efforts had paid off: "I enjoy gardening and like being part of the gardening club because everyone can talk and have a nice time and take in the fresh air."
Paige added: "I first got involved as part of the lunchtime club and went on to provide extra help after school, I found it a very calming experience."
In addition to the success of areas where shrubs and herbaceous plants have been established, Mrs Hall praised an attractive border which has been designed, planted and taken over by one keen student.
Judges also liked RGS's collaboration with parents and The Himalayan Gardens, who donated plants and offered advice, and plans for a kitchen garden: "This will aid students in their understanding of the concept of 'garden to plate'," said Mrs Hall.
Student environment officer Eva Scullion said: "I am so proud of all the students and staff who helped make our school grounds a brighter and greener place.
"My favourite bit of being a part of the sixth form gardening team was definitely when we went on a trip In the mini bus with Mr Webb, to another student's garden to dig up some of their unwanted plants. We brought them back to school and planted them on a patch of grass outside the maths block.
"I loved how we kept plants alive and growing, in a place where the students can appreciate them walking to and from their lessons. This award is a step in the right direction for RGS, and hopefully we can make our school even more of cleaner, greener, and eco-friendly place to work."
Another keen gardener, Stephanie Ip, added: "I have enjoyed being able to contribute to the school and the surrounding ecosystem especially as a termly boarder. Spending time out of the classroom has greatly improved my mental health and I am thrilled that the hard work that all the gardeners at RGS have put in over the past year has been recognised."