Budding young entrepreneurs win praise at regional final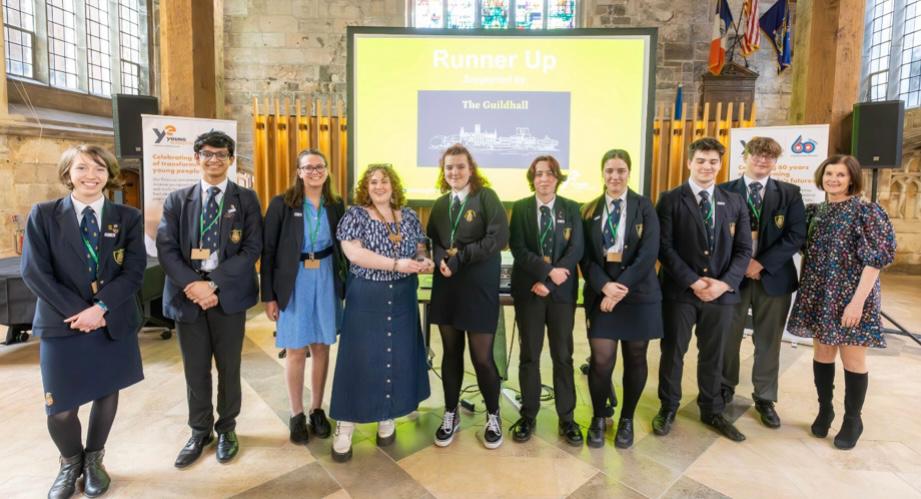 RIPON Grammar School's budding young entrepreneurs just missed out on winning a major regional title after pitting themselves against four other successful student business teams at the Guildhall in York.
Having won the North Yorkshire heat, the Totes My Bag Young Enterprise team, who make sustainable products including printed recycled cotton bags and wooden keyrings, were named runners up in the North-East, Yorkshire and Humberside final of the competition.
In addition to being interviewed by judges from the world of business, the students had to submit a company report and accounts, host a trade stand and speak to an audience of more than 150 guests.
Managing director Lucy Crum said: "We're proud to have come runners up. A huge well done to all the other companies there, including Caistor Grammar School's Bug Hub, who won this round, and will go on to represent our region in the national final – we wish them lots of luck."
"We have loved our Young Enterprise journey and are excited to continue running our company."
Assistant managing director Ellie Currass added: "One of our main goals is to promote a sustainable lifestyle to help reduce the amount of products and waste fabric going into landfill."
Totes My Bag products will be on sale at the Ripon City Green Fair in the Town Hall Sunday June 25.
RGS head of careers, Bob Walker, said: "Celebrating its sixtieth year, the aim of the competition is to develop entrepreneurial skills which the team displayed in abundance, and they were a real credit to the school."
He added: "A huge thank you to their business adviser Richard Canham, from MasterCard, for his invaluable help and support thought the year."
The four other schools were:
Anovelidea - Hymers College, East Yorkshire. Business: used donated books, gift wrapped and sold as a surprise
Avalansh - North Halifax Grammar School, West Yorkshire. Business: energy saving products for heating; blankets and terracotta pots with tea lights
Ecultivate - Caistor Grammar School, Humber. Business: bug hotels
Hilda's Helpers - St Hild's CofE, North-East. Business: hand-made greeting cards
Photo, top, (l-r): Anna Bradley, Samarth Dasarathi, Ellie Currass, Lucy Crum with Grace Evans (York Conferences Event Manager), Ollie Peacock, Grace Bleiker, Finn Hutchinson Lucas Wilkinson with Janet Brumby, senior team manager for Young Enterprise in Yorkshire and Humberside