Cyclist Harvey triumphs in Everest challenge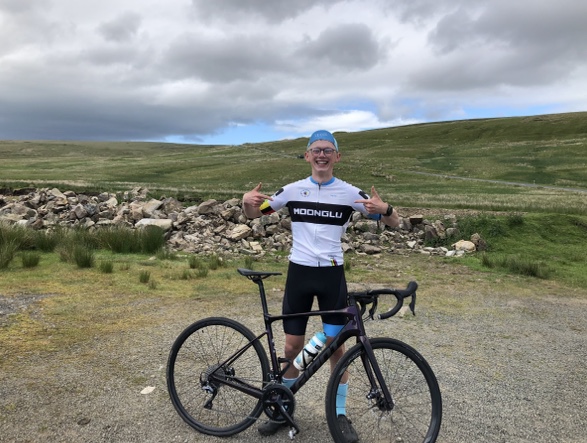 AN RGS past pupil was one of an impressive team of four who each cycled up and down the 30,000ft height of Mount Everest to raise money for a mountain rescue team.
Harvey Leak-Smith, who left RGS in 2019 and is now studying engineering at Durham University, took on the challenge of ascending and descending the south climb of Chapel Fell, the highest continuous road climb in England, 47 times.
The newly nominated president of the Durham University Cycling Club, Harvey, 20, and his teammates raised a magnificent £885 for Teesdale & Weardale Search and Mountain Rescue.
Climbing up and down a gradient of around 8 per cent over 143 miles, the exhausting 8,848m feat took Harvey 15 hours 20 minutes to complete, including two hours of pause time.
"It was the most difficult ride I've ever done both mentally and physically, my longest time in the saddle to date, reaching a constant level of pain at about midday," says Harvey, who was supported by another former RGS student, Matthew Sutton.
"He cycled out from Durham with some other cyclists from the club to support us on three or four reps, which was a massive morale booster."
Harvey said the student team chose to support the mountain rescue service as a way of giving back to the local community: "We feel so lucky and privileged to have the North Pennines on our doorstep to safely cycle around whilst studying."
Having completed his second year of general engineering studies, Harvey will specialise in civil engineering for his final two years at Durham University.
"Despite the challenges of moving to studying solely online this year, I have seized every given opportunity to get out and ride bikes both on and off-road, racing local mountain bike, cyclocross and road crit races.
"For the 2021/22 academic year I have been nominated as the president of Durham University Cycling Club and I am excited to share my Yorkshire-induced passion for the sport with other students."