Environmental campaigner Darcey's exciting world challenge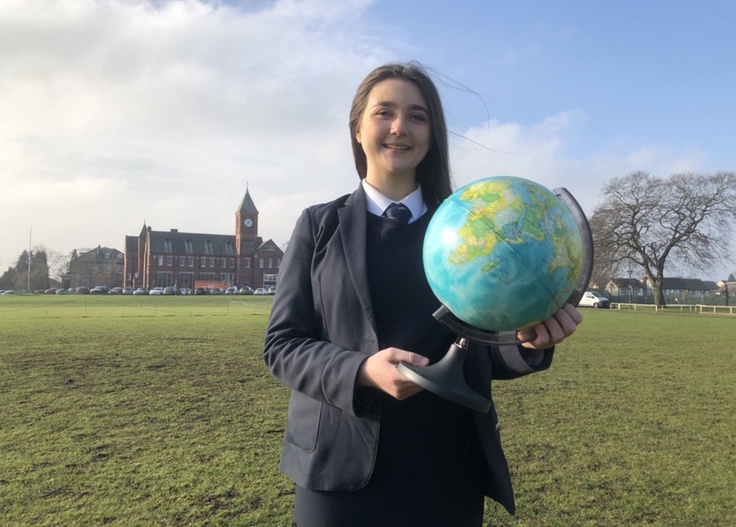 A RIPON Grammar School student has been chosen to represent the UK at a major international youth conference on climate change.
Darcey Joia is one of 15 talented sixth form students selected from hundreds of candidates from countries as diverse as Lebanon, America, Morocco, India, Brazil, Spain, Austria, the Netherlands, Colombia, Botswana, Peru, Indonesia and the Philippines.
As international Junior Advisory Board ambassadors - chosen for their extraordinary profiles and commitment to excellence, innovation, human values and ethics - they will take part in a series of workshops in Spain with top research professors in climate change and international relations.
Now in its eighth year, the annual five-day event is based at Spain's IE University, which has campuses in both Madrid and Segovia.
Darcey, 16, from Knaresborough, will be tasked with exploring how higher education, within the context of international relations, can help provide solutions to the problem of climate change, and will present her ideas to a panel of experts.
She explained: "I was very keen to apply when I learned about the topic being covered. I feel quite passionately about the climate crisis, the way our world works, how ecosystems thrive and organisms co-exist. That's what I'm interested in studying at university."
Concerned about the erosion of habitats and wildlife, she added: "I am also worried about the disproportionate effects climate change has on people around the world. It's really important we all try to do what we can to help."
JAB team representative Laura Alvarez said: "Darcey's application shone through the crowd as outstanding and inspiring. We were impressed by her creativity, earnestness and dedication to international education. Last, but certainly not least, she was selected for her leadership potential."
In her application, Darcey had to include her CV, along with a video interview and an essay discussing specific questions about the climate crisis and the opportunities to solve it within education.
Ms Alvarez added that it was difficult to pick just 15 students from the amazing applications received from more than 350 candidates across fifty countries: "As well as their extraordinary profiles, students were selected for their academic merits and their mastery of different disciplines.
"The talent-based advisory board's objective is to build a snapshot of these young people's current vision of the academic world and consider possible improvements in the field of university education."
In addition to her all-expenses paid trip, Darcey has been offered an 80 per cent scholarship should she wish to study at the world-class IE University.
*The IE University JAB conference will be held on April 12th to 17th.
You can read Darcey's winning essay, below:
In order to effectively combat climate change, greater effort must be made by higher educational institutions. Describe what actions universities can undertake in order to contribute to solving climate change
ANTHROPOGENIC climate change is the biggest crisis which our world has ever faced. Mainstream media relentlessly reiterates the magnitude of the issues caused by a warming planet, highlighting precisely how it will lead to an increased frequency and intensity of extreme weather, melting polar ice caps and rising sea levels. Complex interrelations between the environment system and human system mean that human-induced climate change is a major threat for people and other inhabitants of Earth. How humans react in response to this emergency is pivotal. In a society where education is essential in allowing people to respond effectively to complex issues, the question of why universities are not doing more to tackle climate change is inevitably raised.
The actions which universities can undertake in order to contribute to solving climate change are countless, and their impact would be immeasurable. Nearly seven percent of the population attend university at some point in their lives, affording higher educational institutions the power to directly influence a huge proportion of our society. One of the steps that a university can take is to adjust their mission statement accordingly, so that the objectives and standards of the institution reflect the level of concern that is appropriate during this climate emergency. This would result in a shift in core values, and would initiate the integration of a sense of climate urgency into university culture. Additionally, to strengthen the representation of the issue within universities, changes can be made by executive boards. An executive board is equipped with the task of developing strategies that allow a university to achieve its objectives. If these objectives focus on tackling climate change, the executive board has the ability to deliver on this with palpable action. Ultimately, this would cause a repositioning of priorities within university communities, allowing both professors and students to initiate change.
Another significant step which universities can take towards combatting climate change, and perhaps the most obvious, is through education. Specifically, we should embed ideas on this topic into all areas of the curriculum; in order for climate change to be tackled efficiently, it must be institutionalised in the system as an urgent global priority. All fields of the workforce must therefore be encouraged to consider how their work damages the environment, how they can mitigate that damage, and how they could use their job as a means of finding a solution to the climate crisis. At university, young people training for the future can be pushed to think about this as they enter the working world, and good practice can be inculcated within industries and organisations. This gives us a better chance of working together over the next twelve years to overcome human-induced climate change.
These new approaches will allow students to become aware of a challenge that they are encouraged to embrace. Universities are gifted with a powerful opportunity to alter the mindsets of people across the globe; choosing to seize that opportunity will be vital in creating a future for our planet.
References
Sosa-Nunez, G. and Atkins, E., (2016). Environment, Climate Change and International Relations. Bristol: University of Bristol.
Maslin, M., (2014). Climate Change: A Very Short Introduction. 3rd ed. Oxford: Oxford University Press.