Honour for single-minded pandemic pioneer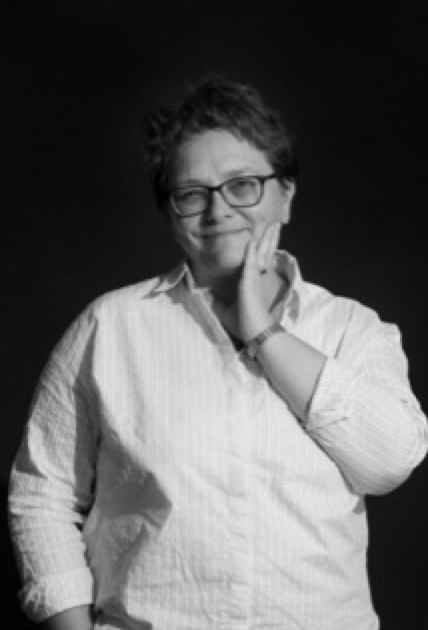 She was the woman behind the NHS intensive care staff hit single at the height of the pandemic and also helped revolutionise the clinical tool used to ensure patients get the right advice and treatment through NHS 111 and 999 calls. We discover more about the former RGS student who has been awarded an OBE
"MAKING a difference to people has been a driving force in every role I have undertaken," says Jackie Shears, the creative brains behind the NHS intensive care staff hit single at the height of the Covid crisis.
The Ripon Grammar School past pupil, who has been awarded an OBE for services to patient care, also played a vital role in ensuring people throughout the UK were directed to the care they needed during the pandemic.
As programme director at NHS Digital, Jackie (née Fowler) drove the development of the innovative clinical tool used for assessing, triaging and directing the public to urgent and emergency care services.
In addition to leading the NHS Pathways team which delivered the crucial pioneering call service, she came up with the idea of rewriting the words to Police's Every Breath You Take for the Liberty Singers, a 100-strong choir made up of intensive care unit staff from across the NHS.
She wanted to recognise their extraordinary contribution: "ICU staff had minimal respite and continued to provide high levels of care and professionalism, identifying treatments and working out how best to care for incredibly unwell people."
The £20,000 raised from the single - which also urged everyone to do all they could to avoid infection levels rising further - went towards supporting the mental health and wellbeing of those on the frontline of the coronavirus pandemic.
While it will no doubt have come as little surprise to many of her work colleagues, Jackie, who left RGS in 1987 to study psychology at the University of Reading, was amazed to be honoured with an OBE.
She accepted it on behalf of everyone on the NHS Pathways team. "The award mostly relates to the vital role the system played in the Covid-19 response," she explains.
"It was a 15-year effort from idea to making a difference in the pandemic. I am incredibly proud of the team, the quality of the work they did and the outcome in terms of contributing to public health during such a major situation.
"Seeing the system succeed in the way we intended in the pandemic has been truly extraordinary," she says.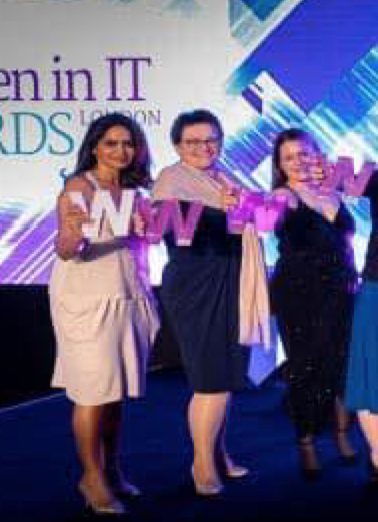 Her early education at RGS appears to have stood her in good stead: "It was the general atmosphere that expected you to make the most of whatever talents you had. No fuss, no overt pressure – it just was expected that you would do your best and so we did."
One of the most important lessons she learnt at school, she says, is that 'There is always a way,' something she appears to have applied throughout her working life.
Despite her mental health suffering as a result of her stressful role during the initial roll-out of NHS 111 ten years ago, she returned to work following a three-month break determined to encourage better mental health in the workplace.
Currently NHS and data advisor for Our Future Health, a major new research charity tasked with recruiting five million adult participants for the UK's largest ever health research programme into the early signs of major diseases, she has also set up her own company, Healthy Minds, Healthy Business to deliver mental health strategies and train line managers and staff to support mentally healthy working environments.
Having taken A-levels in biology, chemistry and English literature, she initially studied linguistics and language pathology, but enjoyed a psychology module in first year so much, she switched courses.
She explains how her extraordinary career path developed after joining a graduate trainee programme within a consortium of five county councils: "When I left university, I had no idea what I wanted to do. It gave me a thorough grounding in contracting, negotiation and supply logistics for everything from school exercise books to fire engines…and IT systems."
After three years, she joined the NHS and went on to enjoy a range of roles including providing consultancy support to hospitals purchasing large IT systems.
Jackie joined NHS Direct after supporting a fledgling programme to purchase a £130m system to enable the triage of calls at a national scale, going on to oversee the new system's implementation.
She soon realised the clinical triage software determining what questions you were asked when you called NHS Direct with a problem needed improving.
"When someone calls for urgent care advice, it is vital to be able to spot high risk cases very quickly, but also be able to spot low risk cases that can be helped with less urgent forms of care, from a pharmacist or a routine GP appointment.
"The team I led came up with a genius plan for doing this more effectively."
She sought permission from the Department of Health to create a small design and development team to create a better product, more appropriate for use in the NHS: "Specifically, it was designed to enable the NHS to adjust rapidly for any large-scale public health demands – we were thinking about a major flu pandemic like the 1918 Spanish Flu pandemic," she explains.
The initial pilot was extensively tested – offline and on real patients – before being formally adopted as the national software behind the NHS 111 services and soon grew into a national service: "Suddenly my team of seven was a team of 73, operating a system live, 24/7.
"It has proven its worth time and time again, adjusting rapidly to triage calls during Ebola, Middle East Respiratory Syndrome (MERS-COV), SARS and the variant flu types which show up each year," she says.
The system handled more than one million calls a month from people seeking urgent health care and information before the pandemic, when it rose to more than 1.6m per week.
"It required a rapid series of updates to be able to identify potential Covid cases and direct them to appropriate care," explains Jackie.
In the 12 months up to July 2021, the system handled 19.5m calls. In addition, the creation of an online NHS 111 service saw 30 million visits in the first six months of the pandemic. At the peak of the crisis, in mid-March 2020, the service was used more than 950,000 times a day, 95 times higher than normal levels.
"The system we designed and persuaded the Department of Health to support has more than served the purpose it was designed for during the pandemic," says Jackie.
Having moved from the NHS Pathways team, during the pandemic Jackie was responsible for collecting Covid test result data, from test sites and laboratories across England, Scotland, Wales and Northern Ireland, to enable accurate reporting on the numbers of tests, and the results and a host of other metrics: "It was an incredibly intense and challenging time, but I am proud of the contribution I made to pandemic management," she says.
But she reveals how her high-pressure role in delivering NHS 111 nearly broke her: "The continual need to persuade the Department of Health to keep funding the pilots as we developed and tested the system was tricky, year on year, and the transition from tiny pilot to national scale system was a big challenge."
Her hardest day was attending the inquest of a child who died after his father called NHS 111: "While the advice he was given was declared appropriate, and the child would have died regardless, seeing the tragedy of the human side of the calls NHS 111 receives was very difficult and an important reminder of why the highest standards are always required."
She reflects on how the pressure of implementing the national roll-out led to stress-related depression: "I was very unwell, I needed three months off work to recover and it taught me a great deal about mental health, mental ill health, and also how challenging work environments can be to our mental health. I always thought I was super strong, and that mental health issues happened to other people. Turns out I am human…"
On her return to work, she trained as a mental health first aider and instructor, training others to understand more about mental health, and how to spot signs and in symptoms in themselves and others, and how to maintain a mentally healthy workplace.
Now, as well as working for Our Future Health, Jackie continues to provide training and support to workplaces on creating mentally healthy cultures, and teaching line managers how to manage in a way that ensures teams are happy and productive. She also judges the Mental Health Champion category in the national NHS Unsung Hero Awards, which recognises the contribution of non-clinical and non-medical staff in the NHS.
Having spent her career leading large, often virtual, teams, teamwork is at the heart of all she does, she explains: "A great team is full of individuals who feel able to bring their whole selves to work. They bond around a common shared vision that everyone is focused on and know the value of their contribution to that vision."
Jackie, circled: 1986/8 RGS prefects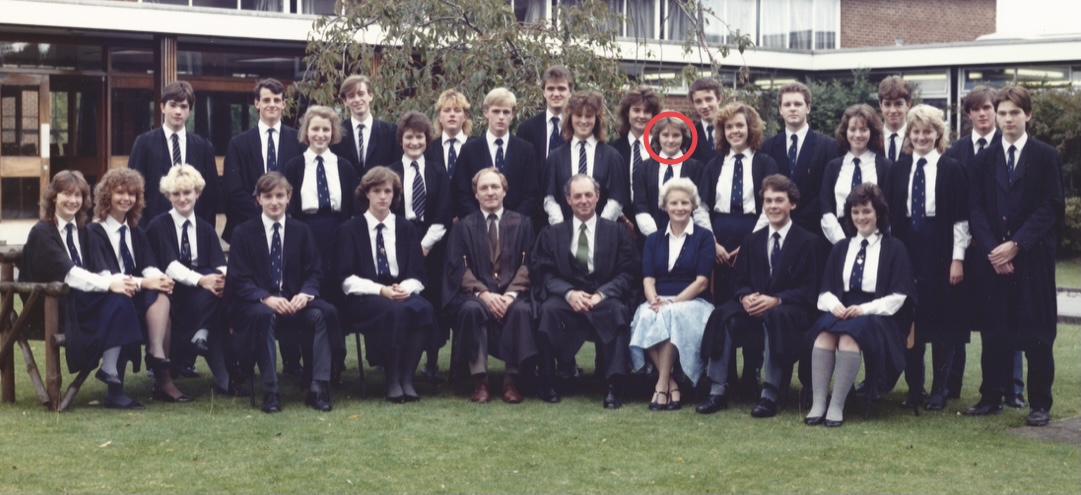 What was the most important lesson you learnt at RGS?
That there is always a way – and success lies with me. I was struggling with A-level chemistry (calculations – my inability was as source of wonder and hilarity to those to whom they came naturally!) and was not on track to get the grade I needed. As I walked home, in high dudgeon, I walked past a book shop (on Duck Hill – not there now). I pottered around and found a book on A-level chemistry calculations. I bought it and went home and started at page one and taught myself from scratch. I got the grade I needed. And the Miss Cullingworth Prize for progress in sixth form studies as a result.
What extra-curricular activities were you involved in while at RGS, both in and out of school?
Swimming, various drama productions (The Mikado and Midsummer Night's Dream are particularly fabulous memories), Venture Scouts (amongst the first girls to join Scouts in the area.
What do you wish you'd known back then?
That it will all work out.
What is the one piece of advice you'd give students interested in following a similar career path?
Don't fixate on a direction to the exclusion of spotting opportunities. Keep an open mind and trust in yourself to take your skills into settings you may not have been in before – all sorts of doors open that you may never have anticipated.
Who was your favourite teacher and why?
Dr Smyth – biology – for being a great teacher and a kind person.
Miss Carrick – English – at A-level she just appreciated anyone who was interested in literature and was an all-round interesting person to know.
Miss Swainson – French – just great fun!
Mr Postlethwaite – for being as chuffed with my chemistry grade as he was with those who got in to Oxbridge.
Who or what inspired you when you were at school?
It was the general atmosphere that expected you to make the most of whatever talents you had. No fuss, no overt pressure – it just was expected that you would do your best and so we did.