How dermatology got under my skin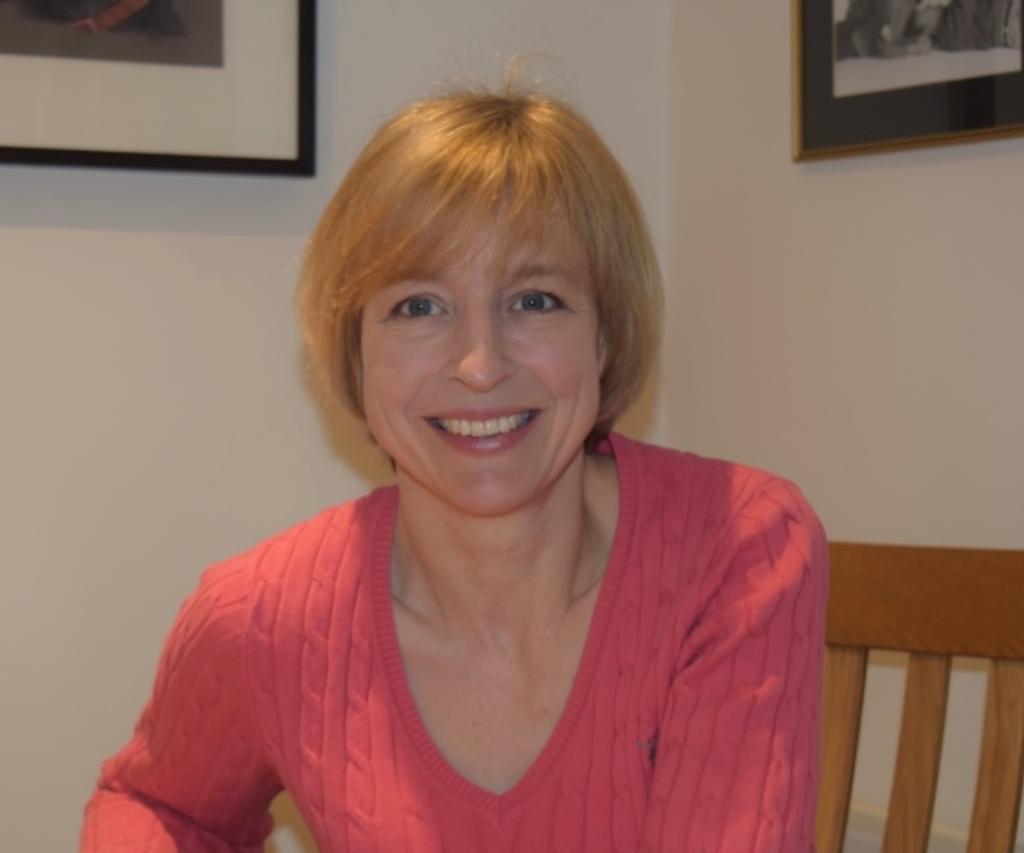 Dermatology consultant Tanya Bleiker, who left RGS in 1987, looks back on her time at school and explains why she was drawn to her speciality
President of the British Association of Dermatologists Tanya Bleiker took A-levels in biology, chemistry, maths and general studies and left RGS in 1987 to study medicine at the University of Nottingham
Q: What was your dream when you were at school?
A: My dream was to be a doctor, and I am now living that dream!
Q: What first got you interested in studying medicine?
A: I always wanted to study medicine. I was a cadet in St John Ambulance and competed across the region in various team events, which I loved. I genuinely enjoyed caring for others but also wanted to know more about the causes of disease and how things work.
I had to work hard at school as it did not come easy to me. My chemistry teacher was concerned that I would not get the grades for medical school which only made me more determined to prove him wrong (which of course I did)!
I am lucky to have a fantastic family around me. My greatest supporter was my grandpa. He always had great belief in me and what I was capable of. When I was looking at medical schools, he took me round numerous universities and we discussed where would suit me best. He continued throughout his life to take great interest in my career, he even had a copy of my Journal on his coffee table!
Q: What was the most important thing you learnt at RGS?
A: Be yourself! Do what you do well and stick to it. Most importantly, I also treasure the lasting friendships I made at school. We have stuck together over the years and our partners and children have joined us along the way. It is sometimes months (or COVID years) between seeing each other but we always click straight back in to where we left off.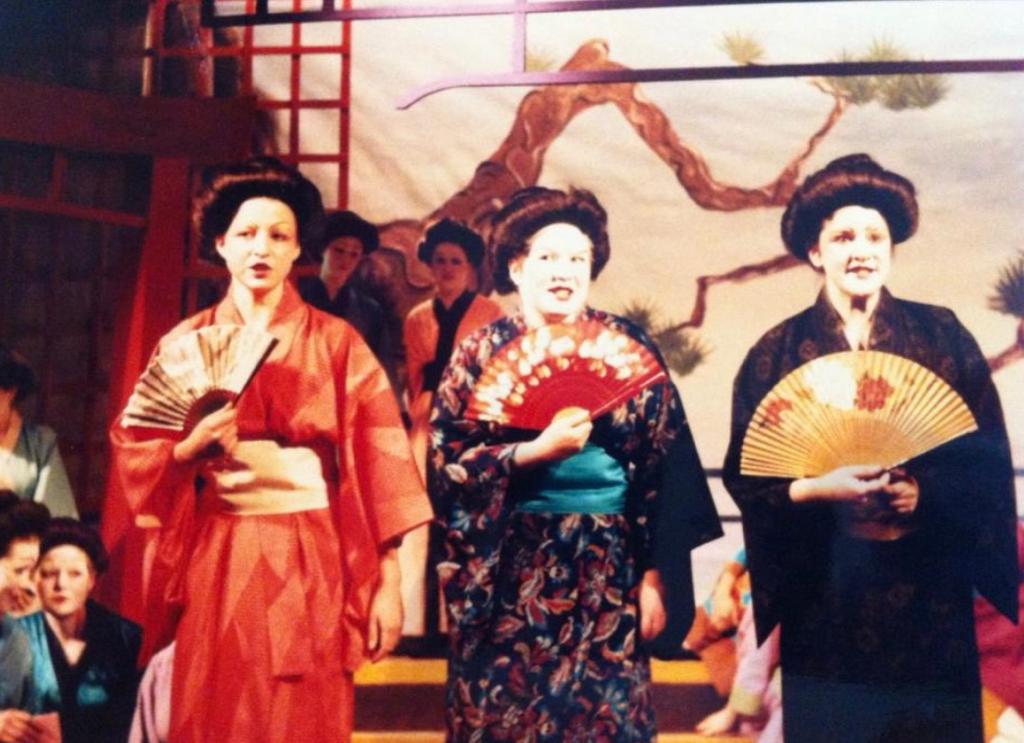 Q: Looking back, what extra-curricular activities did you enjoy at RGS??
A: I was a member of the school choir and was very fortunate to go on the choir trip to Calgary. One of the pieces we sang was Faure's Requiem, every time I hear the Libre Me it brings back those memories.
I was in a number of the school productions including A Midsummer Night's Dream and The Mikado (pictured above l-r: Tanya, Rachel Mosley and Helen Tabor). Earlier this year a group of us who were in the Mikado went to see the production at the Royal Concert Hall in Harrogate, a great trip down memory lane. We also lowered the average age of the audience by several decades which is always pleasing now we're all over 50.
I was in the school cross country team and have never been as cold as I was the day we competed in the snow and wind at Giggleswick.
Q: Who was your favourite teacher and why?
A: So many teachers that I remember fondly! Mr Rowlands, Latin teacher, for being both terrifying and funny. Mr Saul for his endless patience with my maths and Mr Wallace with my physics. Mr Stanley for being such a great headmaster. Mrs Whitely for the memories of domestic science and the stories we still retell, "Butterworth I can distinctly see copious amounts of black smoke issuing from your oven, what are you going to do about it?".
Q:What do you wish you'd known back then?
A: I can honestly say that there is nothing that I would have done differently or wanted to have known.
Q: What is the one piece of advice you'd give students interested in following a similar career path?
A: Take every opportunity that is given to you, it is surprising where they can take you!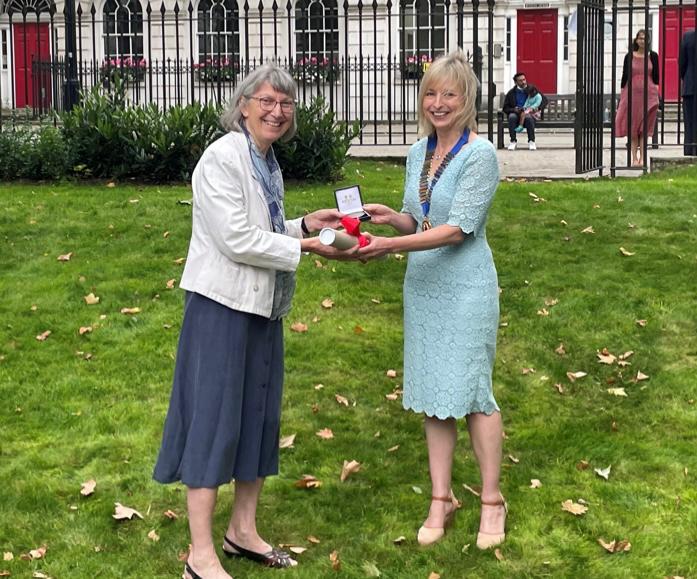 Q: What has been your career path to date?
A: I am the current president of the British Association of Dermatologists, BAD (2020-2022) and a full-time consultant dermatologist at the University Hospitals of Derby and Burton. I qualified from Nottingham Medical School in 1992 and completed my dermatology training in Leicester before accepting a consultant post in Derby in 2001. I was the editor-in-chief of the British Journal of Dermatology from January 2010-July 2013, one of the top three dermatology journals internationally; I remain on the editorial board. I am one of five editors of Rook's Textbook of Dermatology, the most comprehensive textbook of dermatology internationally. I am also editor of the soon to be published Rook's Handbook of Dermatology. I was the clinical vice-president of the BAD 2016-2018. I am a general dermatologist with sub-specialist interests in contact dermatitis and paediatric dermatology but do a bit of everything! (Tanya is pictured above presenting the prestigious Sir Archibald Gray medal to Professor Celia Moss)
Q: What attracted you to dermatology?
A: Dermatology is by far and away the best medical specialty! I love that I can see children as well as adults with skin disease, and we manage more than 4,000 diseases that affect not only the skin but also the hair, nails, mouth and genital area. There is also variety in how we can treat patients with creams, tablets, light therapy or surgery, so my week is never boring.
I enjoy getting to know my patients and having a positive impact on the quality of their lives.
Beyond the clinical work, dermatology also offers many other opportunities in research, publishing and leadership, as a trainee I was inspired how getting involved with these wider opportunities had a positive impact on patient care.
Q: What's the best thing about your job?
A: As a consultant dermatologist I love caring for my patients. Being able to make a difference to someone's life is the greatest gift. I recently saw a lady with awful eczema, she had not slept for weeks, was distracted by the itch and her skin was red and sore. She returned two weeks after using the treatment I had prescribed and she was a new woman, happy, bright and chatty. That is why I do my job!
As president of the BAD the best thing is to work with some amazing people and to be able to influence national policy that I then get to experience the benefit of in my day-to-day work. That is very satisfying!
Q: ...And the worst?
A: Worst thing about my job? I can't help everybody. There are times where my best is not enough.
Q:What has been your greatest success?
A: Being voted by my peers to be president of the BAD is the greatest honour of my career. The knowledge that they trust and respect me to be able to do this job is the greatest compliment.
Q: What have been the biggest challenges you've faced?
A: I love my job and I thrive on new challenges and opportunities. However, no-one was prepared for the impact and devastation of the C-19 pandemic. Working in a pandemic has been my biggest challenge both as a clinician and as a leader of a national organisation. The workload and mental stress have been immense. The advent of Zoom and Teams has concertinaed meetings so that every minute of every day is filled without the travel time to prepare or reflect. I am quite resilient though and have managed to get through, so far!
Q: How did the pandemic affect your role specifically?
A: The COVID-19 pandemic has been a challenging time for everyone. The biggest challenge for dermatology is service recovery. The pandemic has caused huge waiting lists and surgical backlogs which we are desperately trying to get on top of. This is on a background of chronic workforce shortages.
As a dermatologist, it is frustrating and upsetting to see patients who have been struggling for many months with severe skin disease, such as eczema or psoriasis. It is particularly upsetting with children as the whole family are distraught. There are things that we can do, for example we have set up an advice and guidance service for GPs. The GP sends in the patient's history and photographs which we look at and give treatment advice normally within 48 hours. The number of such requests has meant a huge increase in our workload and it's important that we strike the right balance between giving primary care access to us, without our focus being taken away from patients with more severe disease who need to be seen face-to-face in clinics. We are also working in different ways using virtual consultations where appropriate (telephone and video) although most dermatology consultations remain face-to-face as it is difficult to assess the skin over the phone! However, for stable disease treatment it is much better for patients to have a catch-up over the phone.
Becoming BAD president during the COVID-19 pandemic was no mean feat. The BAD is a charity and members' organisation. It has 2,400 members and represents more than 95 per cent of dermatologists in the UK. I lead the strategic development of the association and ensure that it works to support patients and to fulfil its charitable objects. I regularly meet with the Royal College of Physicians, various NHS departments and the medical regulatory bodies around national policies. Alongside the usual workload, the BAD has contributed to numerous documents during the pandemic to support its members in the care of patients whilst learning new ways of working. One of my goals taking up the presidency was to support the well-being of our members. We have had great successes with our virtual Skincredibles choir, yoga, Book Club and mentorship programmes.
Q: Can you outline a typical day?
A: Most days I have a clinic or an operating list in the morning and some afternoons. I will see a whole range of problems from eczema and psoriasis to skin cancers and rare diseases. I have a dedicated children's clinic once a week, the commonest problems are eczema and acne. In most clinics I have trainees who run clinics alongside mine who I supervise or medical students who sit in with me. I enjoy teaching. I also run the contact allergy clinic, which is a bit like being a detective, it requires a thorough history to uncover possible triggers that the patient may not have thought of. During the pandemic I had a young child who had developed terrible blisters on his hands after returning to school, after testing him to a variety of chemicals we diagnosed an allergy to the fragrance in the alcohol gel at school. He now has a non-fragranced gel and is cured!
After clinic I look through the advice and guidance referrals from GPs. The GP sends photos and I advise on the treatment. Two hours a day I spend looking through patient results, signing letters, writing to patients and responding to patient related queries. Once a week I am on call for urgent skin issues both from the GP and on the wards.
The rest of the day I will be in Zoom or Teams meetings for the hospital or for BAD.
Without the support of my amazing husband, two (now grown-up) children and our mad dog I am not sure how I would juggle everything. My daily indulgence and escape time is to catch up with The Archerson Radio 4!
Q: What are your hopes for the future?
A: The virtual world has revolutionised the way we work forever but there is still a place for meeting in person. I am looking forwards to live meetings and socialising with colleagues again.