Jack takes to life on the open waves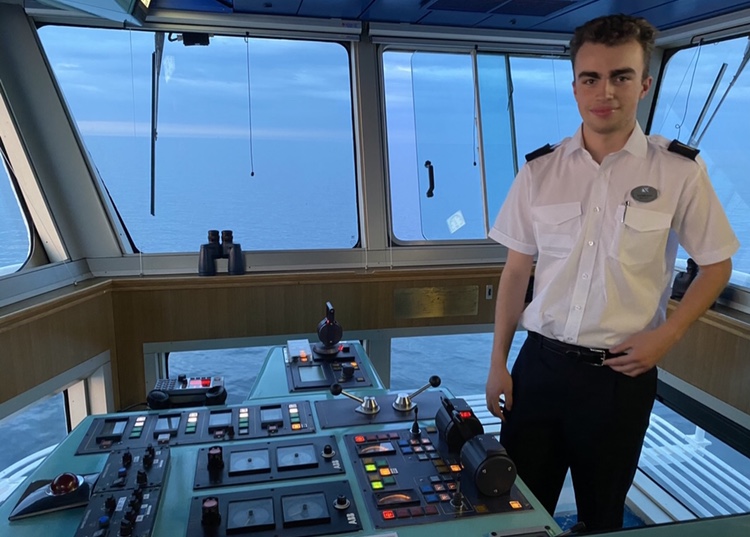 A FORMER RGS student who was embarking on a dynamic career with a major cruise company just as the pandemic hit is at last enjoying life on the open waves.
Jack Ibbotson, 19, from Burton Leonard, has been working on board one of the first cruise ships to carry passengers from the UK following Covid-19 travel restrictions.
But he had to spend the first half of his four-month cruise trip confined to the docks: "It was slightly strange at the start, the first two months were spent at a dockyard in Rosyth, Scotland, with all four Fred. Olsen ships tied up together, where they have been for the whole pandemic."
He is working towards his Officer of the Watch unlimited licence, as well as a degree in nautical sciences and marine operations, sponsored by Fred. Olsen Cruise Lines as part of a deck officer cadetship,.
"We originally were only allowed by the government to sail just calling at UK ports. That soon changed however, and we became the first cruise ship to embark on an international voyage from the UK in 18 months, sailing to around Iceland and back, calling at four ports.
"I enjoyed it a lot and it was a huge learning experience."
Having studied economics, history and geography at A-level, he said: "This is something I have always wanted to do, and it is a fantastic opportunity to travel the world for a living."
Following his first contract, he said: "I look forward to going back next year when things will be much more normal and more of the world can be explored.
"I would like to say a massive thank you to the RGS careers department for helping me get where I am today, all their help and support was so important and I am looking forward to a long future in the industry."