Meet Mrs Day, our head of boarding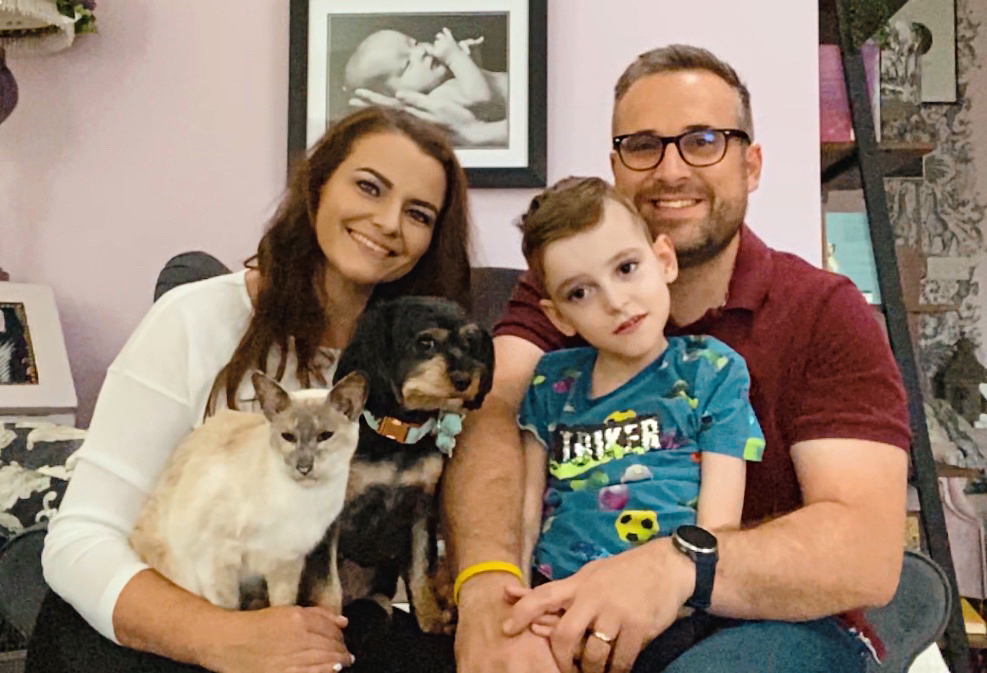 Our head of boarding, Mrs Caroline Day, lives in Johnson House with husband Simon, son Oscar, dogs Dolly and Bear and cats Ophelia and Scout. She tells us more about why she entered teaching, what drew her to Ripon Grammar School and her plans for boarding
Where did you grow up?
I grew up in a large family in Knaresborough, so coming to Ripon Grammar School is like coming home for me.
What was your first job?
A lifeguard and swimming teacher
What made you decide to become a teacher? What do you love about the job?
Becoming an English teacher was one of the best decisions I made in my career. I have a love of literature and I am lucky that I get to teach texts I am passionate about daily.
What do you love about the job?
No day in teaching is the same and working with young people is very rewarding.
Where did you teach prior to arriving at Ripon Grammar School and what have your roles been?
I have taught English in both state and private sectors, most recently at Harrogate Grammar School and Ampleforth College. At Ampleforth, I also held the position of housemistress in one of the largest boarding houses on site.
What attracted you to the Ripon area and RGS?
Ripon has a good balance between town and country, and you get the benefits of green space whilst only a five-minute walk to the city. Ripon Grammar School has an exemplary reputation and it is a pleasure to be part of that and the positive ethos the school creates.
In what ways do schools with boarding differ from day schools?
Schools with boarding facilities allow students to develop skills and relationships within a unique community that is not found elsewhere. Students make life-long friends and develop bonds with peers and staff that last the test of time. Boarding also enables students to have 24/7 support with experienced staff who can offer support ranging from academic tutoring to supporting mental health and wellbeing.
Tell us about your family
My husband Simon is a senior leader at a grammar school in Leeds, so we both come from a teaching background. We have a daughter Katie who has now also trained to be a teacher and a son Oscar who is seven. He loves the boarding lifestyle and views the boarders as additional siblings. There is a lot of laughter in our home. We have an array of pets Dolly (a cavapoo), Bear (a Labrador), Ophelia the Siamese cat and Scout our enormous tabby!
Students benefit from having pets around and it really helps the boarding house feel like a home from home.
How has Oscar settled in to the area and living in Johnson House - with 54 'big sisters'?
Oscar attends The Forest School in Knaresborough and is loving living back here as we are so much closer to his friends.
Oscar is non-verbal, a wheelchair user and uses symbols for talking - seeing the girls with him is heart-melting. They have such a connection with him and the love and care they show him is wonderful. You can feel the warmth in this house - it is a special place to be. He looks out for them before and after school whilst waiting for the school bus and he certainly enjoys sharing their snacks! The girls are role models and break down barriers about disability. They show him empathy and compassion and more importantly, treat him the same as everyone else.
Have you got plans to introduce anything new to in RGS boarding?
We have exciting new development plans for boarding at RGS. There are lots of plans in the pipeline in relation to extending boarding provision over the next few years and providing a wider range of evening and weekend activities to widen our boarders' skill sets.
What is your favourite TV programme?
The Umbrella Academy
Favourite book?
The Handmaid's Tale
Favourite film?
Labyrinth
How do you relax outside work?
I am a keen equestrian and have my own horse Benji. It is great to get out into the countryside and having a work life balance is key to maintain equilibrium.
Tell us something about yourself which might surprise us
I used to work part time exercising racehorses for a racing yard in Wetherby.