MUSIC: Students honoured for playing key role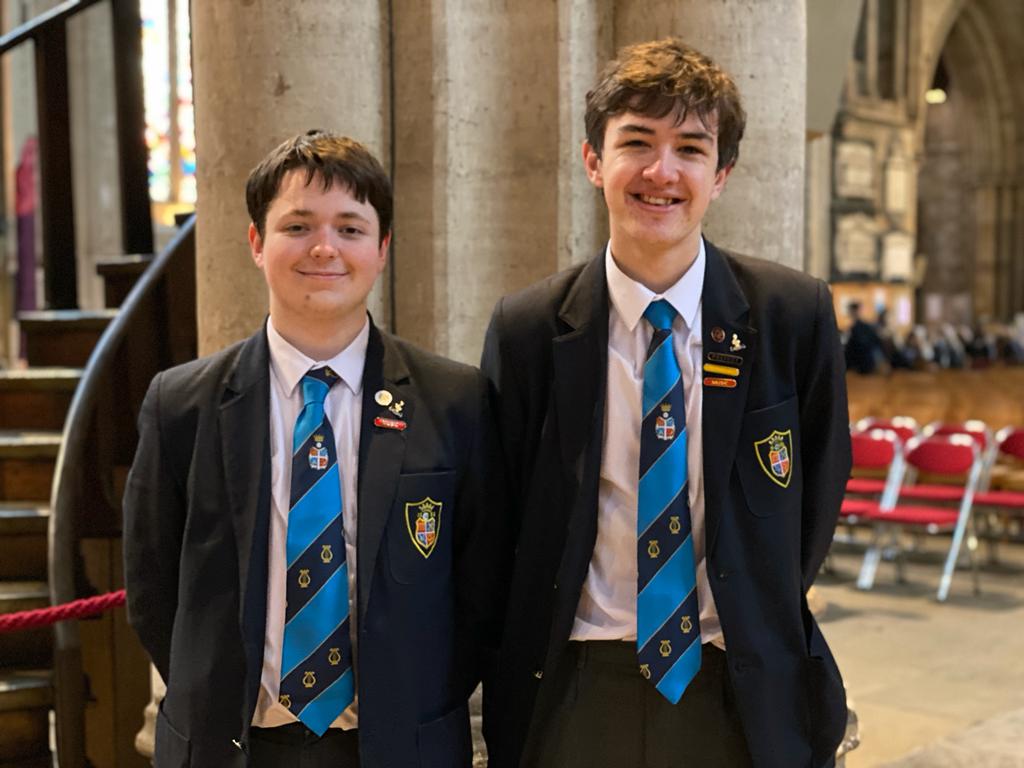 Young leaders and role models (l-r) Nicholas and Thomas
TWO dedicated RGS students have been honoured for playing a key role in music throughout their time at school.
Thomas Whitelegg and Nicholas Hart, who regularly perform in school ensembles and act as leaders and role models to younger students, were presented with Full Colours – RGS's highest achievement award.
It means they can now proudly wear a Full Colours music tie in place of the regular RGS tie.
Director of Music Mr Barker said: "Tom has been invaluable in leading the technical team in school productions, concerts, shows and events. He mentors junior students, sings in the Man Choir and Chamber Choir, and also plays drums in the Wind Band and Big Band. He regularly assists in the setting up and taking down of equipment at concerts and events.
"Nick has led the lighting as part of the technical team, sings in the Man Choir and Chamber Choir and plays cello in the sixth form String Ensemble and the Chamber Orchestra. He has also performed in assemblies and is a role model for younger students."
Keen drummer, pianist and guitarist Thomas, 17, from Killinghall, joined the RGS Wind Band as drummer when he joined the school and went on to pursue his love of music in other areas, taking the opportunity to learn to play guitar and bass guitar during lockdown.
"I have met many great friends through the music ensembles and have been fortunate enough to sing and play at some amazing venues, like the Great Yorkshire Show, Trinity Church and Ripon Cathedral, with the high point being my unforgettable trip to Germany with the music department in 2019, where we had the honour of singing at Cologne Cathedral."
As well as being in the Wind Band, Thomas plays in the Big Band and the Guitar Ensemble, in addition to providing percussion for various ensembles during music events and singing in the Man and Chamber Choirs.
The 17-year-old, who aims to pursue a career in engineering or light and sound production, became head technician in fourth form, providing light and sound for music department events, sports presentations and drama productions: "I was keen to join the school tech team as soon as I joined, working on the musical Anything Goes in my first year at school.
"I most enjoy musicals as they involve working with a large cast and set and I have to organise a big team of enthusiastic technicians. I'm looking forward to working with the music department on the forthcoming school musical this term."
Studying maths, physics and chemistry at A-level, he volunteers as a technician for various community theatre groups and, following his school work experience placement, now works part-time for an events and audio-visual company.
Cello player Nicholas, 18, from Ripon, has been involved in the school Chamber Orchestra, Man Choir, Chamber Choir and Junior Strings (until around year 9).
As a member of the technical team, he has been involved in every musical and dramatic production since he joined RGS and will play the role of Maurice in the upcoming production of Beauty and the Beast.
Studying chemistry, mathematics and music at A-level, Nicholas plans to continue his studies in chemistry at university.