Nicki's winning goal secures FA league top spot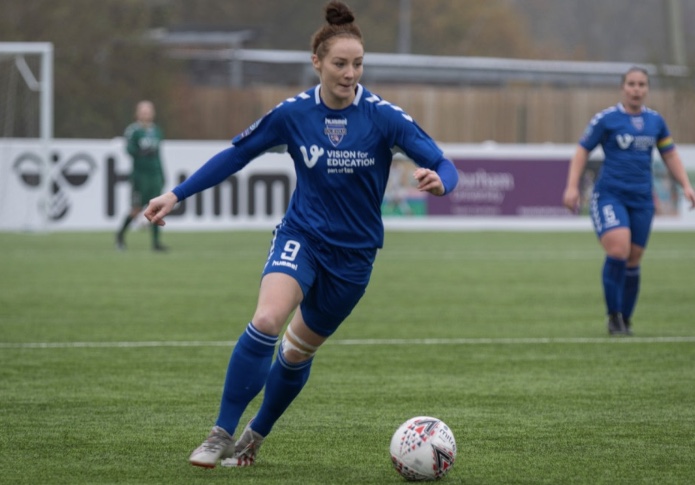 PAST pupil Nicki Gears secured Durham's place at the top of the FA Women's Championship league when she scored the winning goal in a thrilling battle between the top two teams at the weekend.
Sheffield United would have taken the number one spot if Nicki, who honed her striking skills from the age of 11 at Ripon Grammar School, hadn't scored.
The fast-moving forward - who took up a coveted place on a sports scholarship degree programme in the States after leaving RGS in 2011 - says she was simply in the right place at the right time.
"It was a great free-kick and it made the keeper question whether to go for it. She just palmed it into my path."
She added: "We defended well and won our battles. A chance presented itself and we took it – both teams had chances and could have scored – but we grafted until the end and managed to get the three points."
Nicki, who joined Durham in 2015, said every member of her team plays for each other: "Coming up against a team like Sheffield and coming away with three points is unbelievable. But there's still a long way to go.We take it game by game, keep grafting, defending well and try to take our chances up top."
Nicki's former RGS football coach Julian Clarke describes her as the most talented footballer the school has ever had: "From the moment Nicki arrived at RGS, it was clear she had an extraordinary talent.
"Even as an 11-year-old, she used to run rings round some of the older players at our Friday night training sessions. She was a superb all-round footballer who represented her county at under-16 level."
He recalls her scoring the one and only goal when RGS won the U16 girls' North Yorkshire Schools FA Cup in 2007: "Her greatest moment of triumph was lifting the trophy for her school after scoring the one and only goal which defeated Wensleydale 1-0 after extra time."

Following RGS, Nicki spent four record-breaking years playing as a forward for the University of West Alabama Tigers, finishing her career in the States as her club's all-time leading scorer and one of the top goal scorers nationally.
As part of her contract at Durham, she was given a full scholarship to study for her master's degree in physical education at Durham University, which supports the popular club.
(Article date: November 2020)
Top Gears: Nicki pictured, above, in 2007 receiving her winners' medal from the secretary of the North Yorkshire Schools FA; below, Nicki, front row, third right, pictured with her RGS team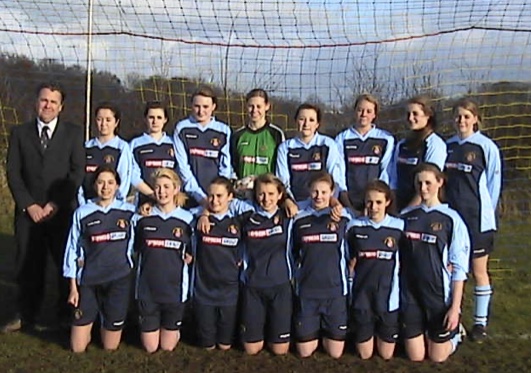 BACK ROW (l to r) Julian Clarke (coach), Katie Mitchell, Emma Bennett, Anna Grundy, Amelia Tearle (captain), Katie Davill, Sophie Reeves, Samantha Brennand, Natasha Mortimer. FRONT ROW (l to r) Felicity Baldwin, Nat Buckleigh, Hannah Waddington, Laura McCarthy, Nicki Gears, Fiona Mingay, Harriet Floyd


FA match report on Durham v Sheffield United:
Sheffield United 0-1 Durham
Nicki Gears scores the winner in the battle of the top two as Durham remain unbeaten
Durham edged a cagey affair with Sheffield United in a battle of the top two to maintain their unbeaten start to the FA Women's Championship campaign.
A Nicki Gears header was enough to earn all three points for the league leaders at the Technique Stadium, condemning the Blades to their third successive defeat in all competitions.
KEY MOMENTS
It was the visitors that settled first and they could have opened the scoring in the 12th minute but for a last-ditch Naomi Hartley block denying Molly Sharpe inside the six-yard box.
With both sides going in search of the opening goal, the hosts began to find their rhythm and Rhema Lord-Mears went closer as her effort from the edge of the box stuck the post before Mel Johnson blasted over her follow-up.
The hosts also then saw a Jade Pennock strike cleared off the line early in the second half but it was the visitors that went ahead on 54 minutes.
Gears was first to react after Beth Hepple's free-kick was only clawed away, with the striker nodding the rebound beyond Fran Kitching in the Blades goal.
Durham almost hit the hosts for a second as Gears fired a shot into the side-netting soon after before Blades boss Neil Redfearn replaced his front three looking for a spark to get them back into the game.
The visitors, however, saw off the increased pressure from the hosts with a resolute defensive effort to take the points and continue their early season momentum.
MOMENT OF THE MATCH
Call it what you like. Strikers instinct or being in the right place at the right time, Gears may not have scored the prettiest goal of her career today but it was certainly mightily important.
Hepple's delivery with the free-kick was wicked and could only be palmed away by Kitching, with Gears there to apply the finishing touch as she headed home to secure a vital three points in the race for promotion.
WHAT THEY SAID
Sheffield United manager Neil Redfearn said: "I thought we were the better side in the first half, we played good football but if you are going to miss chances you are going to give yourselves a problem.
"The goal they scored was a goalkeeper error, she's got to catch it, she palms it out and gives them a simple header and they probably didn't deserve to go in front but they took their chances, that's been the difference between the two sides.
"As the game goes on they manage it much better than we do, they put it behind us and not bothered what it looks like which is fair enough and got them the three points.
"I thought we got the tactics spot on in the first half, we defended a bit deeper and denied them the space in behind and they kept giving us the ball back but that's three games now where we haven't scored a goal and that's a problem for us.
"I thought our front three offered very little today, they need to do more than that, it's not good enough but they're good players and they'll come back and it's just one of those things, we've got to pick ourselves up, we've had a bad run."
Durham captain Sarah Wilson said: "I am really pleased with that one, we've just been discussing and not many teams are going to come here and take three points against a side as quality as Sheffield here and keep a clean sheet too.

"The first twenty minutes we came out of the blocks really well and thought we played some good stuff but then they completely took over and were winning everything in the middle and winning that first and second ball and then hitting the post, we just had to ride out that pressure until half time and then knew we had to come out fighting in that second half and get that early goal and really settle us down.

"We held ourselves really well even when they came at us and they've got a really good front three and knew they were going to come at us and it would be really difficult but again defensively and as a team from the front we just held our position, limited the chances to take all three points.

"We can put this one to bed now, refocus and recover tomorrow and go again on Tuesday."

The girls who made history at RGS

North Yorkshire Schools U-16 F.A. Cup Final
Wednesday 5th December 2007 kick-off 1:30 pm –
Venue: R & R Ice Cream Stadium, Bedale
Ripon Grammar School 1 v. 0 Wensleydale (AET)
In a hard fought match, played in tricky conditions on a heavy pitch, Ripon Grammar School girls won the North Yorkshire U-16 Schools F.A. Cup for the first time in the school's long history on Wednesday afternoon at the R & R Ice Cream Stadium in Bedale. Both sides created scoring opportunities and Sophie Reeves went closest for Ripon when she hit the post in the first half. With the score stalemate at full time, the teams went into extra time. Nicki Gears weaved her way through the excellent Wensleydale defence to unleash a 20 yard rocket into the back of the net. Coach Julian Clarke said, "This is a wonderful achievement for the girls who have scored 16 goals and only conceded one on their way to proving that they are the best U-16 girls' school team in the County. They have worked so hard for this and I am very proud of them all." The Ripon Grammar girls will now be entered into the draw for the national English Schools F. A. County Cup Winners' Cup competition which begins in January.