Past pupil Ella on NHS frontline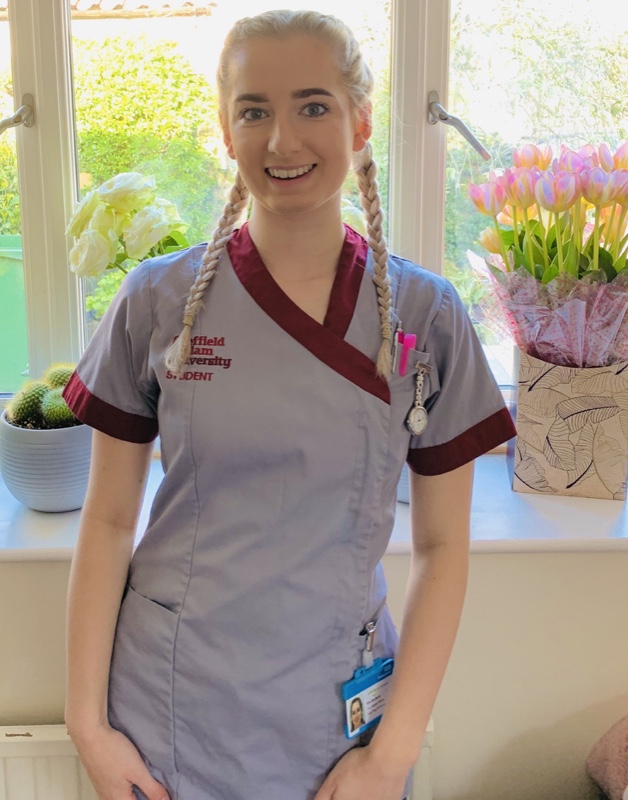 A FORMER Ripon Grammar School pupil in her final year of university volunteered to work with the NHS nursing team helping to battle the Covid-19 pandemic in Harrogate as the town opened its Nightingale hospital.
Currently working on the elective surgery unit of Harrogate District Hospital after ending her period as an aspirant nurse there, Ella Borchard says: "I love the ward and the team so much that I wanted to stay. I am now two months qualified and I'm loving every crazy minute of it. Bring on 2021. The NHS is going to fight harder than we ever have done."
The Sheffield Hallam University nursing student is one of a number of former RGS students working on the NHS frontline throughout the global health crisis.
Ella undertook training sessions in the latest Covid-19 guidance, oxygen therapy, mental wellbeing and guidance on the necessary personal protection equipment, delivered by academics at her university, for her new role as an aspirant nurse.
The 21-year-old, from Ripon, said: "I came into nursing because I wanted to care for and look after people. I would have felt unsettled if I hadn't volunteered, because I feel I should be there helping in whatever way I can."
She added: "I've volunteered to help save people's lives and I would urge others to help save lives too by staying at home to support me and my colleagues in the NHS."
Looking back on the last nine months, she explained: "I worked on the Covid ward for a few months then, when elective surgeries started again, a special unit was set up to create a 'green zone' separated by three sets of double doors, the 'airlock' to prevent spreading Covid. Having moved to the elective surgery unit, I've stayed on here as a newly qualified nurse."
Ella found working on a Covid ward tough: "It was awful - busy, warm and an achievement if your group of patients were still alive at the end of the shift. Everything took ten times longer (and still does) because of having to put PPE on and off. There's no more just nipping into a bay to check on your patients and have a chat if you have a spare five minutes.
"The elective surgery ward is new and took nurses from many different teams. We've all had to learn about different specialties that we didn't necessarily work in before. It's a different kind of busy, but so rewarding knowing that people are getting the surgeries they may have waited over a year for."
She adds: "With the new lockdown there was a fear of our ward being shut down if elective surgeries were stopped again, with all our efforts to create the green zone put on hold."
When she first volunteered, Ella was working with Covid-19 patients on the Wensleydale ward at the hospital. As she prepared to start work there, she explained: "I will be working under the supervision of the ward staff, helping provide personal care for patients."
Her Covid-19 training in Sheffield included simulations with mannequins: "We prepared for situations we might find ourselves in and discussed how to look after ourselves during this difficult time."
Ella also attended online lectures and training sessions about 'end of life' and Covid-19 policies and procedures: "The training gives us some of the skills and information we need to tackle something like this. But I have spent nearly three years preparing for my future career as a nurse and working during this pandemic is only part of what I have trained to do."
Ella, who studied biology, chemistry and Spanish at A-level, confessed she felt nervous about the task ahead: "Every day will bring so many new issues to overcome, but it will give me lots of experience of nursing in an unusual situation while still having a defined support network. I do feel very excited to be a part of history."
Her ambition is to work in A&E one day: "I have always tried to be open-minded about where my career could take me as sometimes things happen that are unavoidable and change the path you are on.
"Further down the line, I would like to take my master's degree in advanced nursing so that I can manage patients' complete clinical care from diagnosis to care planning and discharge."
Looking back, she feels many of the extra-curricular activities, including House drama and musicals, that she was involved with at school have given her the skills and experience to help sustain her through difficult times.
"In addition, my World Challenge trip to Malaysia and Borneo definitely helped me develop confidence and general life skills."
Ella is also an enthusiastic supporter of Ripon Youth Theatre and member of Ripon Amateur Operatic Society: "Performing has been a constant in my life and is one of my ways to relax, so it is something I will strive to continue around chaotic shifts after the pandemic."
Ella's mother Jo - a teacher and also an RGS past pupil, as is Ella's father - said she was very proud of Ella's dedication and commitment to her career: "Ella has always been diligent and strives to do her best in everything she does. She is a wonderful, caring daughter, with lots of energy, drive, focus and attention to detail.
"To put her skills into professional practice at the peak of a world pandemic is commendable. Having just turned 21, she is ready to face the world, but she will always be my little girl!"
Professor Sir Chris Husbands, Sheffield Hallam University Vice-Chancellor, added: "I am immensely proud of our final year healthcare students stepping up to join the NHS during this extraordinary crisis. The support they will be able to provide to key workers on the frontline will be invaluable."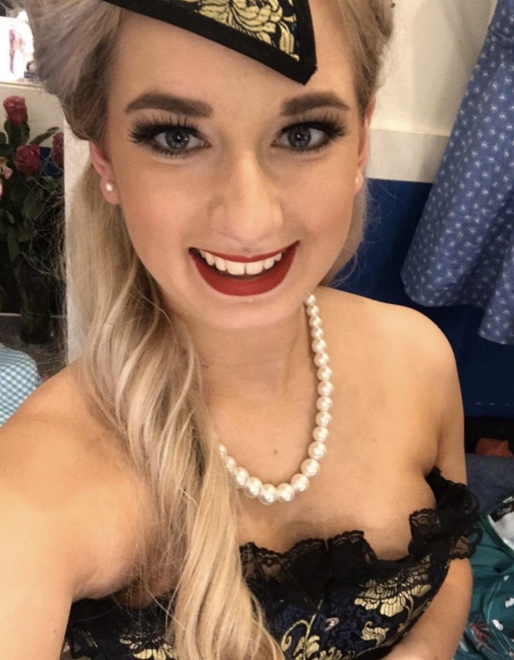 Ella in costume for a Ripon Amateur Operatic Society performance