SIXTH FORM: Pre-teaching awards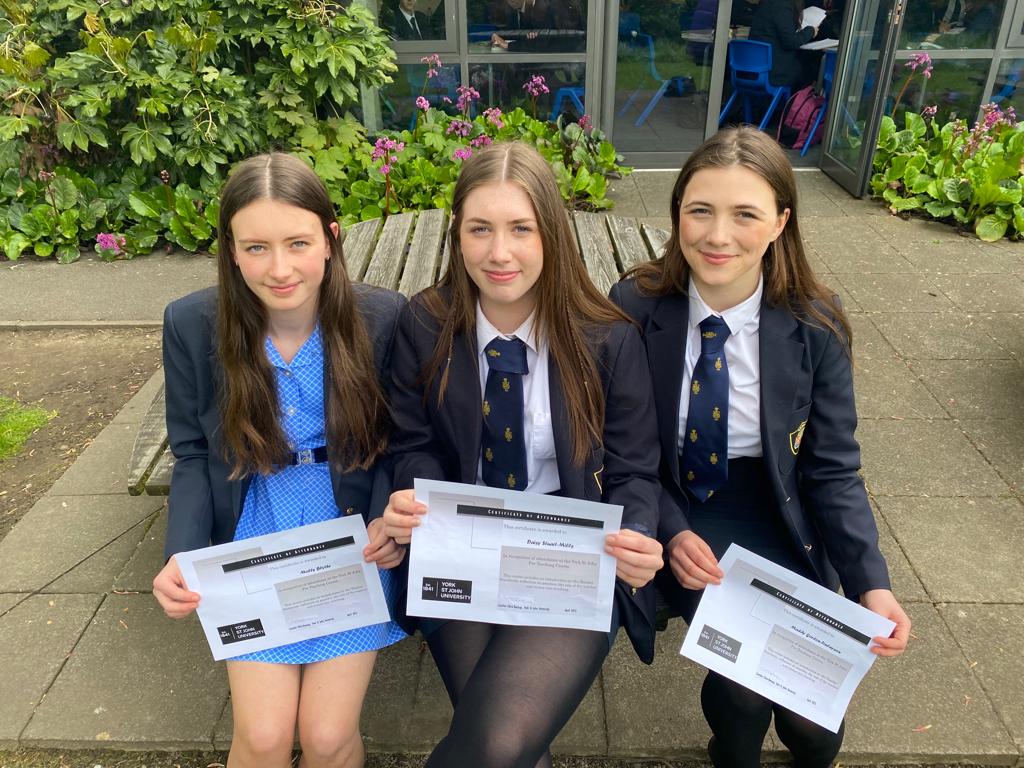 THREE sixth form students have been presented with certificates by York St John University to mark their success in a pre-teaching award course.
Maddy Gordon-Finlayson, Daisy Stuart-Mills and Molly Blythe attended online Saturday lectures over the course of the year and volunteered in primary schools and at RGS, in addition to undertaking their A-level studies.
As part of RGS's unique Plus One development programme, the students studied teaching standards and pedagogy, reflecting on teaching practices, comparing primary and secondary level approaches.
Molly, studying maths, RE and psychology in addition to an extended project qualification, explained: "I wanted to better understand what teaching really involves and the different routes into it. I enjoyed learning about the different routes into teaching- some of which i didn't know existed! I also enjoyed hearing current teacher' perspectives on their careers and their tips and tricks for teaching.
The 17-year-old, who plans to study psychology at university, said the most challenging aspect was on placement hearing about the challenges different individuals face, such as a difficult home life and special educational needs, and this led me into wanting to pursue a career in educational psychology to enable me to help those individuals.
"I would recommend undertaking the pre-teaching award to anyone who is considering a career in teaching or childcare. It helped me understand that becoming a primary school teacher wasn't the right career for me and I now want to become an educational psychologist."
Maddy, 17, studying English literature, history and politics, hopes to pursue a career in the media or higher education teaching following a history degree.
"This qualification appealed to me because there was both a theory element, in the form of online lectures, and a practical element, volunteering. I thought the lecturers were really engaging and informative so learning more about the theory behind teaching was my favourite part. Some of the questions and tasks they set us definitely made me think but it was a good challenge!
"Between the lectures we had to volunteer and put the theory into practice by tutoring younger students and I mentored Year 11s in English.
"I would strongly recommend this course to anyone who is interested in a career in teaching, and even if not, there are aspects that are applicable to any job.
Daisy Stuart-Mills, 17, studying chemistry, psychology and art, said: "I was interested in taking the pre-teaching award since it was an opportunity to gain a super curricular qualification in an area outside A-levels. It also allowed me to explore teaching as a potential future career. I would recommend it as it has helped me focus my career aspirations.
"I enjoyed learning how to be a reflective practitioner, which I have already used in my current studies.The most challenging aspect was putting the theory behind it into practice when tutoring a lower year group student because I had to have the confidence to manage the student's behaviour as well as help them with their studies."