Students and staff join in Charity Week fun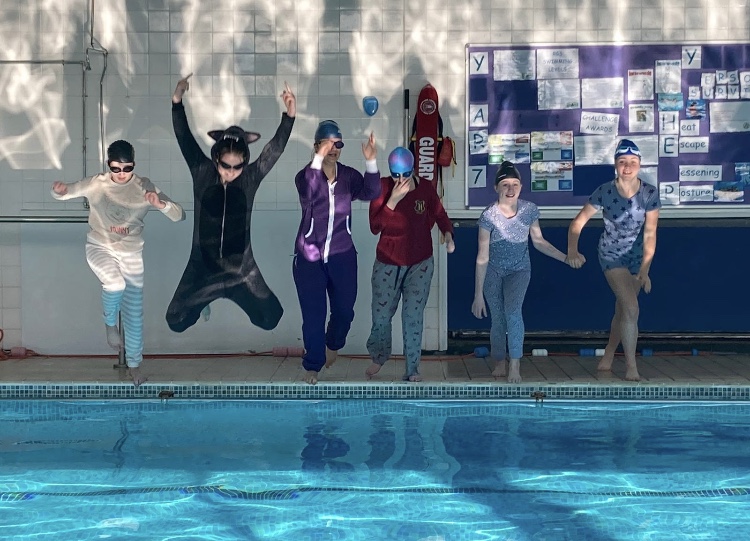 From onesie pool jumps to carpool karaoke, sumo wrestling, bungee challenge, staff pantomime and teachers' rock band, everyone joined in the fun - as captured on camera by TRISTAN PARIS - for this year's Charity Week
FOLLOWING a year marked by lockdowns and restrictions, the whole school came together to enjoy a series of fun activities during this year's Charity Week, in aid of the Survivors Trust.
Events included sumo wrestling, a gladiator contest, sixth form dance, bungee challenge, onesie pool jumping, cake stalls, a carpool karaoke video, a boarders' Masterchef competition and performances by staff in the popular Wizard of Oz pantomime and teachers' rock band, Eat, Teach, Repeat.
Head girl Eloise Hopkins said: "This year's Charity Week provided us with an amazing opportunity to come together as a school community and raise money for such an important cause, the Survivors Trust charity. It was a great success, particularly after having done many virtual events over that past year. We would like to thank everyone for their participation, donations and support."
Head boy Marcus Bartlem added: "This year's Charity Week was incredibly successful in raising as much money as possible whilst also allowing students to enjoy themselves. I am also very grateful to all those who donated money but also to those who participated in the events'
Tristan Paris summed up the amazing week: "After everything that has happened in the last 18 months, it really meant a lot to the school to bring the old tradition back in its full form, and have fun as a school community to raise money for a worthwhile charity."
*With money still coming in from various events, the total amount raised will be announced at a later date