Students celebrate music success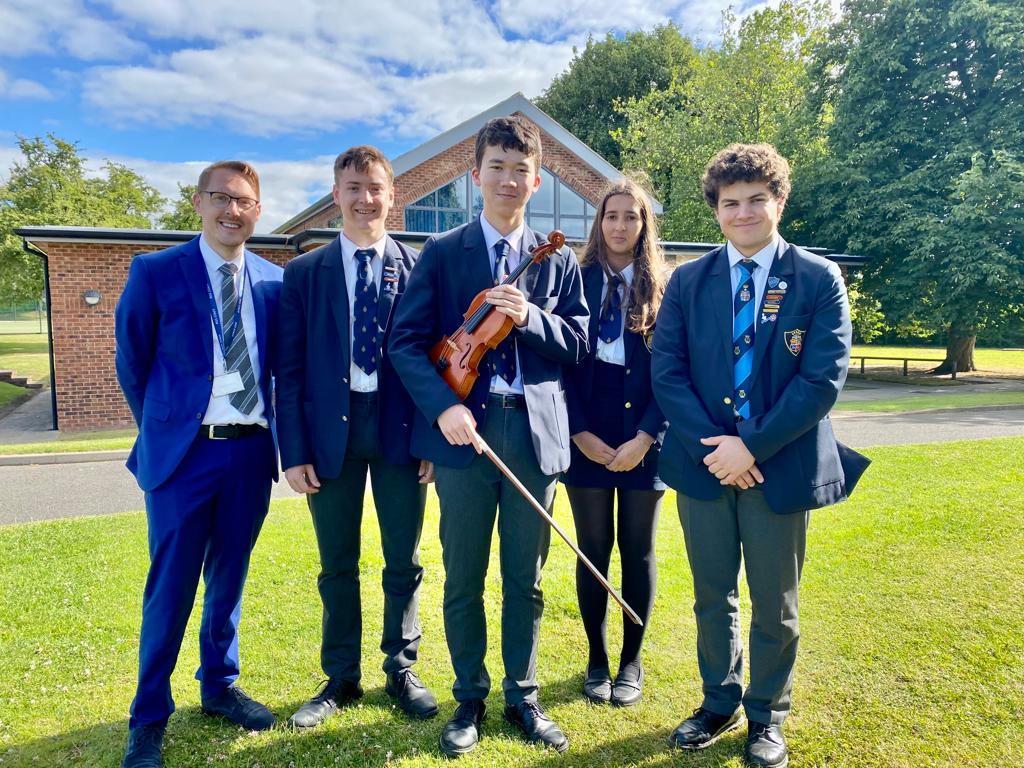 Grade 8 students pictured with Mr Barker (l-r): Joe, Leo, Sacha and Sam
FIVE talented Ripon Grammar School musicians are celebrating achieving the UK's top level music grade.
Two students gained distinctions and two gained merits in the challenging Associated Board of the Royal Schools of Music Grade 8 exams, which test students in performance to a high level in a range of styles.
A delighted RGS director of music, Michael Barker, sang the students' praises: "This is a superb achievement, which they should be very proud of. Their musicianship and talent continue to amaze me, and their well-deserved marks are a real testament to their dedication and hard work over the past months. Thanks must go to their talented and dedicated music teachers for training and pushing them to achieve to this level."
Leo Green, 17, who was awarded a distinction in violin, has been playing the instrument since he was four years old, inspired by his older sister, who also plays.
The boarding student, from Japan, is studying maths, physics and chemistry at A-level and hopes to study engineering at university, where he plans to keep playing in orchestras and groups. Currently in the school's chamber orchestra, he says: "Playing the violin gives me great satisfaction. I'm also going to join the string quartet and Opera North Youth Orchestra next year."
Joe Davis, from Ripon, who was awarded a distinction in singing, began lessons when he joined RGS after being encouraged by his music teacher Mr Lennox: "It's fun and I love the expressiveness of the performance," he says.
The 17-year-old, who plays tennis and football in addition to performing with the school's chamber and boys' choirs, Ripon Cathedral Choir and Ripon Youth Theatre, is taking chemistry, physics, maths and design technology at A-level and plans to study aerospace or mechanical engineering at university: "Music is something I hope to continue doing alongside my studies and future career."
Sam Cann, 17, from Sharow, outside Ripon, gained a merit in singing, which he only took up two years ago, having started lessons after being picked for the role of Seymour in the school's production of Little Shop of Horrors: "I enjoy the expressions of singing, being able to tell stories and weave dramatic and emotional moments into my music," he explains.
The multi-talented musician, who also plays violin, drums, viola and bass guitar, sings in two RGS choirs and plays in three school orchestras, in addition to performing with other groups, including the North Yorkshire County Orchestra and Thirsk Sinfona.
Taking maths, further maths, physics and music at A-level, Sam, who earns money playing for musicals and other events outside school, plans to study engineering at university: "I hope to play as a pit and session musician in addition to a job in engineering."
Sasha Ali, from Ripon gained her Grade 8 in singing and is currently working towards her Grade 8 in violin: "I enjoy singing different genres of music and being in different singing groups, where I meet lots of new people," she says.
The 17-year-old took up singing lessons in primary school and now has lessons at RGS, where she performs with the chamber choir and orchestra, having sung with Ripon Cathedral Choir up until three years ago.
Taking biology, psychology and religious education at A-level, and planning to study psychology at university, she says: "I want to keep singing and playing my violin in the music groups at school and get my Grade 8 in violin before I finish."
A fifth student, upper sixth former Wren Reader, who recently completed her A-levels, gained a merit in singing. Mr Barker added: "We will be sad to see Wren leave us this year but luckily, we have the rest for another year. Congratulations to all five students."