Students do their bit to help save the planet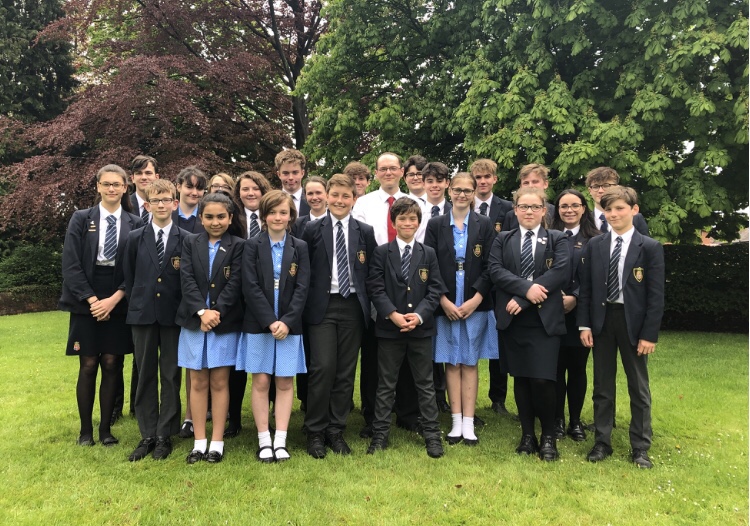 Mr Bruce pictured with his enthusiastic eco-committee squad
ENTHUSIASTIC students have thrown themselves into a new green initiative to help make Ripon Grammar School more eco-friendly by encouraging everyone to do their bit to help save the planet.
More than 20 keen young environmentalists have joined together in a new student-led eco-committee, supported by history teacher David Bruce, to tackle issues such as energy reduction, littering and improvements to the school grounds.
Member Seb Lyons said students, who hope to have a positive impact on the school and the local area, are full of passion and determination: "With students from first year all the way up to lower sixth, there really is a sense of togetherness. We all want to help RGS become a more sustainable school environment."
The sixth former explained how, when the first meeting was held back in April, no-one was sure what a student-run eco-committee would look like: "However, there were plenty of people willing to find out, with the first meeting involved a full room of excited students looking to catalyse change."
The students immediately got involved in a range of tasks, from energy reduction and littering to the improvement of school grounds.
At a further meeting in early May, explained Seb, students agreed on two things: "Firstly, we want to improve awareness of what is happening to the planet around us. Secondly, we believe urgent action needs to be taken right now. This is a student body ready to make an impact."
The committee has been split into ten sub groups to investigate and work on a range of key green issues, including transport, water, biodiversity and global citizenship. Students want to rid the school of unnecessary plastic waste and are planning to plant trees to improve the environment and help encourage wildlife.
Lower sixth form student Lachlan Moon commented on the work already being done: "In my six years here, I've seen real positive change regarding how the school interacts with the environment. From RGS's £50,000 investment in energy-efficient LED lighting to our pen recycling campaign, I really see that we are moving towards a greener future.
"It all starts somewhere, and I think what is important about this eco-committee is that this certainly won't be the end of change. As students, our clear message of aspiration is echoed by our words and actions. We want to make an impact now."

Seb Lyons addresses students at one of the first eco-committee meetings