Students prepare to step into bright futures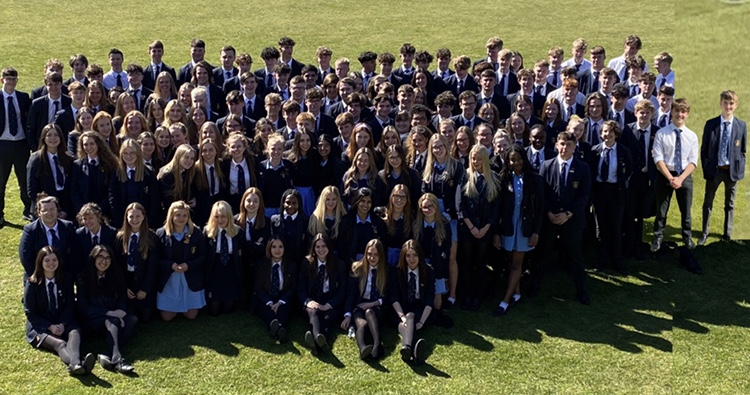 From aerospace engineering to architecture, criminology, dentistry, economics, medicine and psychology, our hardworking and motivated A-level students are preparing to head off to all corners of the country and the globe to pursue their dreams. Head of sixth form TERRY FELL reports on this year's choices, with the majority of students holding elite Russell Group university offers, including six from Oxford and Cambridge
EACH year we say farewell to a group of students who have been at the heart of the school for at least two years, (some for many more), and we take great pleasure in hearing about the plans that they have forged for the next step into their bright futures. This year's leavers are as amazing in their ambition and determination to find the path that is right for them as ever, and I would like to share some of those chosen destinations with you:
As ever there is a great crop of historians, with five students going off to study History, one History and Politics, one Ancient History and also a student of Ancient History with Archaeology. Meanwhile two students intend to study Politics, Philosophy and Economics, two students are interested in pure Philosophy, one will learn Philosophy and Politics, one will study Politics on its own, one International Politics, one International Relations, and one International Relations with Asian Studies.
The world of Law always attracts interest from our students, and this year we have three prospective Law students, one for Law and Criminology, two students of Criminology and Psychology, one of Pure Criminology, one student interested in Philosophy and Criminology, and one student studying Forensic Science and Criminology. The Psychology Department will be delighted to see five students intent on studying Psychology at degree level, alongside a student of Psychology and Criminology.
Languages are a demand subject at universities and in employment, and we have a student going to study Spanish and Politics, one for Spanish, Portuguese and Latin American Studies, a student of Business Economics with a European Language and one to study French and Literature. The aesthetically creative minds are also well represented in our Film Making student, our Music student, two students of the History of Art, one of Fine Art and one of Illustration. At the interface between creative design and engineering it is also a pleasure to see four future Architects, one student of Civil and Architectural Engineering, one Architectural Engineer , one student of Interior Architecture and Design, one Interior Design Engineer, and a Product Designer. As ever, this spectrum into Engineering is well populated, with two Automotive Engineers, three Mechanical Engineers, one Aeronautical Engineer, two Aerospace Engineers, two General Engineers and a prospective student of Mechanical Engineering with an integrated Foundation Year.
Science goes from strength to strength as evidenced by our four students intending to study for degrees in Chemistry, alongside one in Chemical Engineering, another in Chemistry with Medicinal Chemistry and one in Medicinal and Pharmaceutical Chemistry. Our Biologist is accompanied by two Environmental Scientists (one with International Studies and another with Clean Technologies) and a Geologist. We have two Biochemists, two Bioscientists, one Marine Biologist, two Zoologists, one Nutritionist, two Sport and Exercise Scientists and a student of Medicinal and Biological Chemistry. We also say farewell to a Physicist, two Physicists with Astrophysics and a student of Physics, Astrophysics and Cosmology.
The world of Business and Finance is also well accounted for with an Economist, a student of Accountancy and Management, a Quantity Surveyor, five students of Business Management (one with a Year in Industry), a student of Business Economics, and two to study Accountancy and Finance. We also have a student studying for a Business Diploma, another taking Economics and Management, and one to study Economics and Finance. Our International Business management student also has a Year Abroad, and we have a student of Real Estate and another of Rural Studies.
Our five Mathematicians are accompanied by two students of Mathematics and Financial Mathematics, and we are also delighted to celebrate a Computer Scientist and a student of Computer Games Design and Programming.
We have two Geographers this year, as well as a student of English, a Liberal Arts student and another planning to study Liberal Arts and Sciences.
Our students also always aspire to the caring professions, and this year we see eight Medics go to study for their degrees alongside two Dentists, two Physiotherapists and a student of Nursing Studies.
Three students are ranging far afield for their studies, with two winning sporting scholarships to study in the United States, and another to study in Malta, whilst three students will be studying Art Foundation Degrees this year. We also have a number of students undertaking exciting Gap Years or planning travel projects and volunteering during their year away from education.
These inspirational young people, our young people, are preparing to set out upon the journeys of their lives, and in doing so they offer our current students examples and ideas as they consider their own journeys to come.
We hope you feel excited at the possibilities ahead of you.