Talented young pianists shine at music festival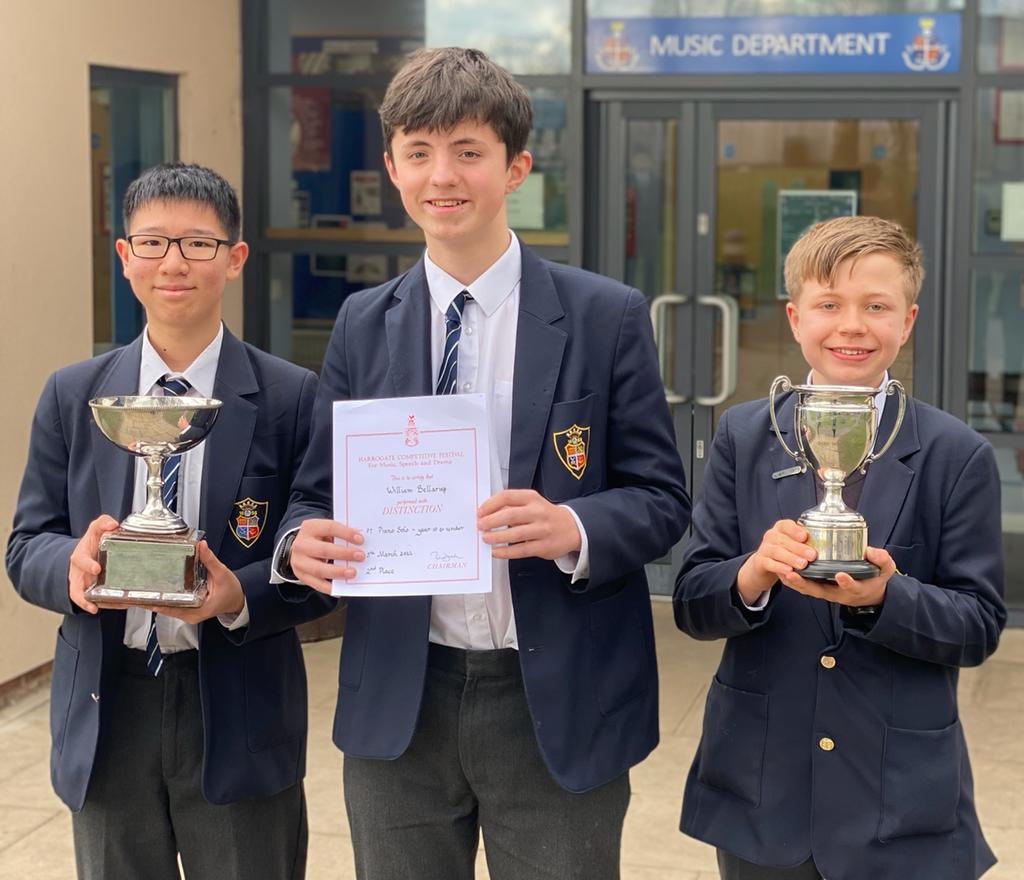 THREE talented young Ripon Grammar School pianists shone when they took part in their first major competitive music festival.
Keanu Wong and William Renton won the open sonata and the Year 8-and-under categories while Will Bellaries came second in the Year 10-and-under category at Harrogate's Competitive Music Festival.
"It was a first-time experience for all three boys, and they performed brilliantly," said piano teacher Katie Bell.
"Despite the pandemic, they have worked above and beyond for me. Their focus has been exemplary. I am so very proud of them and am excited about their future musical conquests."
Grade 8 student Keanu, 14, from Ripon, who enjoys coding club at RGS and hopes to work in computer technology one day, said: "Apart from piano lessons in school, I haven't done much other music. I hope to play more pieces which impress people, and one day be able to play music just by sight-seeing or improvising."
William, 13, from Kirkby Malzeard, who plans to study medicine after RGS and is a keen member of the school's STEM club, said he hopes to learn to play piano to a good enough standard to perform interesting pieces at private and other events one day.
Will, 14, from Sawley, also plans to study medicine and plays percussion in RGS's wind band and chamber orchestra. He said: "I hope to achieve grade 8 in piano and start learning some of the pieces I've wanted to learn since I was young, and perhaps do more public performing."
Miss Bell added that William, who started with her in year 7, was up against ten others in his class: "He works extremely hard, gaining his grade 2 in under a year with a whopping 96 per cent, and is progressing very quickly."
Will, who was up against nine others in the competition, began playing with her in September: "He has worked unbelievably quickly and is about to take grade 5."
Keanu won the open sonata class, up against three others, playing Mozart, said Miss Bell: "I decided to broaden his repertoire and focus on the competition as he had never entered one before."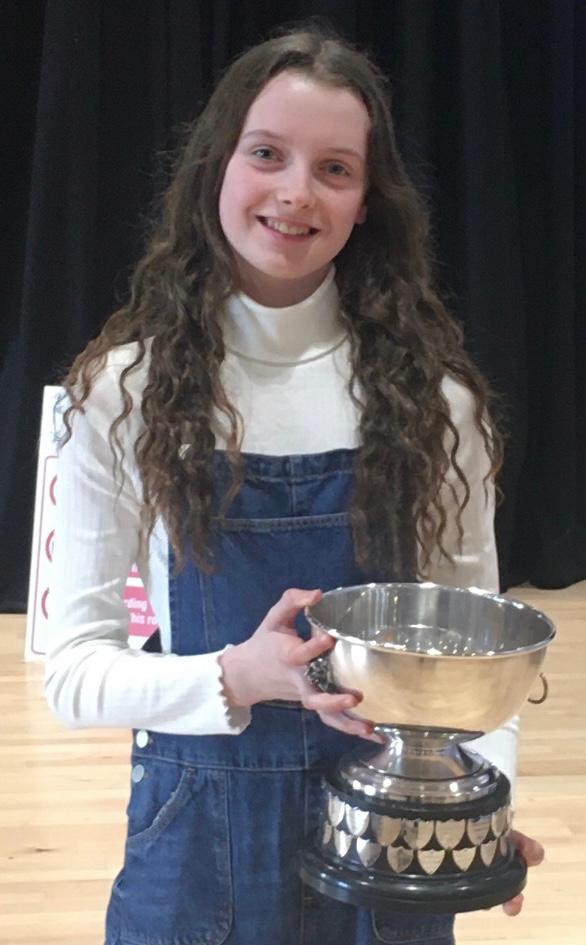 FOUR students of Prima Musica teacher Helen Johnson also picked up awards at the festival in March. Jana Laycock (pictured) who aims to appear on Broadway one day, won the Ray Jarman trophy in the Year 8 'Song from a musical' category.
Jana, who also plays netball and is a member of the National Youth Choir of Great Britain, is working towards her Grade 4 in singing with Prima Musica, as well as her Grade 1 in piano.
The 12-year-old, from outside Ripon, is a member of the school's musicality choir and is on the junior associates programme at Studios la Pointe (SLP) near Leeds, as well as taking part in dance events at the Lynton Academy of Dance in Harrogate: "I want to be a successful dancer, singer and actress," she said.
Eliza Polito, from Green Hammerton, came third overall in the 'Year 10 and under piano solo' class. As well as performing with the RGS senior girls' choir, the sporty 14-year-old has represented the school in swimming and cross-country and is a member of the Ripon Junior Triathlon Club.
In addition to achieving Grade 6 in piano, she plays cello: "I am very thankful for the support of Mrs Johnson throughout the duration of the competition and for being with me on the day. It was a great experience and I'm very happy with how my performance went," she said.
Theo Kendrick won the trophy for 'Years 10 and 11 solo singing' class, with Eve Hewison (both pictured with teacher Mrs Johnson) coming second and also picking up second place in the 'Song from a musical' class.
Theo, 15, who has achieved Grade 6 in singing, Grade 5 in music theory and Grade 2 in piano, is a choral scholar at Ripon Cathedral and sings with the school's chamber and man choirs.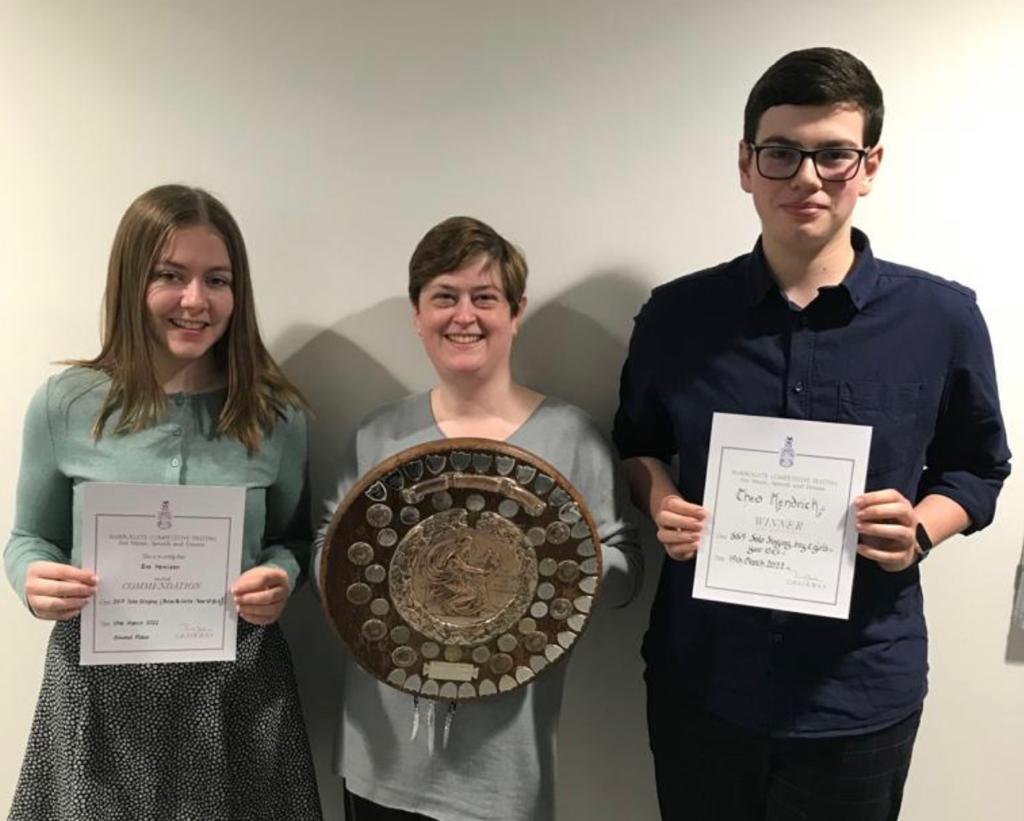 The teenager, who also teaches swimming at Ripon City Swimming Club, said: "I am unsure of what I want to do after RGS, but I still hope to be involved in music."
Eve, 16, from Alne, who is a member of the RGS chamber choir in addition to the National Youth Training Choir, having moved up from the National Youth Girls' Choir, enjoys weekly singing lessons.
The keen netball player, who also volunteers with Rainbows (Girl Guides) has achieved her Grade 7 singing with distinction and is about to take her Grade 8: "I hope singing is something I can continue to improve on and enjoy as I study for A-levels and beyond."
Mrs Johnson said: "It's been a valuable experience performing and sharing music again."