Teenage Olympic karate hopeful Naomi wins black belt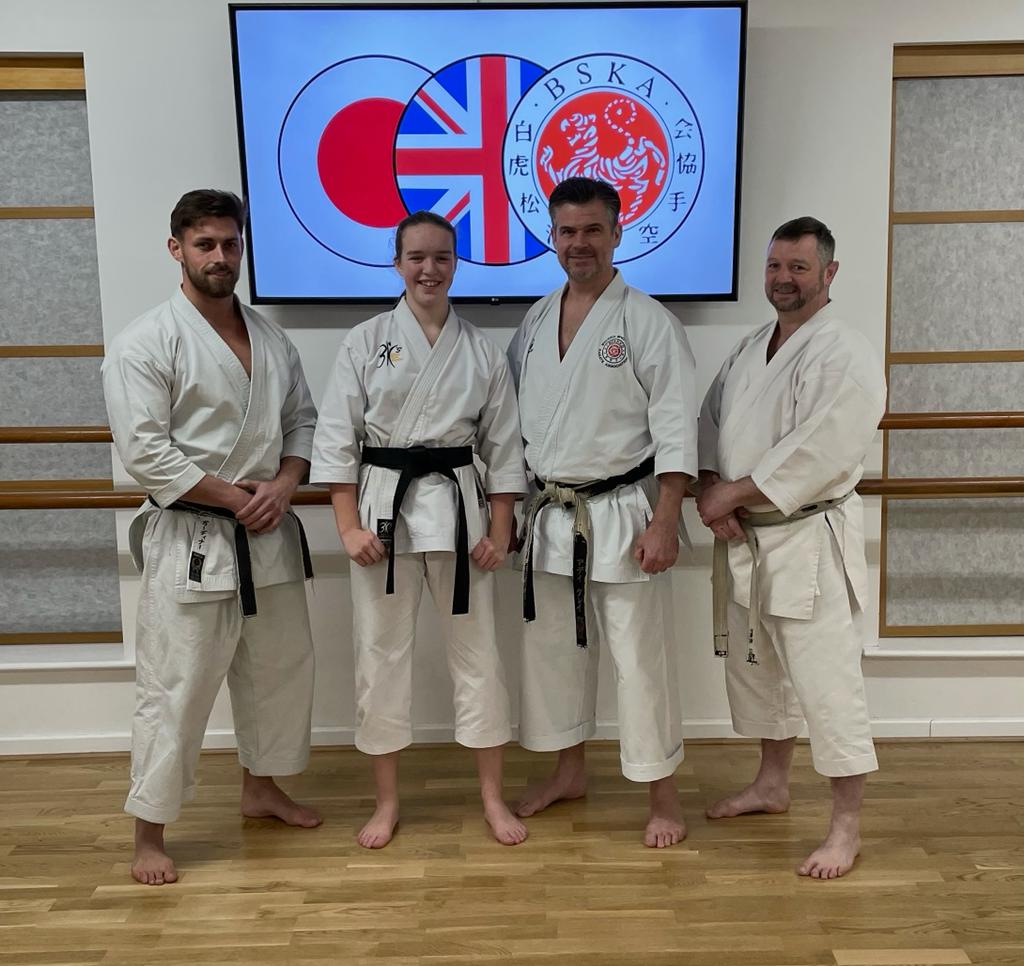 Picture caption: Left to right Naomi pictured with the examiners: John Gardiner, fourth dan; Ady Gray, sixth dan (England head coach, UK coaching ambassador and chief examiner); Colin Smith, sixth dan
KARATE enthusiast Naomi Greasley has achieved one of the sport's toughest grades at the age of 15.
The Ripon Grammar School student, whose ambition is to compete at the Olympics, won her coveted black belt, which requires years of intense training, after undergoing a gruelling four-hour assessment.
Only an elite few – less than five per cent of those who take up martial arts - go on to become a black belt,, with under a third of black belts worldwide achieved by females.
"My ambition is to join the England Team and compete at the Olympics. Karate was only added to the Olympics in 2020 so it's an exciting development for the sport," says Naomi.
"There are also fewer girls in karate, so I'm proud to be leading the way and hopefully encouraging other girls to join."
The teenager, from Sharow, was assessed by a panel of three karate teachers or 'senseis', led by England head coach Ady Gray, to achieve her sought-after first 'dan' - Japanese for 'step' - black belt.
The grading tested her knowledge of traditional karate, including kata and kumite, which were shown for the first time at the last Olympics in Tokyo. She also had to demonstrate the practical application of karate as used in self defence
Naomi, who first took up the sport eight years ago at Mr Gray's The Karate Dojo club in Ripon, says: "I have really been inspired by my sensei Ady Gray. As a sixth dan black belt, he challenges me and encourages me to do better and inspires me to be the best I can be, guiding me on my journey from white to black belt."
She commits between five and nine hours a week to her training: "It can be a struggle to fit everything in, but I always make as much time for karate as I can," she says.
"My biggest challenge was when I failed to achieve my brown belt with two stripes. I learnt from my mistakes and used sensei's guidance to improve and pass second time."
Mr Gray praised Naomi's amazing commitment and dedication "Karate done correctly should always be about personal development, not only in the practical sense but also in the progress of personality, character, discipline and respect."
Naomi, who volunteers with younger students at the club, said: "I really enjoy helping to lead classes and pass on my knowledge to the four and five-year-olds just starting their journey."
A keen skateboarder and snowboarder, Naomi, who also enjoys drama at RGS, hopes to use her skills to work as a close protection officer or join the police one day.