Trio of RGS poets get their work in print
THREE budding young Ripon Grammar School poets are celebrating seeing their work in print.
Anouk Martin, Amber Stevenson-Mian and Beatrice Harrison, who won first prize in the fifth Ripon Poetry Festival competition, have had their poems, Correct, Siblings and A Shot at Happiness, published in the latest festival anthology.
The book, Bricks of Song, is now on sale at The Little Ripon Bookshop.
This is the fifth year Beatrice's work has appeared in the anthology. The 12-year-old, from Grewelthorpe, said: "I was surprised and very pleased to win first prize in the 11-18 age category.
"I have enjoyed writing poetry, songs and stories since I was very young. I love the rhythm and sound of words and the way you can paint pictures and emotions using them," she explained.
She wins a book and book voucher: "I intend to use mine to buy As Good as Dead by Holly Jackson.
Also a keen musician, she plays trumpet and piano and enjoys playing in the RGS Wind Band and Big Band: "I still haven't decided which career path I will choose but I strongly suspect it will involve the arts in some way. One thing I know is that I will not be a mathematician!"
Anouk's poem, Siblings, was her first attempt at writing poetry: "I found out about the competition in the library at the beginning of the holidays and thought I'd give it a go. I was really surprised and proud to earn a spot."
The 12-year-old from Ripon, who hopes to work in the medical profession, said of her poem, which she read on stage at the festival: "I have two brothers. I am the middle child and the only girl. The struggle is real!"
She loves chemistry, art and French and enjoys piano, singing in the musicality choir, Scouting and British Sign Language club.
Amber, 16, from Ripon, has been writing poetry for many years but first entered competitions last year, when she won second prize in the festival.
The sixth former, who plans to study law at university, also enjoys acting with Upstage Academy.
See Anouk's poem, pictured, and Beatrice's and Amber's, below.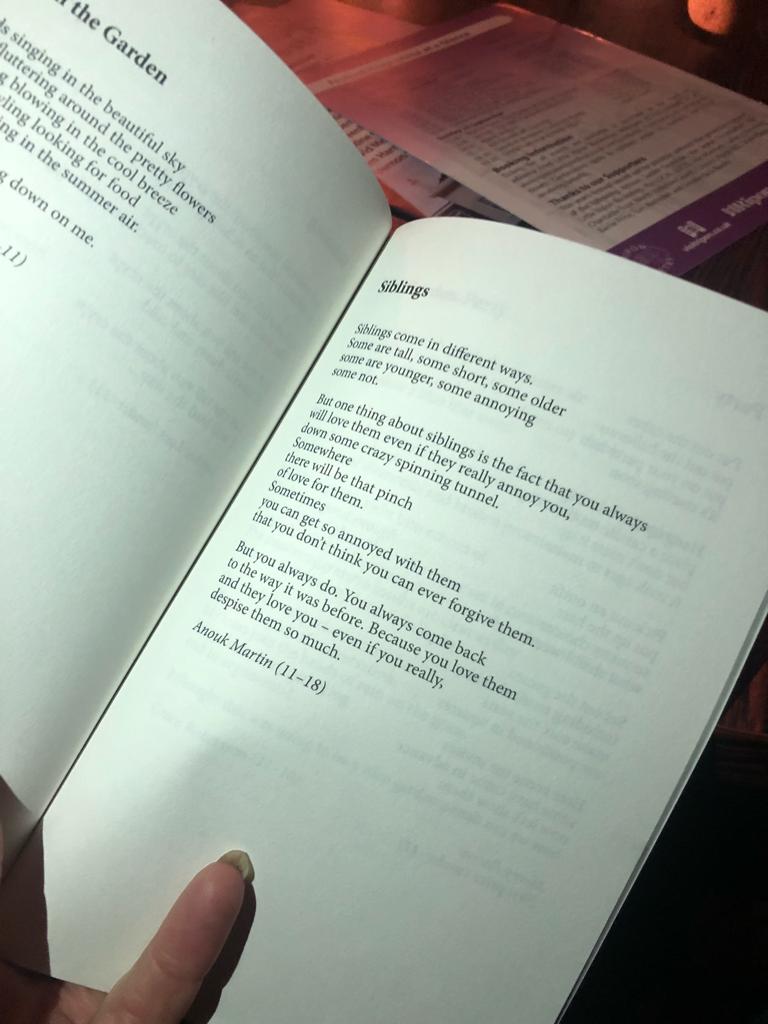 CORRECT
I try really hard,
(I really do!) -
Trying to make my life Pinterest worthy.
Instead of doing things because they're fun,
I do things that look good
On Instagram;
Even just chilling in my room -
I try to make it aesthetically pleasing,
Like the pics I see on Pinterest:
Putting on soothing music,
Arranging my bed In a way that looks good
In the eyes of people online-
Not in a way that's comfy.
I do everything
To please the media;
From the clothes I wear to how I think,
I'm starting to become a puppet doll
Controlled by the opinions of strangers online,
Of whom, I am told, have the correct way
Of thinking, dressing or eating;
And so I believe it.
The strange thing is that
I like that
And want it to stay this way!
There is nothing I like more than
Being correct or in the right all the time,
As self-centred as that may seem,
And if I am told to think or dress this way
As It's right,
I will never be wrong.
And that's the way I like it!
Beatrice Harrison aged 12