Two first-time poets win high praise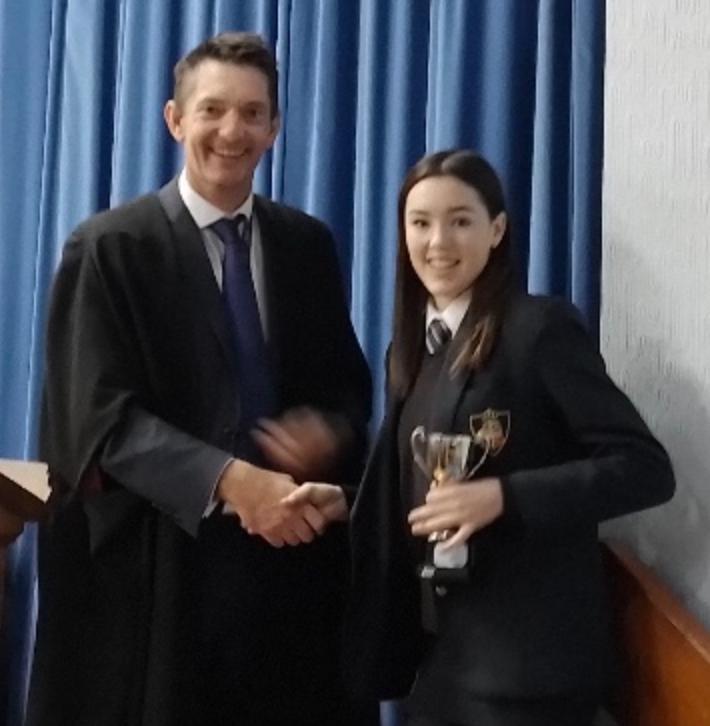 TWO first-time poets have won high praise from a distinguished professor of poetry.
RGS student Evie Blaylock, 16, and past pupil Hugh McHale-Maughan - recently appointed assistant private secretary to prime minister Rishi Sunak - are the winners of this year's RGS Hullah Poetry Trophy competition, which has been running since 2014.
Dr Paul Hullah, professor of poetry at Tokyo's Meiji Gakuin University, described Evie's poem titled Peace, Love and Understanding as 'brave and brilliant'.
It was selected from a particularly strong field of more than 130 student entries: "Deceptively simple, there's strident passion roaring out of every line. It's a brutally honest love lyric of longing, that women should have a poetic identity: an agency and a voice," said Dr Hullah.
Year 11 pupil Evie, from Thornton Bridge, said she was inspired by the 'peace, love and understanding' theme of this year's competition: "I hadn't written any poetry up until this, so I was completely surprised to win. I was not expecting it in the slightest."
Hugh McHale-Maughan, 27, is the winner of the community section. After leaving RGS in 2013, he studied philosophy, politics and economics at Oxford University, going on to work at the Treasury before taking up his latest post in the PM's Private Office in Downing Street, where he covers the welfare and labour market briefs.
His poem, titled Polaroid of RGS, which you can read below, will resonate with anyone who knows the school.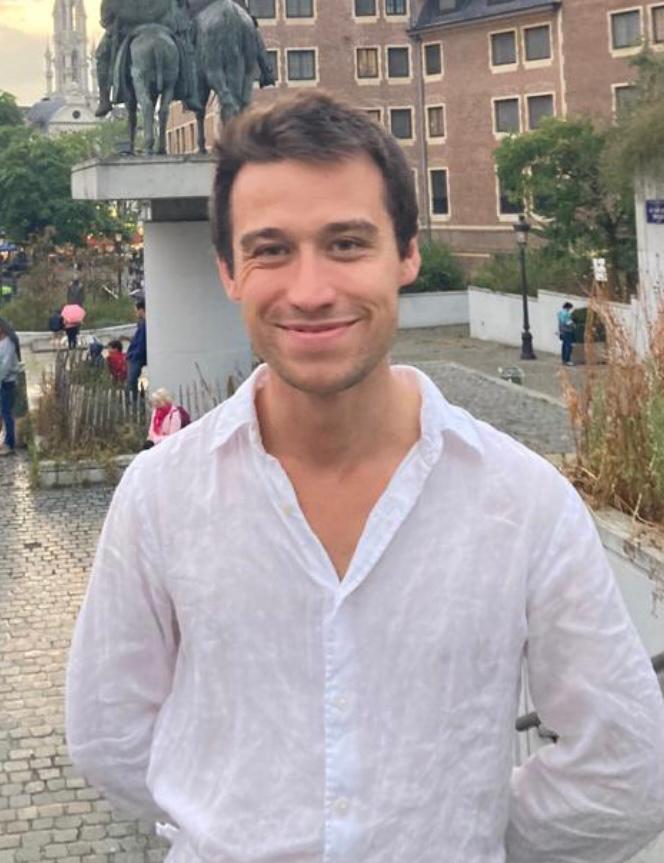 Dr Hullah praised its wistful, restrained tone: "There's a recent school of thought that argues poetry should be judged by 'effect' as much as by compositional technique, so this lovely poem (so meaningful to anyone with any connection to RGS) wins on both fronts. Bravo!"
Hugh, who studied Latin, history, maths and English literature A-level at RGS, said: "I've always loved poetry, particularly Larkin, but this is the first poem I have written - it might show!"
Among the 'veritable storm' of excellent student entries, Dr Hullah also singled out Oliver Kitson, 15, from Markington, Anastasia Bell,16, from Thirsk, Kareen Said, 16, from Ripon, and Angel Cook, 15, from Ripon, for special awards.
JUDGE'S SUMMARY

1. Category One: Pupils of RGS only. NB. Again, a veritable storm of excellent poems this year, and me long lost in the midst of it trying to choose: I know what 'bittersweet' means now. Congratulations and thanks to all who entered. I hope it was a worthwhile exercise.

Highly Commended: Angel Cook — 'The wind swoons through the grass…'? Who could refuse a gorgeous image like that? 'Sun glazes' 'bomb crackles'… the word choices here are measured and meaningful, and make the magic of this truly beautiful little poem. Having 'heard' twice is reductive though: I'd change the first — the line 'Though no tune can be heard' is a bit weak — to make the last stanza more effective (and it's necessary there for the 'heard/words' rhyme). The last line (with the hurt/words assonance) is brilliant.

Highly Commended: Kareem Said — a poem full of surprises, so many clever tonal shifts: one moment playful, the next sermonizing, now admonishing, now warm and jokey. I wrote of Iris Murdoch recently (I am working on a new selection of her unpublished poems) that it's futile to talk of 'the thought behind the poetry' because the thought IS the poetry. Some people write to escape from the world; ithers write to try and makes sense of the world, to explain it to ourself and to others. I felt that latter impulse here. It's what we'd call 'intertextual' – it borrows and mixed discourses (registers) of language to make a speculative collage of relevant impressions. It works best when read aloud too, which is always important. To be honest, it's not the sort of poetry I normally seek out, which made me even more impressed by the way it pulled me in. Compelling.

Very Highly Commended: Anastasia Bell — a clever little poem. The urgent rhetorical questioning grips attention throughout, while the last lines of stanzas lure us to counterpoint complacency. An effective accumulation of bold repetitions and seemingly casual but actually VERY smart alliterations, with a real bite in its brilliant final stanza. I literally gasped at those last four lines. Unforgettable, that's what this is.

RUNNER UP: Oliver Kitson — dramatic and dynamic, and all achieved through maturely placed metaphors and very strong end stopping after emphasized anaphora in the lines that begin with 'I…'. It's vivid and cinematic and some of the lines — 'A barrage of bitter rain' … 'But it pounds me to the ground' — are masterfully crafted. For me, if each of the three stanzas had, respectively been subtitled 'Peace', 'Love', and 'Understanding', it would have made more sense and quite possibly have won! Last line is a bit weak: 'someone's got my back'? Hmmn. It deserves a less throwaway, less casual ending, given the filmic drama it's just guided us through.

WINNER: EVIE BLAYLOCK — this is a brave and brilliant poem. Wow. Deceptively simple, there's strident passion roaring out of every line. I love the loaded (conscious, surely?) capitalization of 'His' every time (while 'we' and 'our' are left in lower case), offering a possible religious reading too. It's all so carefully plotted: the progression from 'grass' to 'tree' to the sudden disruptive modernity of 'phone': the nature and human nature cojoined, the physical and the metaphysical, in truly Wordsworthian style with a modernist twist. The rhyme scheme too: gradually tightening, enacting the movement towards a desired state of permanence: mounting anaphora, and that brilliantly powerful final heroic couplet (heroic quatrain?)

We have to see through all this mess,
I see you point I will confess.
I beg you understand just how,
I beg you stay and love me now.

with the strongest of rhymes reinforcing the determination in the speaker's plaintive closing demands. It's a brutally honest love lyric of longing, of hope deferred in the tradition that Christina Rossetti most notably pioneered and left for posterity that woman should have a poetic identity: an agency and a voice.

2. Category Two: Staff, Old Rips, inhabitants of Ripon and friends of the school.
RUNNER UP: ROBERT O'HARE — last year's winner, and another wonderful poem, again with the pleasing, plangent echoes of Hopkins and Hughes, and I echo all my own praise for his previous work. It's a lovely, sing-song of a poem, elegantly structured and brimful of effortlessly curated phrasings and seductive rhymes and repetitions. It's almost TOO good. For me, the only flaw (and I might be wrong here, which troubles me) is the final stanza, in which he appears all to calculatedly to have crowbarred in this year's theme? It just grates a little. I note that the final stanza is the only one that breaks the ABBA rhyme scheme. The 'skies/love' non-rhyme perhaps a giveaway? Was the final word originally 'eyes'? That would have been better!

WINNER: HUGH MCHALE-MAUGHAN — I really like the wistful restrained tone here, skillfully created by the seemingly languid phrasings and stretched-out sentences, that, if one looks carefully, are governed by a subtle but lullaby-like pattern of assonance. Free verse, of course, which normally I bridle at. Free verse: so easy to do badly; so difficult to do well. But this is masterful at capturing the dragging ponderous rhythms of truly reflective natural speech. Its rhetoric targets the heart, in a way that's knowing but never sentimental. There's a recent school of thought that argues poetry should be judged by 'effect' as much as by compositional technique, so this lovely poem (so meaningful to anyone with any connection to RGS) wins on both fronts. Bravo!

Polaroid of RGS
Laughter, always, floating on a muddy emerald,
A field for playing, 'neath the stately tower, clocked,
And if the green of the grass-stains holds more vivid
Against faded shirts than the joke, the faces,
Does that freight it with less moment?
It is forever right now, and to understand that
Is to grasp those precious jewels of love, of peace,
And to hoard their shine. For spooling out
From piled, greyed jumpers, watched by the clock,
Threads run on two looms. Those friends,
Ageing on fast-forward, headlong into a world
Of commutes, greyer than memories, fragile
In their wisdom. And behind them, callow, hail,
The new generations, ranked, endless, clockwork
In tik-tok. The playing fields their own, laughing wildly.