School Officers
MEET THE SCHOOL OFFICERS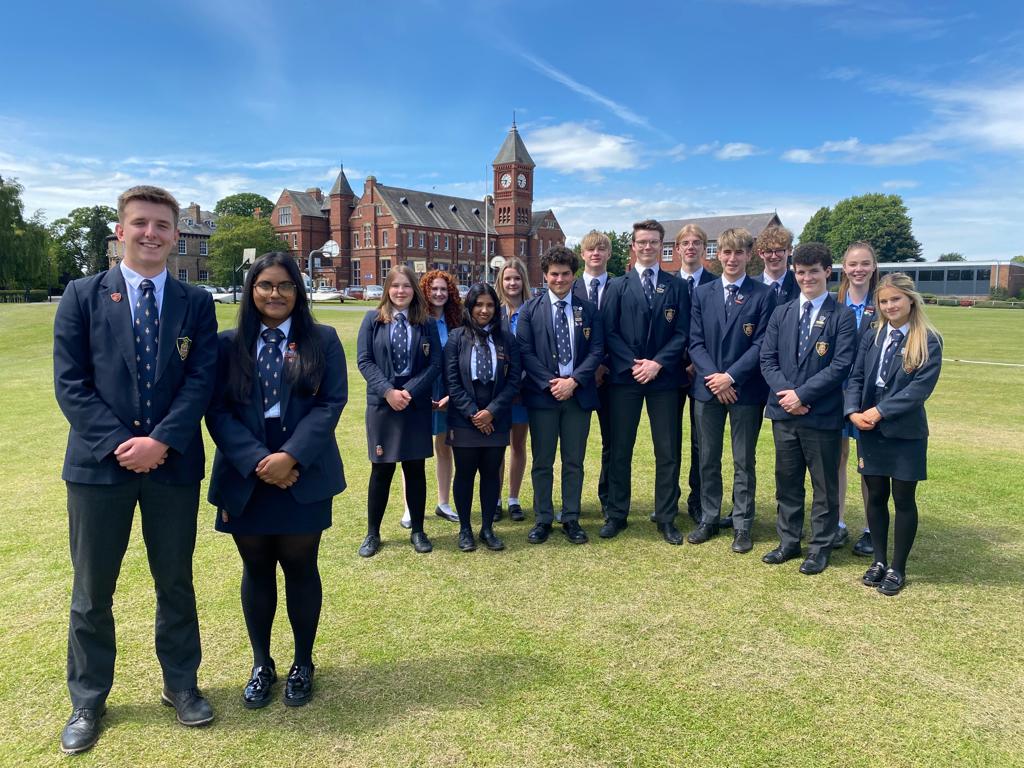 Aleena Allan – Head Girl
As Head Girl my main aim is to ensure that every student at RGS feels welcomed and to be a bridge of communication between the students and the staff, ensuring that all voices and opinions are taken into account for an efficient running of the school. I would like to integrate year groups more often to establish the feeling of a strong community within school. I study Biology, Chemistry and Art at A-Level alongside an EPQ and am an ardent member of the healthcare society in sixth form as I hope to study Medicine at University. Out of school I volunteer weekly at Harrogate District Hospital and play in a local orchestra amongst other things as I like to keep myself busy, however I also enjoy my free time and like to relax with my art and music whenever I can. I look forward to working with the team of school officers this year to achieve the best and I hope to make this academic year as memorable as possible.
Adam Carpenter – Head Boy
As head boy, I most importantly hope to be a positive role model for all students and make sure they thoroughly enjoy their time at RGS. I aim to improve the cohesion between the sixth form and the wider school body by implementing student heads of year and I truly look forward to working with Aleena and the rest of the school officer team. I am an avid footballer and car enthusiast. At A-level, I study Maths, RE, English Literature, and Chemistry and hope to study law at university.
Benedict Dunn – Head of Porteus
As Head of Porteus, I aim to create friendly competition between the houses while also instilling a sense of pride within each student. I aim to create new house competitions, for example a house rugby 7s tournament to build relationships between the year groups. I have always been a proud and active member of Porteus and hope that people want to engage in the competitions that suit them. At A level I am studying Maths, History, Economics and Politics and enjoy being chair of History Society.
Bella Weston- Head of School House
As Head of School House, I aim to make the whole school feel more connected by building a closer relationship between the year groups. During my time in the role, I aim to raise house spirit and create a team people can feel confident in by offering a wider range of competitions which play to each of our individual strengths and collaboratively bring us together as a house. At A level I study Maths, Physics, Design Technology and Business as well as enjoying being a member of the Design and Engineering Society.
Barnaby Patterson – Head of De Grey
In my role as Head of De Grey House, I am aiming to bring house activities back into the forefront of school life following a long period of limited house events during covid. This will include introducing new, inclusive house events, as well as fostering better ties within the house team and integrating the junior house captains better into the decision making process. I am currently studying maths, politics, economics and history along with an EPQ, and hope to pursue politics and history beyond RGS. I enjoy playing the cello, singing and football
Milo Smith – Head of Hutton
As Head of Hutton house, I aim to maintain the feeling of community developed by the house system, further participation in house events and introduce new competitions to suit all pupils. I believe that the house system is a great way of creating bonds between year groups and hence would like to encourage large house events with multiple year groups taking part. I am currently undertaking A-levels in mathematics, physics and chemistry, as well as an EPQ, and hope to study theoretical physics at university. Outside of school I enjoy playing tennis recreationally and socialising with my peers.
Glory Poothavelil – Head of Girls Boarding
As Head of Girls' Boarding, I aspire to create a cherished home for boarders that can be remembered with pride by instilling a stronger integration between the whole house. I hope to turn the house into a place where boarders are encouraged to seize their every opportunity and excel academically and on a personal level. I study Biology, Chemistry, Maths and English Literature whilst also being secretary of the school's healthcare society and volunteering at Bassetlaw hospital, in hope to study medicine in university. In my spare time, I enjoy swimming, singing in choirs and work part time as a tutor, lifeguard, and swim teacher.
James Pilgrim – Head of Boys Boarding
As the head of Boys boarding, I am hoping to make the boarding house a more progressive place whilst also maintaining the core values RGS stands upon. I plan to do this by integrating senior and junior boarders on a more regular basis, and also by mixing Johnson and School house through musical, sporting, and social activities. I hope my international background will bring new ideas to the boarding setting. I am currently studying Maths, Further maths, Chemistry and Physics and plan to do a medical-based EPQ.
Jonty Allen – Enrichment Officer
As head of enrichment, I aim to work together with my peers and the Sixth Form Team on the weekly Enrichment lesson. I believe that the most important thing for improvement is proactivity and so I would really like to get feedback from students with ideas for improvements for the weekly sessions or even for the school. I am hoping to get more external speakers with unbiased views to help aid student sessions, whether it be for Post 18 or alternative routes, as well as more information on degrees or topics that are not currently available I am really looking forward to working with my fellow officers and the Sixth Form team to make the school as good as it can be. I study Maths, Further Maths, Physics, and Chemistry, and play a significant role in extracurricular Computing and coding activities, and I hope to study Computer Science at University.
Isobel Bean – Head of Student Equalities
As student equalities officer I am setting up the equalities committee, to promote equality and represent students across all year groups. I am working alongside equality society and the other school officers to create a school environment that is ideal for all students. The A levels I am studying are Biology, Classics and Geography, and I hope to study Psychology at uni. Outside of school I enjoy reading and playing piano, as well as researching my personal interests in animal psychology and mycology, which is the topic of my EPQ.
Eva Scullion – Head of Environment
As environment officer I would like to encourage all sustainable and eco-friendly projects around the school. I will champion biodiversity on the school site and projects that encourage wildlife. I hope students will be able to use outdoor green spaces to de-stress and improve their mental health. The environment should be at the heart of all our choices. Please share your ideas with me. I am studying Music, Geography and Maths for A Level, as well as doing an EPQ. I hope to study Music at University.
India Wilkinson – Head of Student Welfare
In my role as student welfare officer I aim to encourage a more inclusive environment in school where students are more comfortable to seek any sort of advice or help from members of the school community, or even their own friends, to avoid struggling in silence. Mental health is already a prominent topic at RGS but I wish to make it a subject with no stigma, which everyone is happy to talk about. I study Chemistry, Biology, Maths and Art at A- Level and I hope to go on to pursue a career in health care or bioscience, meaning my job as welfare officer is important to me in refining skills for the future. In my spare time I enjoy spending time with friends and relaxing through art and dance.
James Bowsher – Head of New Students
As the new students school officer, I am aiming to ensure that all new students joining our school have access to any support and information they may need, allowing them to have the most memorable and enjoyable introduction to RGS. I am currently studying Chemistry, Biology and Geography. Outside of school I enjoy partaking in many outdoor activities as well as being involved with school sports. In the future I plan to go into a science-based career following my further education.
Samuel Cann – Community Officer
As Community Officer I hope to tie together all the year groups of RGS and strengthen links with other local primary schools. It is my intention to provide a welcoming community for students and potential visitors that will stand the test of time, through public outreach and mixed year group events. Another main interest is supporting younger students from military backgrounds, as I understand the pressures of such a lifestyle going through school. I study Maths, Further Maths, Physics, and Music, and play a significant role in extracurricular music activities, and I hope to study Engineering at university.
Hetty Simenacz – Head of Publicity
As publicity officer, my aim is to frequently update the RGS news, with oncoming events and celebrate the achievements of our students. Thereby, establishing a level of communication between the community as a whole. I will work closely alongside the other school officers to ensure we not only represent the school, but are also here for support and guidance. I will do my best to make sure school policies are adhered to and that our school community is up to date with not only group achievements, but also individual achievements. I am currently studying chemistry, biology and art at A-Level.