ASTRONOMY SOCIETY: Going, going, gone...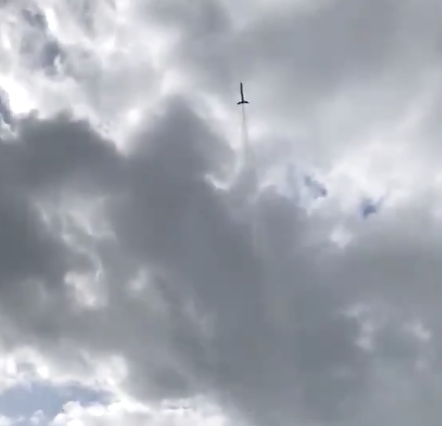 ANNABELLE PATERSON reports on a spectacular rocket launch masterminded by members of our student-led astronomy society
OUR rocket launch, led by upper sixth form astronomy society students Tom Wilkinson, James Arcidiacono and Ed Mewes, went down a storm.
The rocket launch project was a collaboration of the astronomy, physics and engineering societies, and in total around 35 students watched the launch under the supervision of physics teacher Mr Barker.
The rocket was in the air for around 20 seconds and propelled upwards for around 5 seconds. It then landed about 50 metres away from the launch site towards the 3G pitch.
Mr Barker, who owns the rocket, had demonstrated it previously in physics lessons sparking the idea of its use for societies to enjoy.
Most weeks astronomy society members take turns to present information about a personal topic of interest. During lockdown Tom decided to continue the society on the Microsoft Teams learning platform.
Some of the virtual presentations included topics such as the planets of Star Wars and Living on Venus.
Co-leader Ed says his favourite part about the society is hearing how interested others are in the subject by listening to talks about topics they have researched and find fascinating.
This academic year the group studied the heliocentric parallax, a system used to measure distances to stars. A simplified version of this system was used by the society to find the distance to the Holy Trinity Spire.
Leaders Tom and James's interest in space has not only helped sixth form students but also the wider community.
James visited Lime Tree observatory in Grewelthorpe and found it very interesting, so emailed the host Martin Whip, offering to work as a volunteer. Coincidentally, when he started volunteering he discovered that Tom was also a volunteer. During lockdown Tom volunteered once or twice a week at the observatory.
The duo is now helping to build a fibreglass dome to be used for a new planetarium. During his volunteering, James says he has particularly enjoyed seeing the transformation of a run-down barn into a place where people come to have fun and learn.