MUSIC: Gifted trio's key to success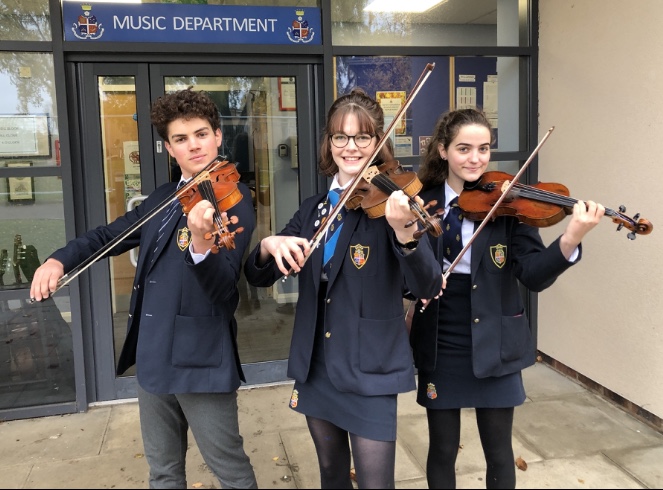 Three noteworthy Ripon Grammar School students are excelling as musical performers throughout the region
AN exceptionally talented trio of young RGS musicians are gaining a reputation as top quality orchestral performers.
Susannah Morgan and brother and sister Sam and Madeleine Cann play with the prestigious North Yorkshire County Youth Orchestra, which is made up of some of the most advanced musicians from state and independent schools throughout the county.
Susannah, 17, has also been appointed leader of the orchestra and won the rare honour of being selected to play a challenging concerto to an audience of hundreds following a demanding audition.
Sam, 15, who has enjoyed performing at the Sage in Gateshead and at Leeds Town Hall with Scottish classical violinist Nicola Benedetti, leads the 2nd violins with another senior strings ensemble.
Madeleine, 16, who has also performed at the Sage, as well as at the Harrogate Conference Centre, composes her own music, passed Grade 7 with distinction in violin and is taking A-level music at RGS.
The gifted trio come from musical families and, as well as regularly showcasing their skills with various school ensembles, are all active members of a number of other orchestras throughout the county.
Key to their success is the dedication and commitment they have all displayed from a very young age.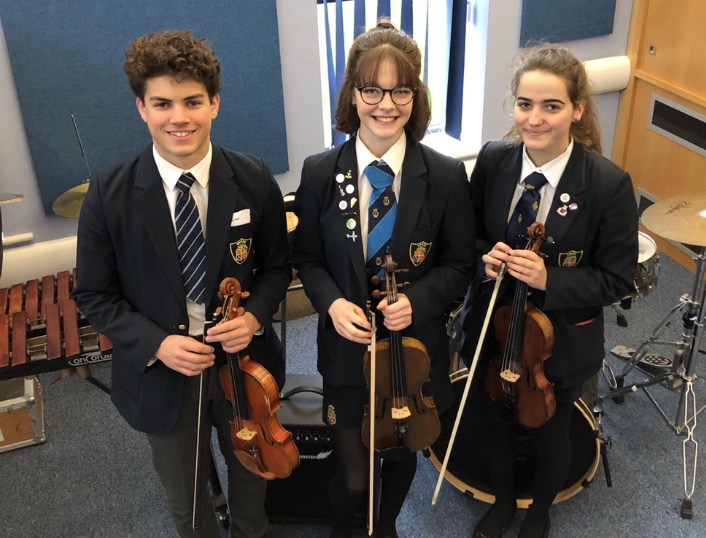 Susannah began playing violin as soon as she was big enough to hold a one eighth-sized instrument, aged four, while Sam and Madeleine credit their mother, a violin player, for encouraging their music from the ages of five and six.
Susannah, from Thorp Arch, near Leeds, explains: "Coming from a musical family was what got me into playing music initially. I wanted to play the violin after seeing my older sister practising and was encouraged to play as soon as I was big enough."
The Canns, from Sharow, started violin lessons in primary school in Spain when they were five and six years old: "Since my mum is a violin teacher, I had no choice in the instrument!" says Madeleine.
A-level student Susannah says her proudest achievement was when she played the Bruch Violin Concerto in G Minor with the NYCY Orchestra.
Having gained Grade 8 in violin, singing and piano, as well as learning the viola, she is now working towards a post-Grade 8 violin diploma and says her 25-minute concerto performance, at Harrogate Ladies' College, has been the biggest challenge of her musical career.
"I was very lucky to have this opportunity as many musicians never get the chance to get to play a concerto with an orchestra in concert to a professional standard."
As leader of the orchestra, Susannah, who has been singing since the age of four, leads musicians as well as taking some section rehearsals alongside tutors.
Sam, who plays the violin, drums and viola as well as singing, says his proudest achievement was passing Grade 6 in violin: "It felt like a great milestone in my music career, where my abilities are just beginning to flourish and sound musically interesting."
His biggest challenge has been learning viola in a short space of time to cover the gap in his Northallerton string orchestra after the violist left for university: "I had to learn how to read a new clef and be able to sight read in it as well."
For his sister Madeleine, who also swims, the challenge has been in keeping up practice alongside schoolwork and swimming training.
Susannah regards playing in public as a real privilege: "Playing music is an escape for me, where I can freely express myself and perform fantastic works to an audience who have perhaps not heard them before."
Sam describes music as opening up a whole new world inside his mind: "It's fascinating how we can tell a story using only sounds, and people can still understand it as if they were reading a book."
For Madeleine, playing and performing helps her relax and have fun: "I enjoy playing with my friends in our orchestras most."
She and Sam both play with the Northallerton Music Centre Symphony Orchestra, Arco Iris quartet, Thirsk Sinfonia and a ceilidh band in addition to the NYCYO.
Susannah, who has been a member of the NYCYO for four years, also plays in Ripon Cathedral and toured the Yorkshire Dales during the summer and winter holiday with Ripon's adult St Cecilia Orchestra and the Vacation Chamber Orchestra for sixth formers and students.
Currently studying for A-levels in art, English literature and psychology, Susannah hopes to work in art therapy. Sam plans to go into the computer game design industry while Madeleine, studying A-level history, French and English literature as well as music, is keeping her options open.
*All three will be playing with the NYCYO again at Harrogate's Convention Centre as part of North Yorkshire's celebration of the VE day anniversary on April 2.