The crime expert helping shape our future police officers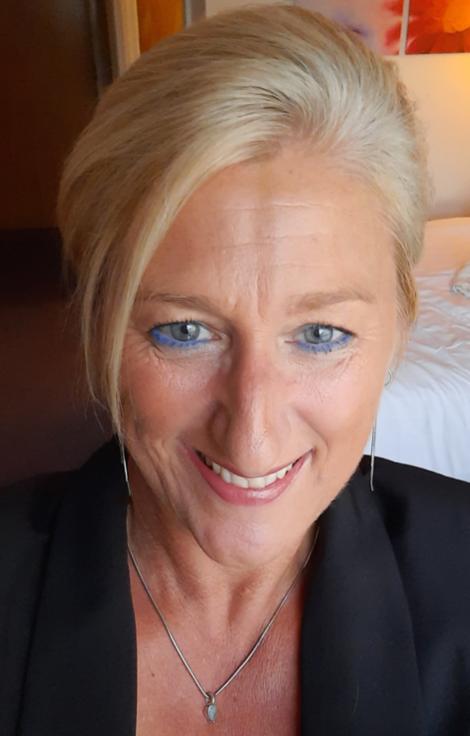 AS A fan of the hit TV crime drama Prime Suspect, when Angi Hart achieved her dream of becoming a detective after leaving university, the reality did not disappoint her.
"I loved the thrill of interviewing and investigating serious crime," says Angi, who left RGS in 1987 after O-levels when her family moved to Malvern.
One of her most satisfying cases involved catching the perpetrators of a series of distraction burglaries with elderly victims. In another, her investigation skills were put to the test after an attempted murder which involved a unique weapon - a car driven at pedestrians.
As a career detective, Angi investigated every serious crime in the book, apart from kidnap, and went on to receive a judge's commendation for her interviewing in 1998.
But, due to family and personal circumstances, she moved away from the police, retraining as a teacher, only to return to the field recently when she landed her ultimate dream job, as a policing lecturer at the University of Worcester.
Now her aim is to establish a School of Policing at Worcester. Although her judge's commendation was, she confesses, rather special, she adds: "I feel my greatest career success is yet to come.
"I feel that all career choices and experiences to date have led me here and I am so happy in my role - teaching the police officers of the future," she says.
"My advice to anyone wanting to be a police officer would be to go for it! It really is a fantastic career and there are so many different pathways these days."
She looks back on her time at RGS – where she was known as Angela - with fondness, and regularly meets up with her old RGS school friends: "The most important thing I learned at RGS was to always strive to reach for the stars. I also held the record for 1500m for some time! I enjoyed every sport RGS had to offer and still play netball now."
She went onto study French and German at Girton College, Cambridge: "I continued to play netball and hockey competitively and took up a new sport: rugby, where I gained my half blue."
Angi played rugby for Cambridge and being selected to represent the county: "I am honoured to have played in the early days of women's rugby at Cambridge and am still heavily involved in supporting the Cambridge teams."
In her final year, she decided that being a detective was her dream job, so joined Kent Police on the graduate entry scheme.
Inspired partly by her love of the Prime Suspect TV series, she had also been a witness to a serious incident, a fatal road traffic accident, which gave her some insight into the job: "I joined with aspirations to be a detective and Special Branch at some point," she explains.
She was soon promoted to sergeant, then detective sergeant in the busiest police area in Kent: Medway: "It was quite a shock to the system! I spent some time as a custody sergeant and that was by far the worst time of my career. I was unused to the level of violence and abuse.
"Medway was however an excellent place to lead investigations into the most serious of crimes."
After being head-hunted by Special Branch, she made the tough decision to take a career break in 2006 to start a family and lived in Germany for four years, teaching business English in Dusseldorf.
Having returned to the UK in 2010 with her young daughter, she decided, for family reasons, not to go back to Kent Police and retrained as a teacher, working in Malvern.
After teaching all ages, from early years to sixth form, she found she missed her police work and took a job as a police trainer with West Mercia Police Force, training detectives up to the rank of chief inspector in interviewing and investigation skills, specialising in domestic abuse: "It's a joyful culmination of all the experiences I have had throughout my working life," she says.
Finally, she is enjoying being able to combine her policing and academic skills. In addition to the module lead for criminology with policing, and helping launch a professional policing degree, she has been invited to contribute to a book the School of Law is producing: "Exciting times," she says.
Looking back on her time at RGS, she actually started out wanting to become a PE teacher: "That was my dream job at that time. My favourite teacher was Mr Lighthouse for French - anyone who has been taught by him will know why!
"I still have close friendships with many of the friends I met at RGS and come up to Yorkshire a couple of times a year. During lockdown our circle did a few Zoom parties, which was fantastic."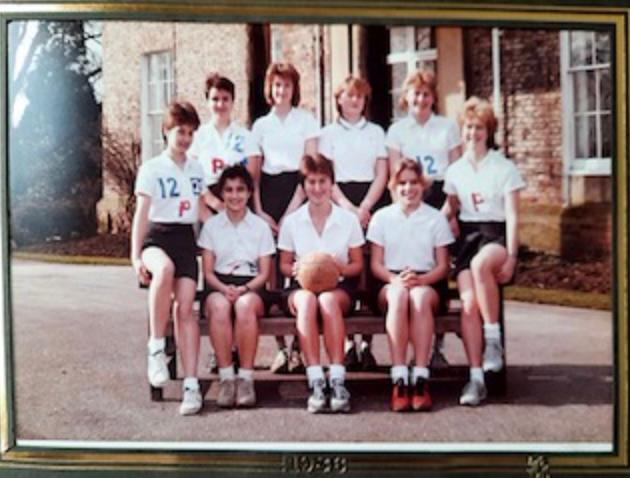 Angi, above, in the RGS netball team, holding the holding the ball. Pictured fourth from the left, back row, in the hockey team, below
Angi pictured with past pupils Emma Oates (Beecroft) and Cathie Hague at Jo Hudson's (Alder's) wedding in July

With old school friends Christine Benson (Whitaker), Jo Hudson, Emma Oates, Olivia Mitchell (Canavan) at a get-together in spring in Ripon. (Another great friend, who Angi says she's still in regular contact with is Debbie Saltmarsh (Allen).
RGS rugby team, below