Frozen in time: an Icelandic adventure
We believed there was no photographic record of the RGS geography department's intrepid camping trip to Iceland back in 1962. But following an appeal, past pupil ROBERT HEATON unearthed these remarkable black and white pictures, capturing how staff and students sailed from Leith, Edinburgh, to trek across barren landscapes, often laden down with heavy provisions, setting up camp in remote and unforgiving locations, crossing the ice roped together with the aid of ice picks and crampons, to discover stunning geysers, waterfalls and other geological wonders
You can find out more about the adventurous 1962 expedition, where some of the students hitch hiked to and from the Scottish docks, here, and read about a more recent student experience of Iceland here.
Photographs and captions by Robert Heaton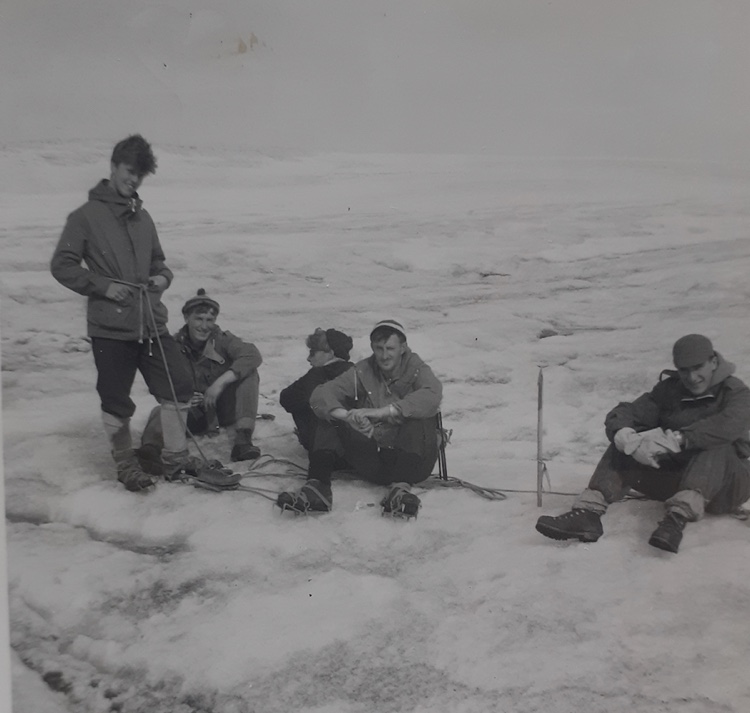 On the ice: (l to r) D. Costelloe, Harry Nicholson, John Dean, Harry Locke, D Ronson
"These intrepid ice explorers were equipped, alternately, with crampons or an ice pick, and were loosely roped together. We traversed huge, gaping, bottomless chasms in the glacier, fortunately without mishap. This shot reminds me how simple, carefree and adventurous school trips used to be. No disclaimer forms to sign, no safety helmets, no mobile phones. I think I was the only one with any sun lotion, home made with olive oil."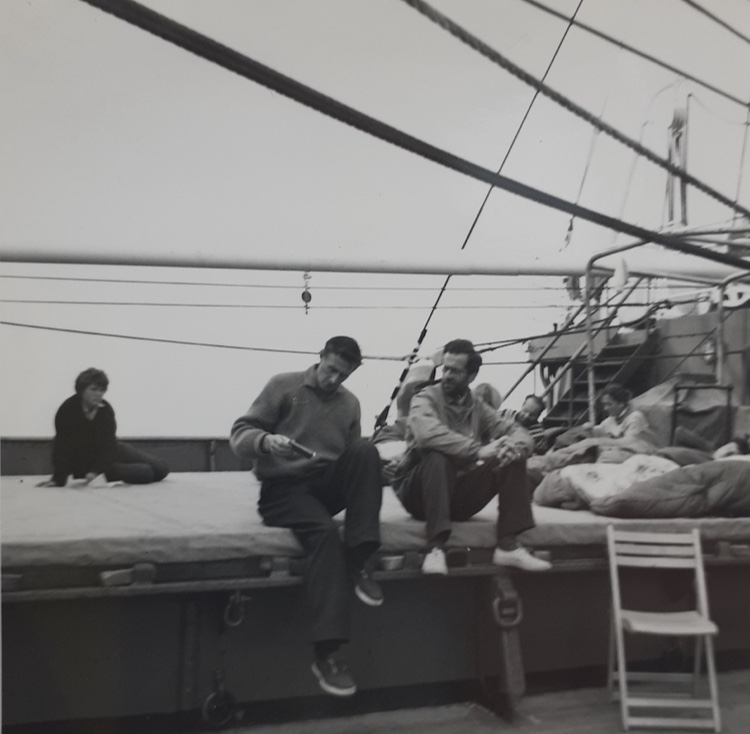 Captains: (l to r) "The two masters, games master Harry Locke and team Leader and head of geography Sean St.Claire Sebastian Crawford (no, really), probably looking up the Icelandic for help. Both were extremely popular, and great teachers, Sean having long hair before any of us."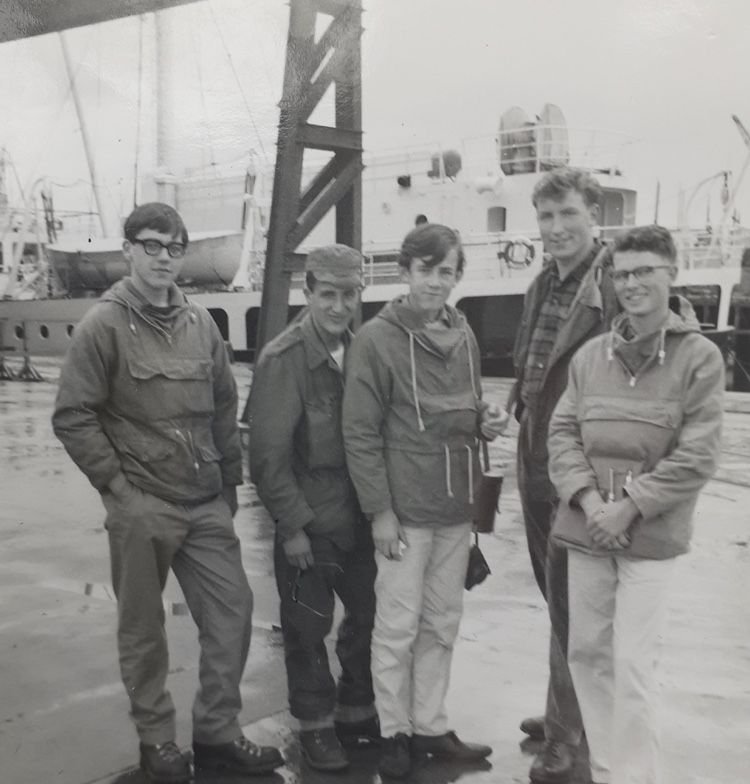 Embarkation: MS Gulfoss awaits - P Grey, D Ronson, S Fogden, Harry Nicholson, P Wilkinson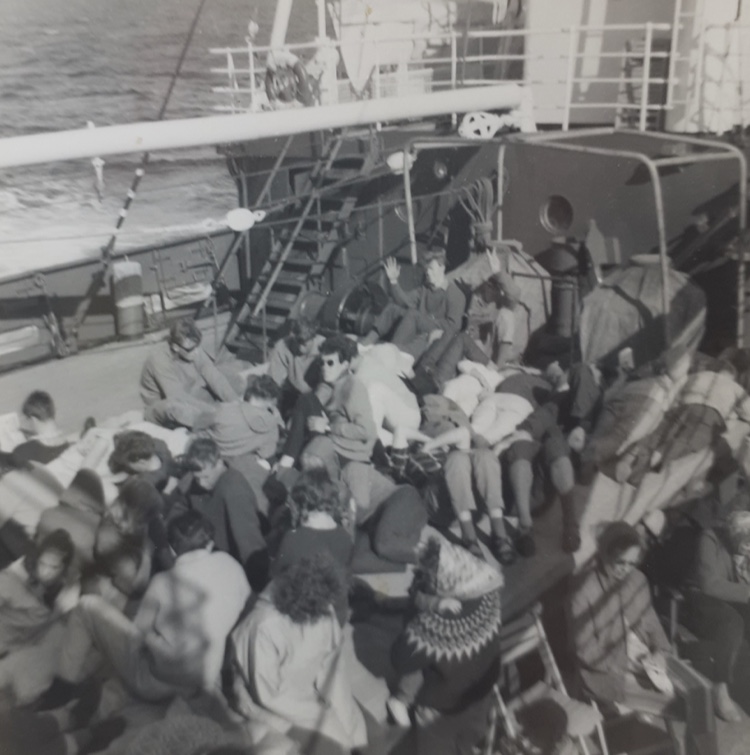 On deck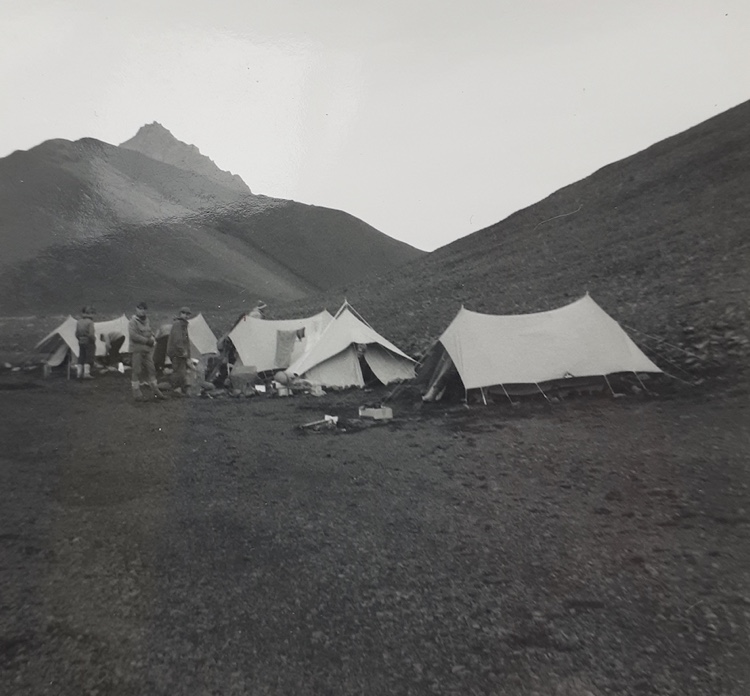 Campsite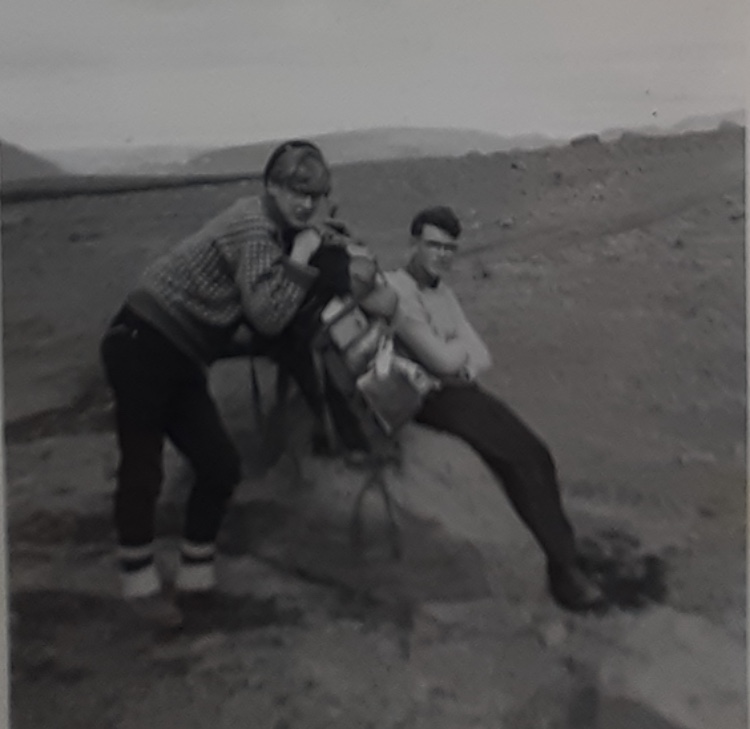 J Dean and P Wilkinson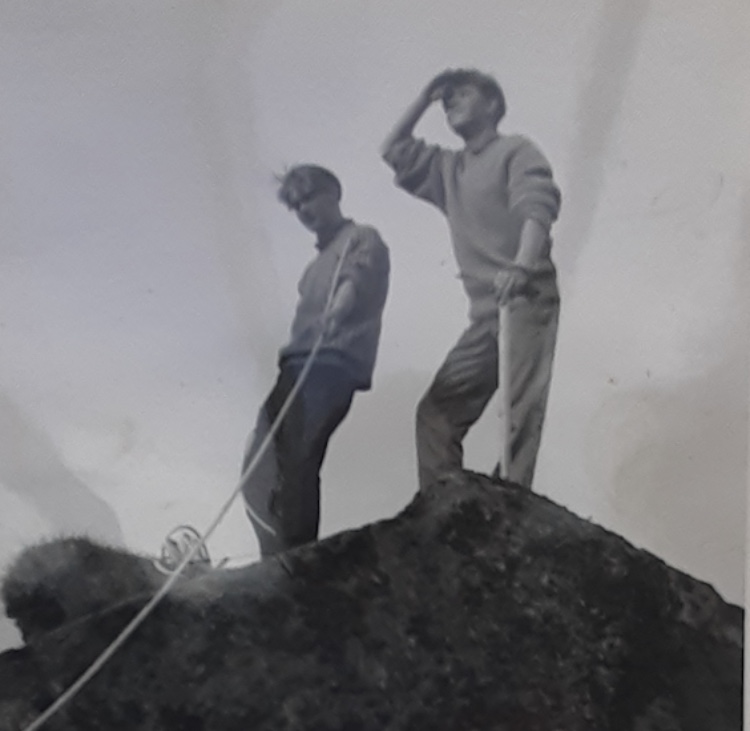 J (prof) Dean and 'Bert' Heaton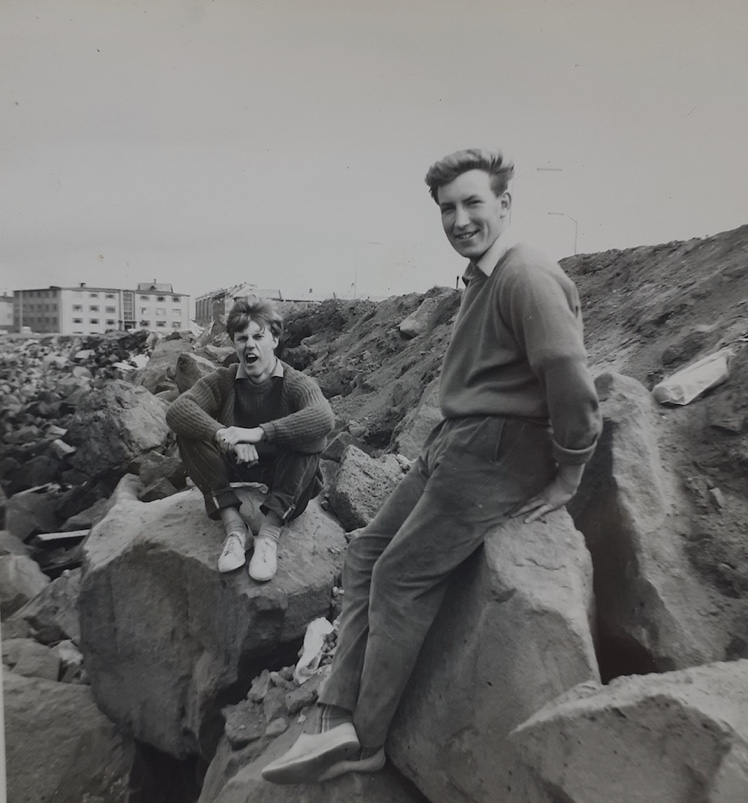 Danny Costelloe, Harry Nicholson, Reykjavik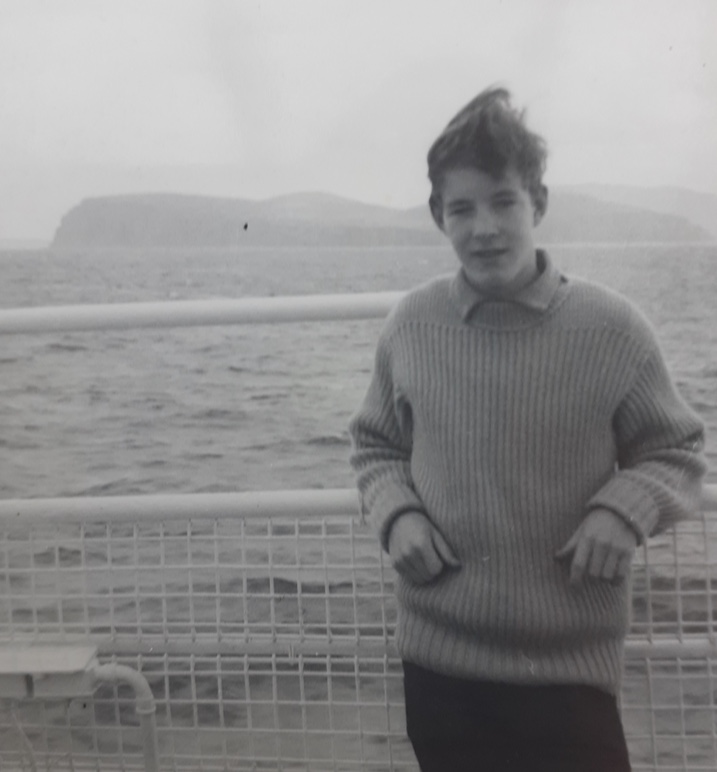 Robert Heaton
"Danny Costelloe and I hitch hiked back to our native Todmorden from Leith. With no luck for about two hours a two-seater sports car driven by a cavalier young German stopped, Danny and I tossed a coin, he won and roared off down the road. I walked on to an access lane to a filling station, and got a lift in the world's first hatchback, the Austin A40. We passed Danny along the road, steam pouring from their bonnet, ha ha. A few hours later I was shouldering my drab olive army issue back frame for the last time at the end of the road where I lived, soon to hear my mother's welcoming mantra "Oh, so you remember where you live then". By amazing coincidence, the driver of the A40 was a salesman for Thornbers Chicks, in my native Todmorden. Danny finally made it home some time the following day."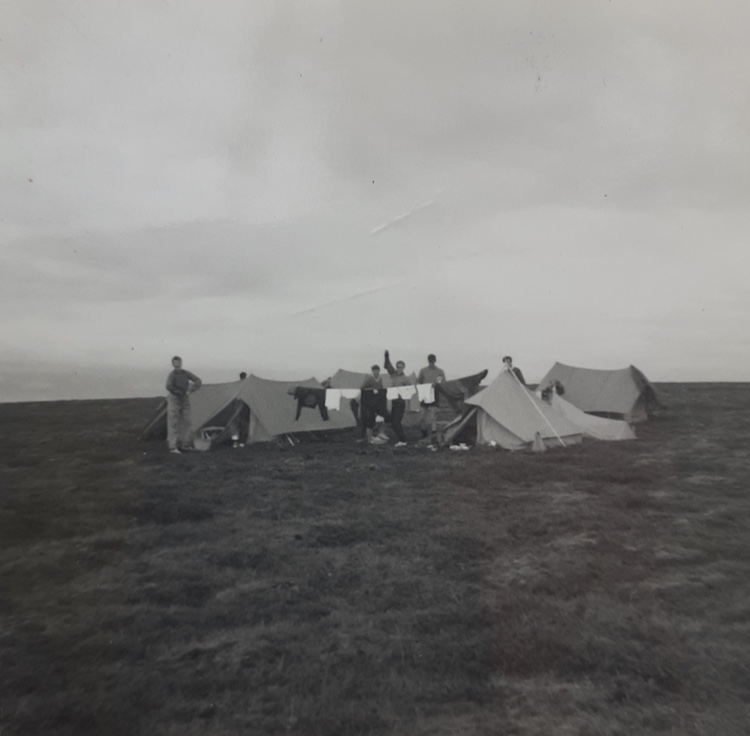 The next campsite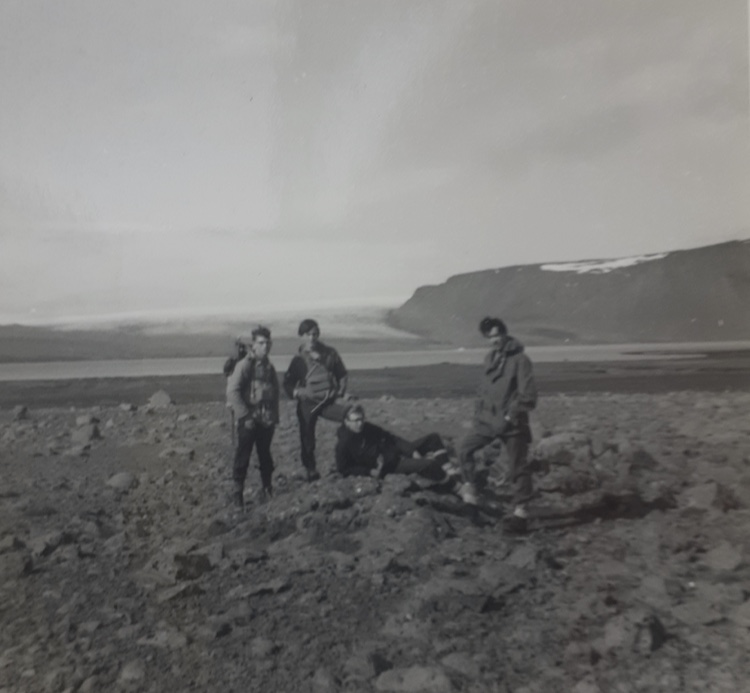 Wilkinson, Fogden, Dean and Law tackling the rough terrain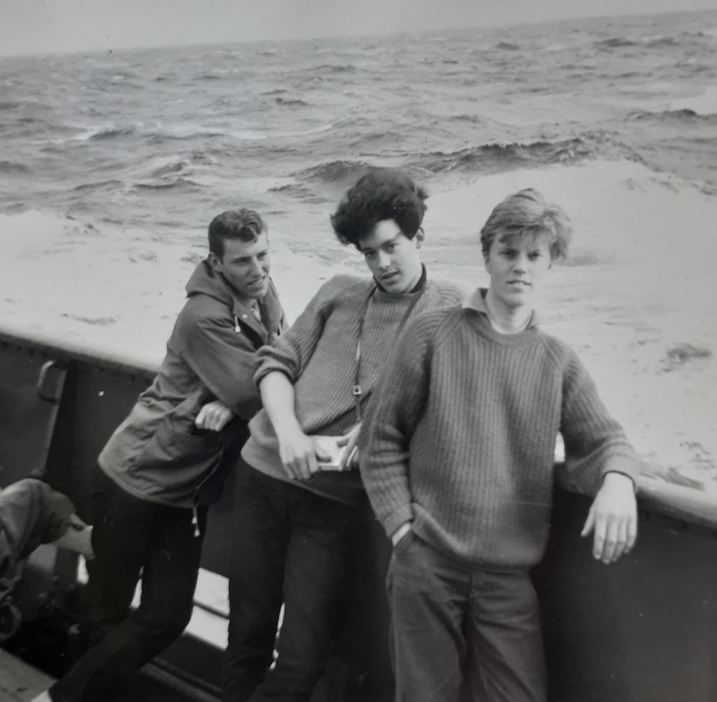 Black, Law, Costelloe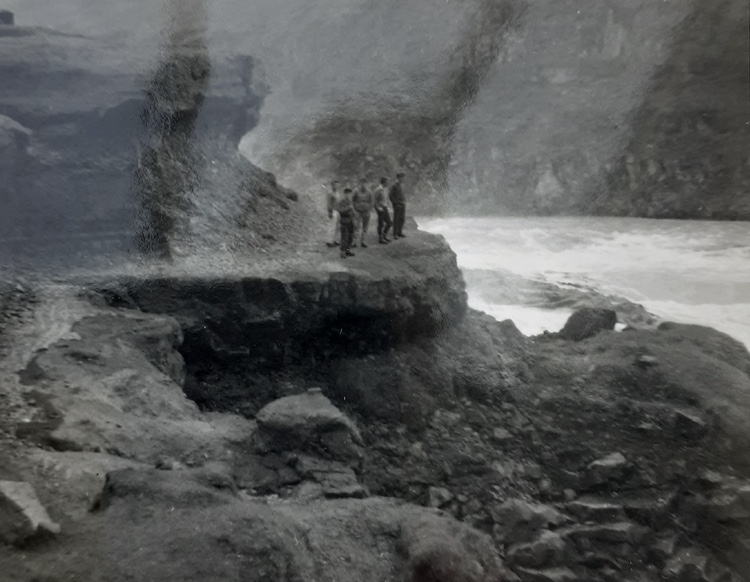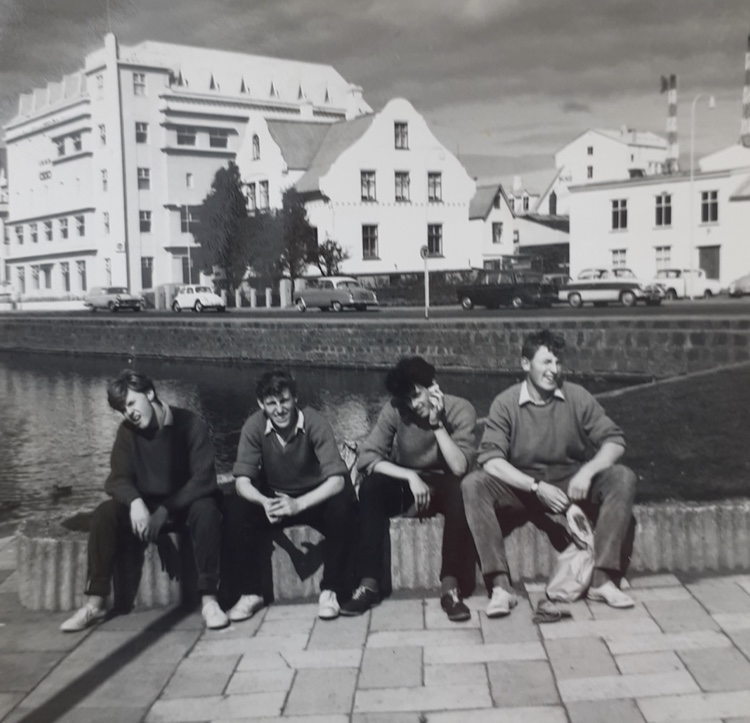 Last day in Rekjavik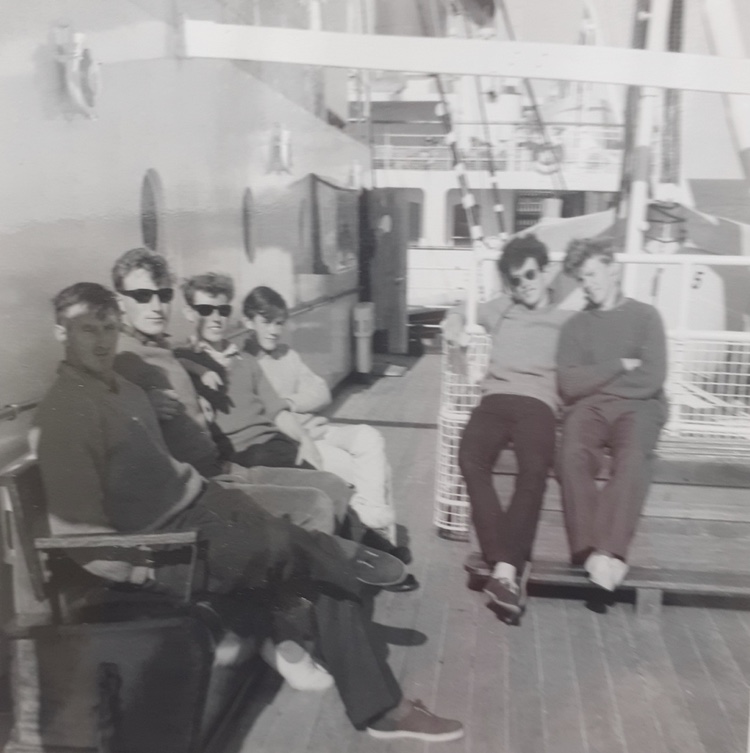 Aboard: H Locke, Nicholson, Black, Fogden, 'Grazi' Law, Costelloe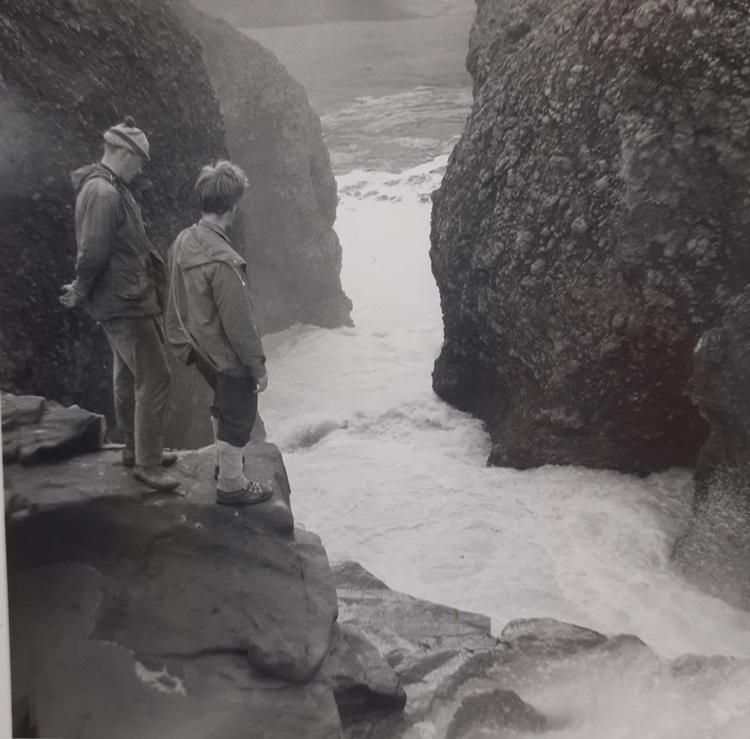 Gullfoss, Harry and Danny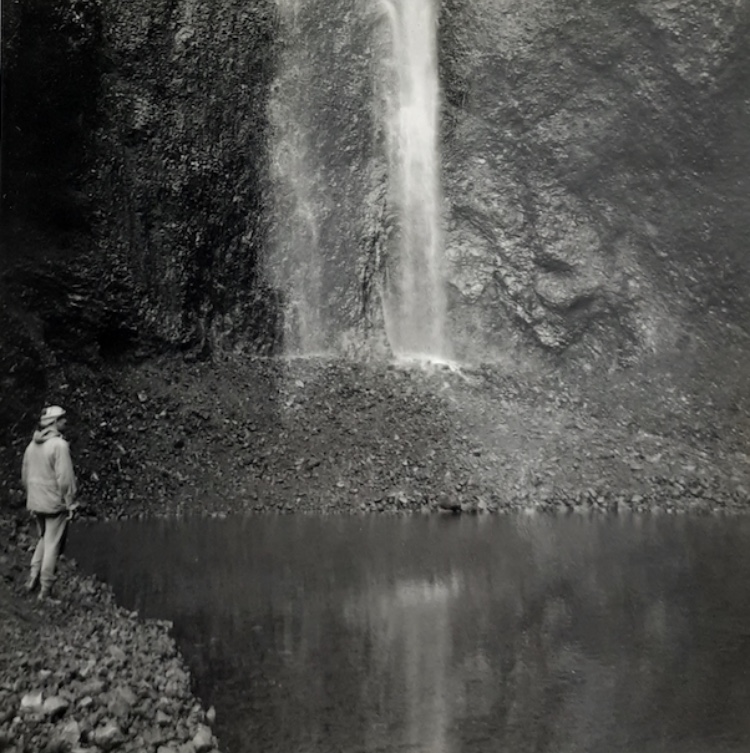 Harry Nicholson at the base of a huge sinkhole
"Our campsites were often on sharp gravel, where we put all our clothes on the ground sheet, and occasionally on moss."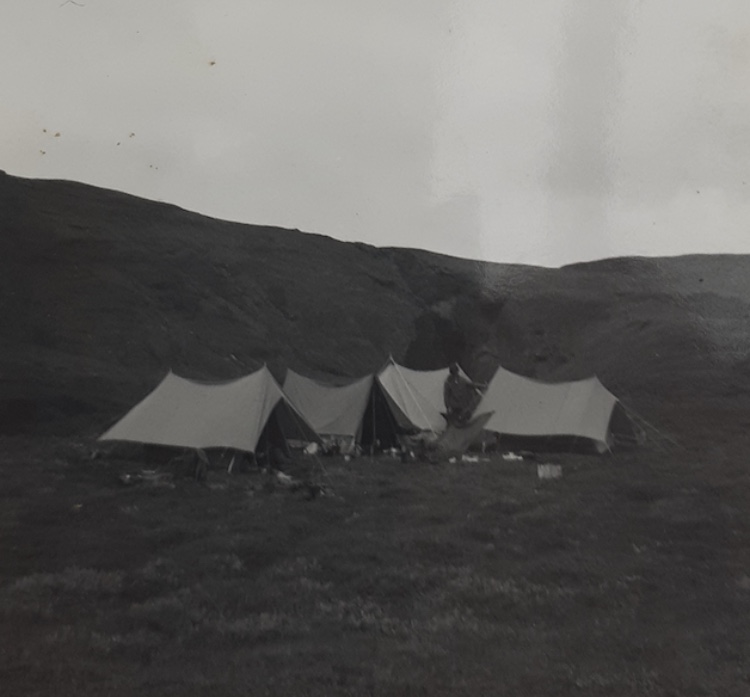 Yet another campsite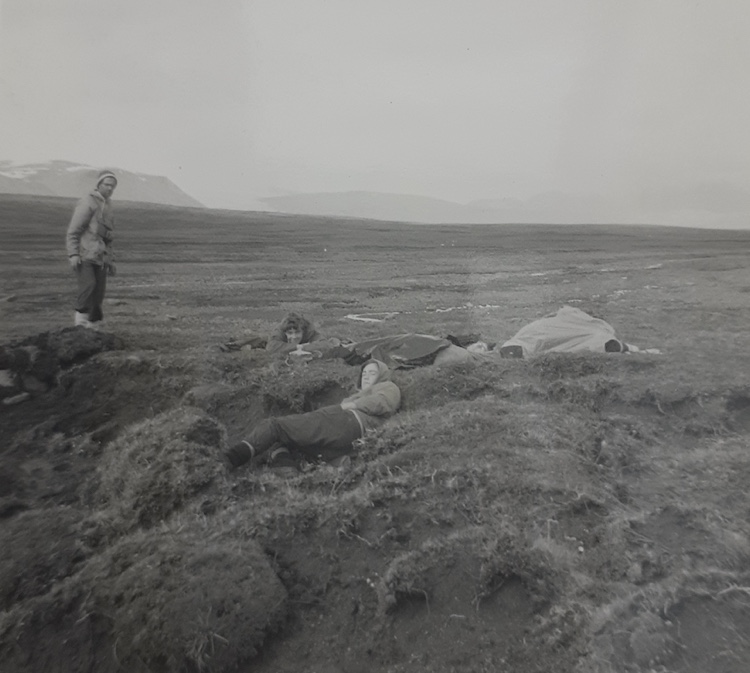 Fuel dump: "Dumped in the middle of Iceland with everything, we couldn't shoulder it all. A group of volunteers took big cans of paraffin about ten miles down the return route, buried them and marked the spot before returning. Meanwhile we ate as much as possible for a few days before we were able to move camp."
Sean Crawford standing, Simon (Foggy) Fogden reclining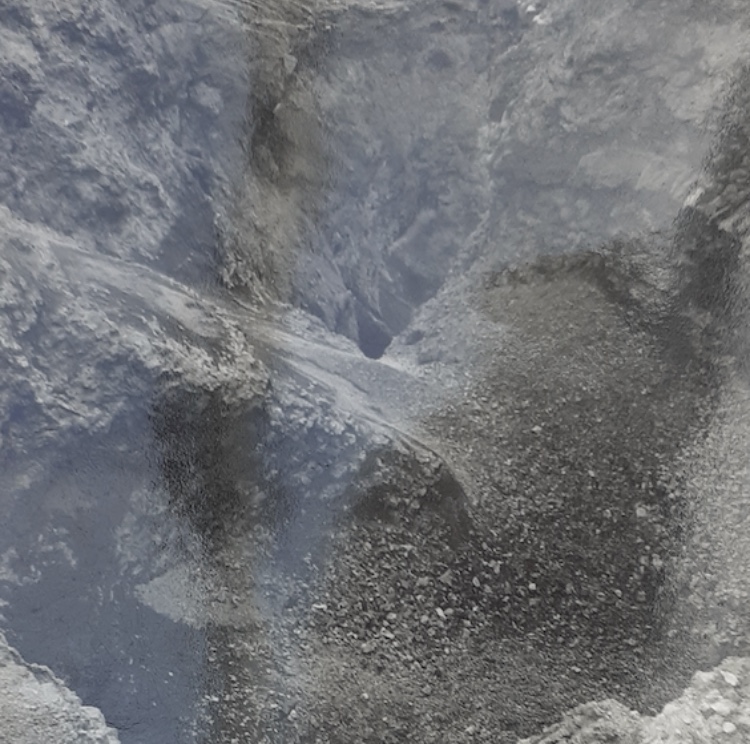 Gullfoss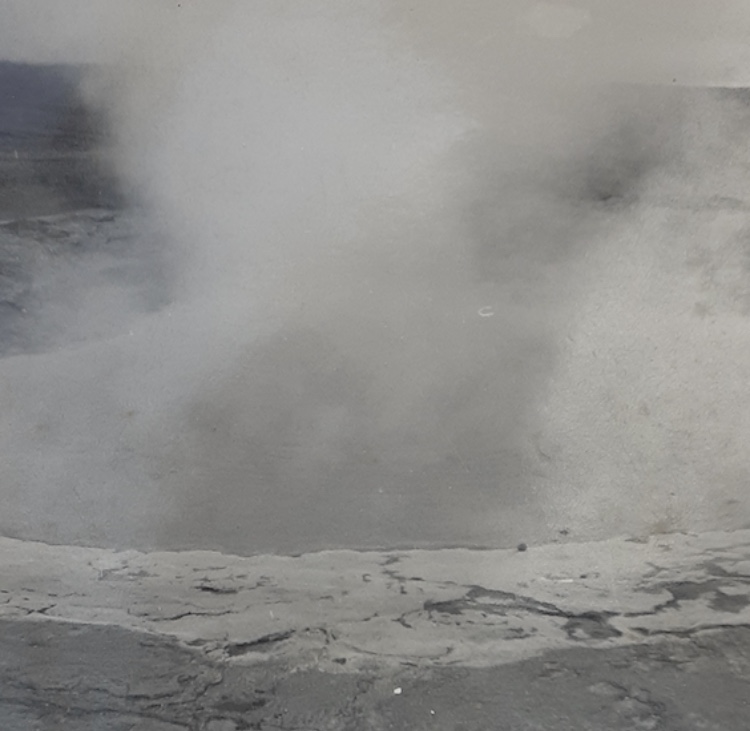 Geyser action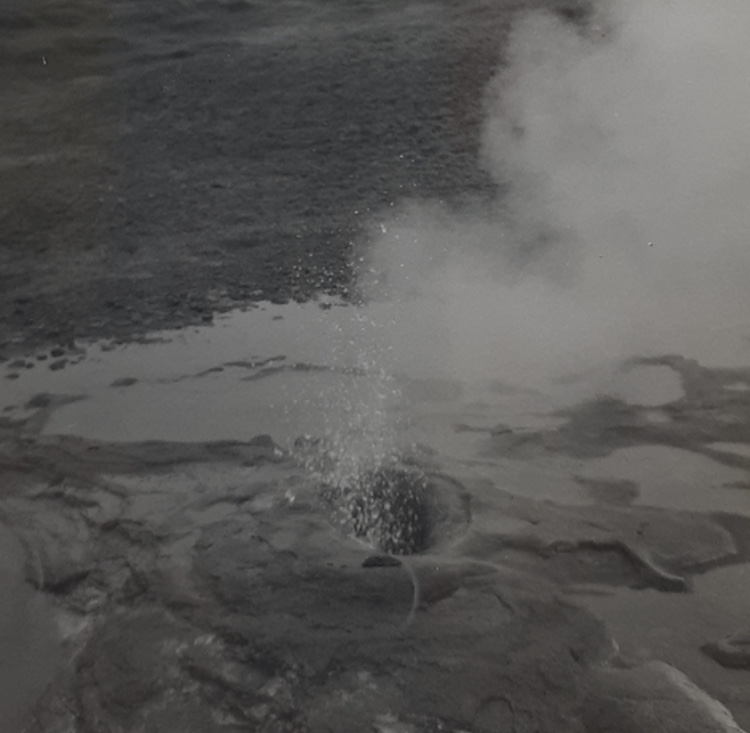 Geyser action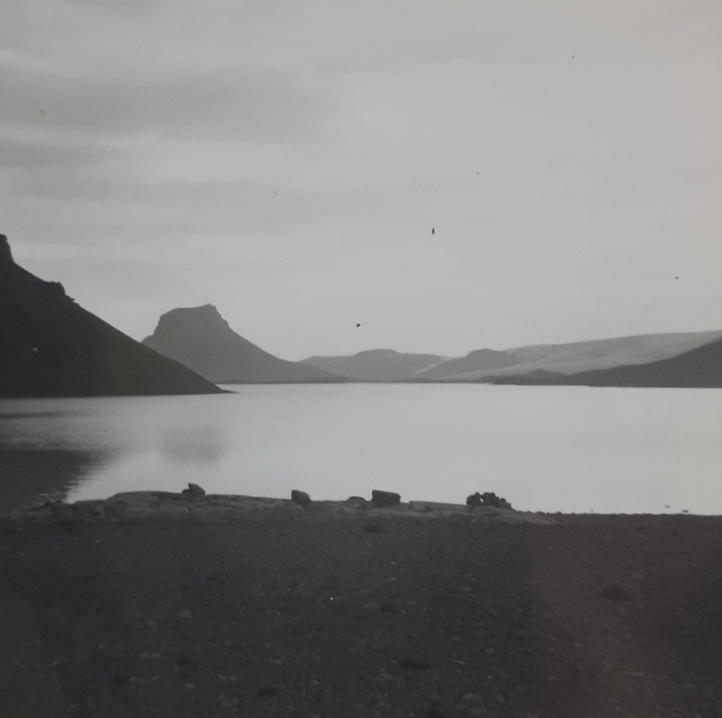 Where Harry Locke took a one-second dip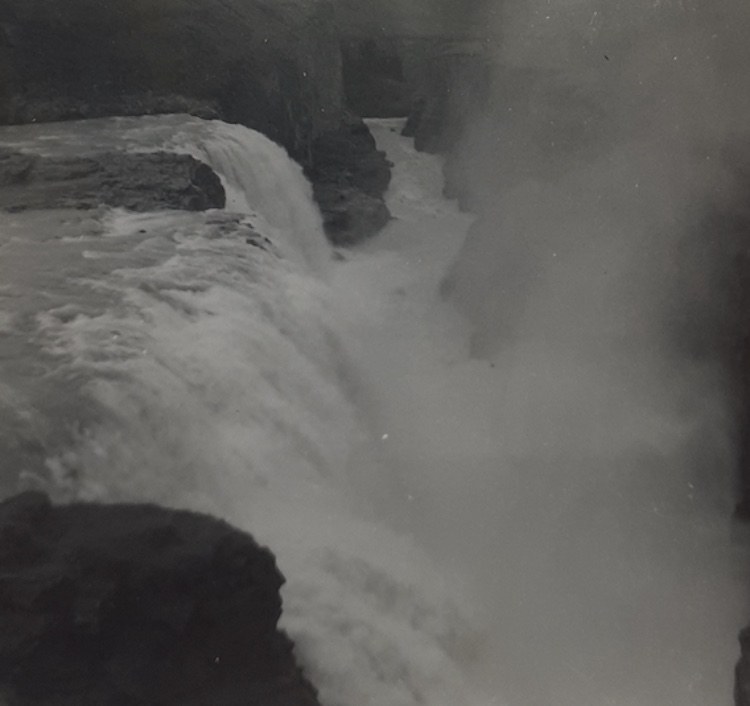 Gullfoss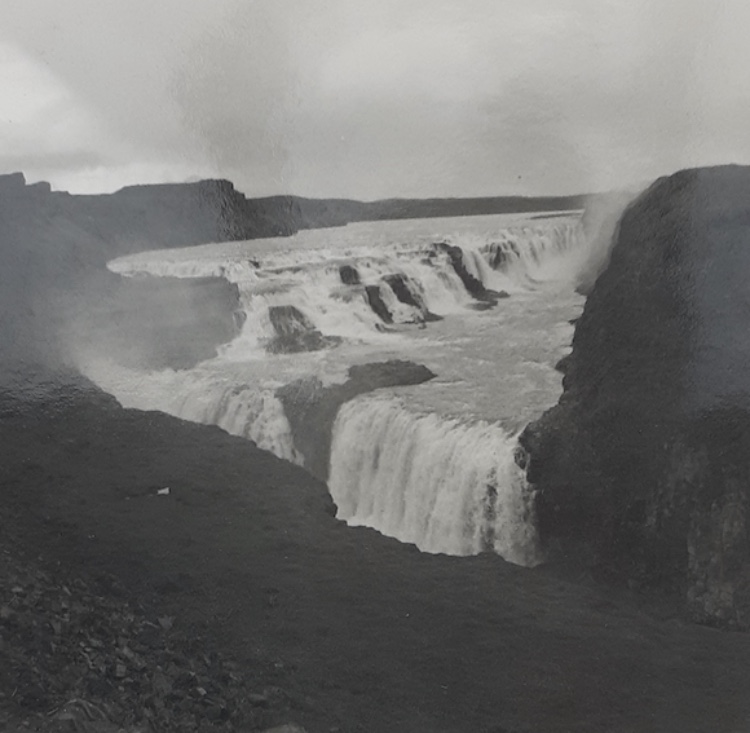 Gullfoss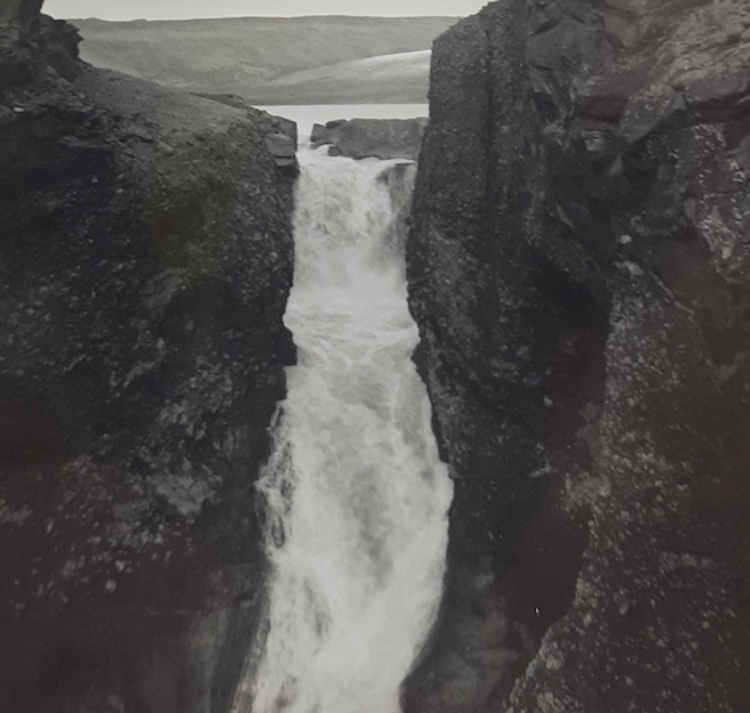 Gullfoss
Another recollection: "It was our first experience of inflation, the Icelandic Krona being worth about 1/10th of the Scandinavian one. Window ledges in Reykjavik displayed stacks of small value aurar coins for the poor to pocket. On leaving harbour we tossed handfuls of it off the back of the boat, each handful worth about two Polo mints."