Design technology
Department head
Mr D Rudland
Teaching staff
Mr S Mann
Mrs L Solden
Miss E Goddard
Contact Us
Email department
Design technology
We aim to equip and challenge students to apply knowledge and understanding to the making of useful products which could have an impact upon society.
Where innovative ideas come to life
Enjoy a tour of the department with head of DT Mr Rudland, and see some of our students' work: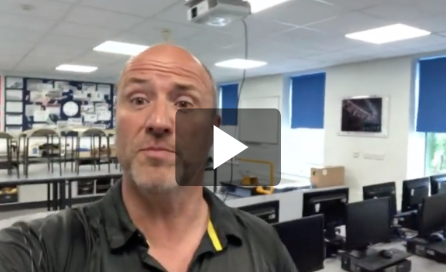 Lower school (KS3)
In first-third form students experience all the areas of the subject in three specialist rooms. Mid-way through third form they can opt to follow a particular subject through to GCSE level. The subject areas covered are:
Systems and control – acquiring and using a technical understanding of mechanical, computer and electronic systems;
Product design - students are involved in designing and making products taking into account aesthetics, materials, production and construction constraints;
Food & Nutrition – the production of food products, understanding industrial and commercial applications and food types.
Upper school (KS4/GCSE)
GCSEs are offered in 'systems and control', 'product design' and 'food and nutrition'.
The following applies to all the GCSE subjects:
Fourth Form – theory is covered to prepare students for the summer exam and controlled assessment during Year 11. Small projects are undertaken to build upon the theory covered giving students the opportunity to experience extended project work. These projects allow students to dictate the outcome of the project within laid down guidelines so they gain ownership and have to, increasingly, undertake self directed learning.
Fifth Form – students put into practice all the skills and understanding gained in the fourth form. An extended project is undertaken, the nature of which is determined via negotiation between the student and their teacher such that it allows the student maximum opportunity to do well. Within 'food and nutrition', students undertake two projects which, combined, contribute 60% to their GCSE result
Exam board/division of exam and course work:
The project accounts for 60% of the GCSE grade comprising a made artifact (40%) and a portfolio of design evidence (20%).
GCSE product design
Product design enables students to design and make products with creativity and originality, using a range of materials and techniques. Packaging, labelling and instructions are encouraged as part of the complete design proposal and advertising and points of sale can be used to supplement the making experience and help create products which can be evaluated for their commercial viability.
Exam board: AQA
40% examination and 60% controlled assessment.
http://www.aqa.org.uk/subjects/design-and-technolo...
GCSE systems and control
Systems and control technology enables students to design and make systems with creativity and originality in a variety of practical activities, using a range of electronic, mechanical and pneumatic materials and components. The course has a clear structure to help students revise for and relate the work done for controlled assessment to the exam.
Exam board: AQA
40% examination and 60% controlled assessment
http://www.aqa.org.uk/subjects/design-and-technolo...
Food and nutrition
The GCSE course:
engages students actively in the processes of home economics to develop them as effective and independent learners;
develops their knowledge and understanding of human needs within a diverse society;
develops their knowledge and understanding of relevant technological and scientific developments;
develops a critical and analytical approach to decision making and problem-solving in relation to the specified context;
examines issues that affect the quality of human life, including an appreciation of diversity;
enables students to evaluate choices and decisions to develop as informed and discerning consumers.
Exam board: OCR
40% examination and 60% controlled assessment
http://www.ocr.org.uk/qualifications/gcse-home-eco...
Lower sixth (AS Level)
Product design is offered in the sixth form. This course allows access from all the subject disciplines and can reflect a wide range of interests.
Students undertake prescribed projects that are designed to develop all aspects of their design abilities while enabling them to dictate the nature of the project.
There are 2 units to the AS level:
Unit 1: a written exam paper focusing on materials, components and application. The content of this paper is covered in the unit 2 project work and in theory throughout the year.
Unit 2: a portfolio of evidence is produced to demonstrate the students ability to research, generate, develop and make high quality product. Projects undertaken have slightly different emphasis but currently include:
1. A design for the disabled. This seeks to cause students to look beyond their own demands as consumers and focus on the needs and wants of others.
2. MP3 amplifier. This can be approached from an aesthetic or more technical standing but leads to the production of a well-made, working and attractive MP3 docking station.
3. CAD CAM project (computer aided design, computer aided manufacture) based around the design of a clock face.
4. Material sculpture. Students are encouraged to experiment with new materials and generate a 'materials sculpture'.
Exam board: AQA
50% exam, 50% course work portfolio.
Upper sixth (A Level)
Following on from AS level this course allows students the flexibility to develop their own interests further.
Unit 3: a written exam covering the whole of the subject specification and explores the students' understanding of connections between different elements of the subject.
Unit 4: the main coursework is on a project negotiated between student and tutor which is aimed at making the most of individual students' strengths and interests. A design portfolio and artifact are produced.
Exam board: AQA
50% exam, 50% course work portfolio.
Trips, special projects, extra-curricular clubs/activities
Work experience: Towards the end of the fourth form, students taking applied engineering undertake a focused work experience task where they work with an engineering company and subsequently produce a report entitled The Role of the Engineer. This report is worth one third of their AS level qualification.
Greenpower: The school has a well-established Greenpower electric car club. The students design and make electric powered cars to race in a four-hour endurance challenge at national race circuits. We currently have 2 cars which both qualify for the national finals, held at the Goodwood race circuit. The cars can travel up to nearly 30 miles per hour and when racing against up to 60 other cars on a single track can produce exciting racing.
The club and Mr Mann are working to develop a third car with the support of our car sponsor ECON.
Engineering Education Scheme: Two teams of five lower sixth students work on real life engineering projects along with company engineering mentors. This scheme enables students to experience university life and real life problem solving in an industrial setting during a 3-day residential. We have recently worked with Jacobs, Giffords, May Gurney Rail, RAF Leeming and REME. All the students achieve a gold CREST (CReativity in Engineering Science and Technology) award for the work undertaken. Past projects have included a pioneering bridge design using fibreglass sections to make a pre-fabricated bridge to speed up building time and have less impact on the rail network.
Additional information:
Arkwright Engineering Scholarship: The school has a strong record in this prestigious national scholarship scheme, which is aimed at identifying the country's most able future leaders in engineering. There are two schemes: to support able fifth form students to continue their study to A level, and the Arkwright Undergraduate Scholarship for a select group of 18-year-olds, who are supported through university. KS4 students have to pass an entrance exam and then undergo a whole day interview before they are selected to be offered a scholarship.
Competition success: The department was represented by five students at the annual Engineering Inspirations event, displaying their project work from GCSE and third form. First place awards were achieved by three RGS students, 1st place for electronics projects in fifth form, 1st place for a KS3 graphics project and 1st place for a KS3 systems and control project.
Exam results:
The department's results are consistently above national average for similar schools.
Career opportunities of subject
Students go on to study the full range of design related subjects ranging from fashion design, graphic design and architecture to engineering related careers such as civil, aeronautical and mechanical engineering.
Additional revision sessions:
Additional revision and catch up sessions for controlled assessment work are regularly provided at lunch and after school as required.
Student quotes:
"I like the atmosphere of DT, it is a very independent and varied subject."
Tom Lonsdale
"I have found design technology constantly engaging due to the wide range of materials, techniques and products used and made throughout the school. My favourite part of DT is the relaxed atmosphere and the encouragement of independednt learning."
Beth Grimmer
"I like how you can tailor a project to show your own skills."
Victoria Frost
"Knowledgeable and fun teachers make the DT experience very enjoyable."
Louis Makepeace