History
Head of Department
Mr E Long
Teaching staff
Mr D Bruce
Mrs J Fell
Mr M Spiers
Mr J Webb
Contact Us
Email department
History
The aim of the History department is to inspire a love of History in students through rigorous debate, discussion and written arguments. The department affords all students the opportunity to learn about fascinating developments relating to the past both in terms of British History and world History, and to relate them to the 21st century world.
Areas of responsibility
Mr Long: Teaching world history at A Level and and KS3/GCSE history. Head of Department.
Mrs Fell: Teaching British history at A Level and KS3/GCSE history;
Mr Bruce: Teaching British and world history at A Level and KS3/GCSE history
Take a history tour with Mr Long, who believes his subject is vital because history skills are also life skills: 'History can directly inform us about how to respond to challenges.' Hear what else he has to say by clicking on the play button below. You can also join in an online 'Game of Thrones' history lesson here.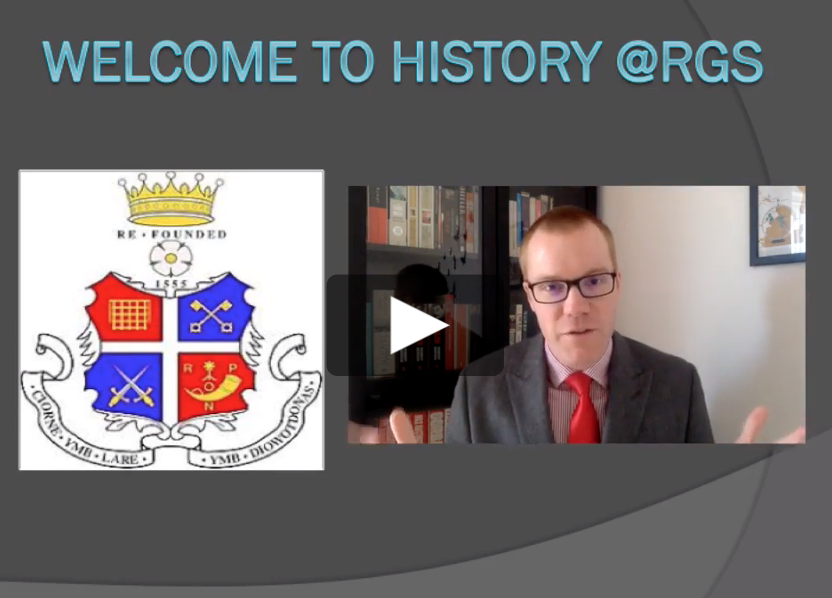 Summary of subject content:
Lower school (KS3)
Students follow the National Curriculum, which entails a chronological and thematic progression from the Norman Conquest through to developments in 20th century history.
Upper school (KS4/GCSE)
Learners currently study German history from 1890-1945, International Relations, the reign of Edward I, and a history of migration from the Saxons to the present day. All units are subject to an examination in the summer term of Year 11.
Exam board: GCSE AQA History
Please see the department's Sharepoint area for extensive revision resources including podcasts, revision notes and past papers.
Sixth Form (A Level)
Examined units are Britain 1851 - 1952 and the Cold War 1945 - 1991. Exams are in the summer of Upper Sixth. Students also study for the NEA (Non-Examined Assessment). This coursework involves students researching Slavery and Abolition in the United States from 1775 - 1877 and writing a 4,500 word paper, plus a review of primary and secondary sources.
Exam board: AQA history (7041/1G and 7041/2R)
Please see the department's Sharepoint area for a large number of resources relating to A Level history.
Trips, special projects, extra-curricular clubs/activities
Most recently, the department has organised a GCSE trip to Vienna and Munich, and intends to run a joint trip with the Politics department to the USA in 2023. 2nd year groups visit Beamish in the first half of the year, and we intend that 1st year will visit local castles as part of their end of year project.
The department also runs both a Junior History Society – The Sons and Daughters of Liberty, and a Senior History & Politics Society – The Cincinnati. Our aim is to continue to inspire young students into a love of the subject and to support students seeking to study History at university through a programme of external speakers and enrichment opportunities.
Additional information
All teachers within the department share a passion for the discipline of History and seek to nurture students' enthusiasm for the subject. All teachers have particular fields of interest and are more than happy to lend students specialist texts ahead of university interview. The History department has a very good range of books available and students can augment their understanding of topics from the historiography of the Roman Republic to the debate surrounding Chamberlain's policy of appeasement.
The Times newspaper rates History as a key facilitating subject for entrance to the top university courses and the department is rightly proud of the achievements of the History students, many of whom go on to study the discipline or related disciplines at the top universities in the country.