Mathematics
Head of Department
Mr N White
Teaching Staff
Mr K Auger
Miss R Bentley
Mr J Ward
Mr T Davidson-Martin
Mrs J Knight
Mrs V Pang
Mr W Barrass-Hemmens
Contact Us
Email department
Mathematics
We want all our students to be able to:
Acquire basic numeracy skills;
Reason clearly, setting arguments out in a logical manner;
Approach problems systematically, choosing appropriate techniques for their solution;
Enjoy mathematics and appreciate the fascination that mathematics can hold;
Gain the mathematics skills and understanding needed for their future careers and life in today's world;
Appreciate the application and power of mathematics in other subject areas;
Confidently use and explore mathematical ideas, understanding all they do and not just learning techniques.
Summary of Subject Content:
Full details of the units and material learnt for each year group can be found in the Excel document 'Mathematics Scheme of Work' at https://www.mathspanda.com.
The scheme of work includes e-lesson links and videos for each topic in order to support students in their learning.
Regular topic tests allow the department to monitor progress and give students a clear idea of their areas of difficulty. The follow-up lesson allows them to work on these areas and resolve doubts before moving onto the next topic.
UKMT past paper questions are available to all teachers to stretch their students. These can be used for homework or classwork. Investigational material is also available for classes that manage to get ahead of the normal taught material. These longer activities encourage problem-solving skills and lead students to think beyond the confines of the school curriculum.
The fun of figuring it out: Mr White's film, featuring a star cast of Lego figures, illustrates how maths can be fun. Click on the image to see more: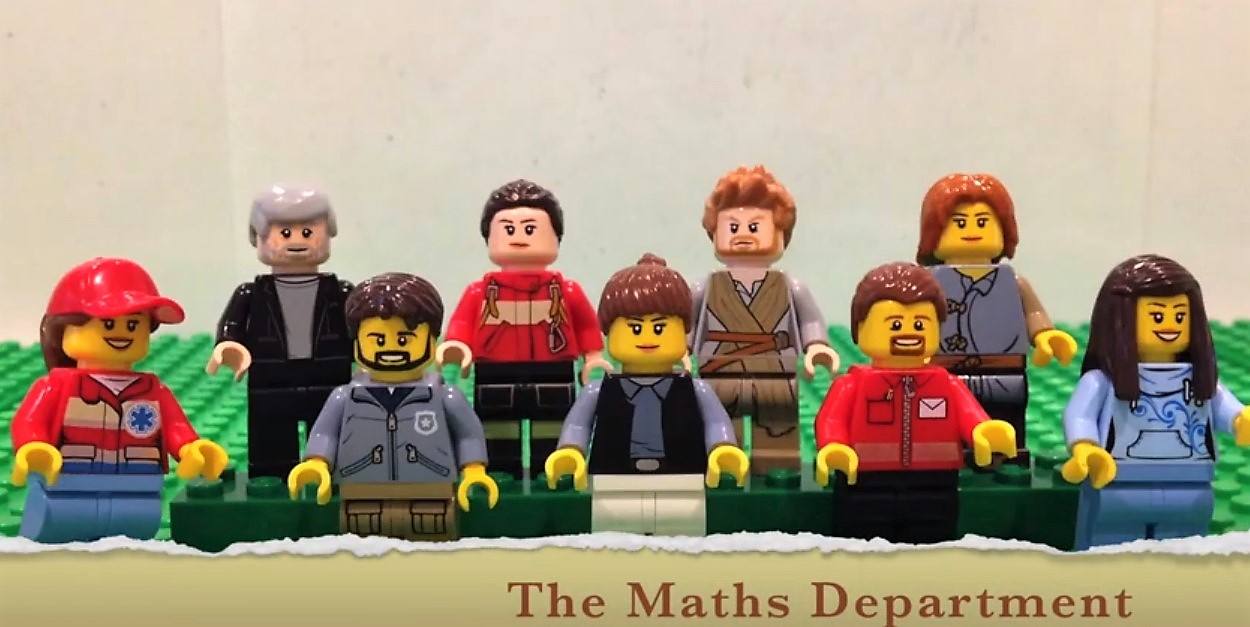 Lower School (KS3)
First form – pupils are taught in non-streamed tutor groups.
Second form – pupils are set according to the end of first form exam results, teacher judgement and the department's database. There are 5 sets which are named alpha1, alpha2, middle1, middle2 and middle3. Alpha1and alpha2 are parallel sets and so are middle1 and middle2. Middle3 is a smaller set aimed at providing additional support and its name reflects the fact that if a student in middle3 were in another school, they would probably be in a middle set. The same scheme of work is followed by all sets, but the alpha sets work with greater pace and depth.
Numeracy skills are supported by matching certain pupils in first and second form with an A level student and having regular weekly meetings that focus on areas of difficulty. This has proved to be a very successful and enjoyable initiative for all involved.
Third form – pupils start the GCSE course and setting continues as in second form.
Assessment
In addition to the regular topic tests, there are termly assessments as well as end of year examinations that enable progress to be monitored.
Upper School (KS4/GCSE)
Setting follows a similar format to Year 9 but students in alpha1 & alpha2 get mixed up and something similar happens in middle1 & middle2.
Nearly all students are entered for the higher tier of entry for mathematics GCSE.
Exam board: OCR maths specification J560. There are 3 papers.
Students in alpha1 and alpha2 sit the level 2 certificate in further mathematics (AQA) in Year 11 as well as the normal GCSE mathematics examination.
Lower Sixth (AS Level)
In the lower sixth, there are 7 lessons per week for A level mathematics and further mathematics. Single maths A level sets are allocated two members of staff.
Note that some Russell Group universities may require a total of FOUR A levels to be studied in the Upper Sixth if Maths and Further Maths are taken together at A level. Prospective candidates should check entry requirements carefully with the individual institutions.
Students are in mixed ability classes.
Upper Sixth (A2 Level)
In the upper sixth, there are 8 lessons per week for A level mathematics and 14 lessons for further mathematics.
Further mathematicians have all their mathematics lessons together and the other classes are in mixed ability classes.
Exam board: OCR
Further Activities:
In the last couple of years, participation in the UKMT Maths Challenges has increased dramatically to the point where over 400 students do them each year. All alpha and A level students take the challenges at the various levels (Junior (first and second form), Intermediate (third-fifth form) and Senior (sixth form) levels) while selected first form students also pit their wits against the fiendish questions.
Maths blog: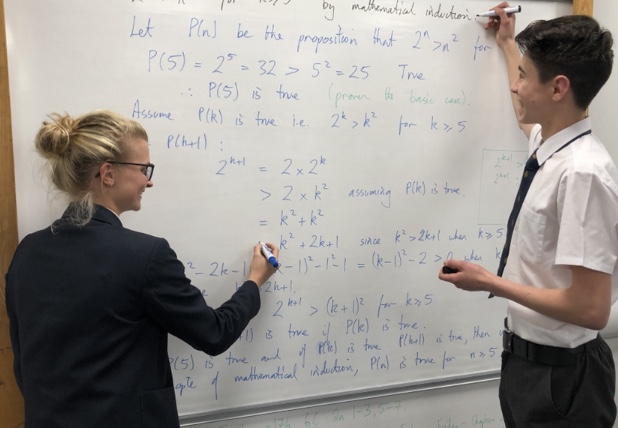 Read more here about why it's cool to be squared at Ripon Grammar School
Career Opportunities:
Maths is a very useful subject for students who are planning to go to university to study engineering, the sciences, design, economics, business, finance, accountancy…the list is endless! It is a powerful tool in many subject areas.
Links
https://www.mathspanda.com – the website run specifically for RGS students.
www.mathsrevision.net – for GCSE and A Level revision.
www.nrich.maths.org – excellent extension and enrichment material, including live monthly problems.